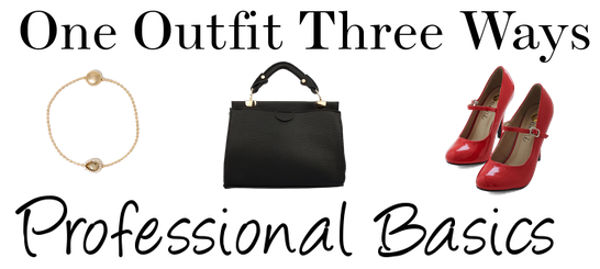 Product Info: Bracelet, Bag, Heels
It's nearing the end of the semester for most college students, which means a hectic schedule penciled in with class presentations, social events, and interviews. This week, I've put together three outfits that would suit these occasions based on two key professional basics that every college girl should have in her fashion arsenal: a white blouse and black pencil skirt.
Attention to detail is important for these items. You want the blouse and skirt to be stylish but transitional. For it to function at a job interview, it needs to be modest. To take it to a special event, you want it to look modern. You'll be happiest with a pencil skirt that is fitted but not body-conscious, and made from a quality material so it will last.
Scroll down to see three professional looks featuring the same white blouse and black pencil skirt.
Class Presentation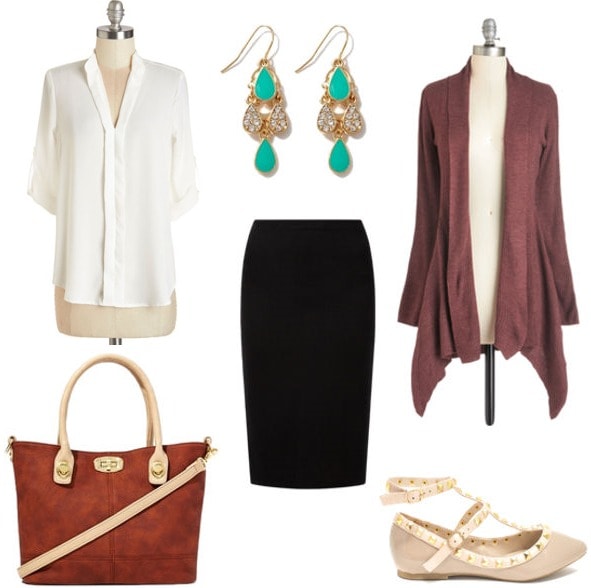 Product Info: Blouse, Skirt, Bag, Sweater, Shoes, Earrings
Class presentations don't always require you to dress professionally, but it's a good rule of thumb to dress better than necessary for important occasions. Plus, it's good practice. A time will surely come when you'll need to present, say, at graduate school or to your boss, and want to look your best.
The cardigan, bag, and flats are casual enough to integrate into your everyday wardrobe, but also special enough to elevate your basic pieces. The bag is large, so you can carry around you presentation essentials in a stylish way. Comfortable flats are preferable to heels, as they keep your focus on more important things than, you know, your balance.
I picked earrings for these outfits, but you could definitely do a statement necklace or ring to add personality to your look. Keeping jewelry minimal saves you time in the getting ready process, but also keeps the focus on your work.
Interview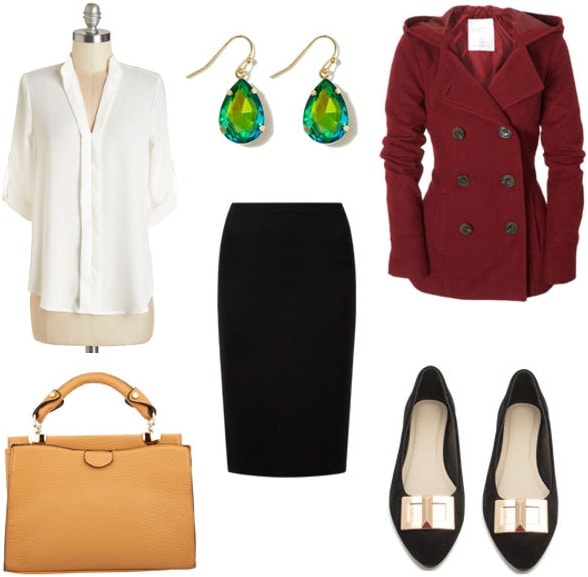 Product Info: Blouse, Skirt, Bag, Jacket, Shoes, Earrings
When it comes to job interviews, my motto is better safe than sorry. I've done plenty of job interviews in my time, and it can be stressful to gauge what's appropriate for each specific place. Some places are more relaxed and creative, while others are extremely conservative.
A white blouse and black pencil skirt will function well anywhere, and keeping the rest of your outfit minimal is important. Don't worry about seeming too overdressed for an interview – even if you show up with an adorable structured bag and grown-up flats (ahem, see above) and your interviewer is in jeans, it is always best for a first impression to show how seriously you take the opportunity.
Once again, for jewelry I recommend a minimal yet special piece. If earrings aren't your vibe, opt for a delicate necklace. A structured bag keeps your resume from getting squished, and buckled flats will be comfortable no matter how long your interview runs. One thing I do recommend for interviews is incorporating a bit of color, like we did here with the coat, bag, and earrings. It shows personality and keeps what is a very straightforward and professional outfit from seeming stuffy.
Special Event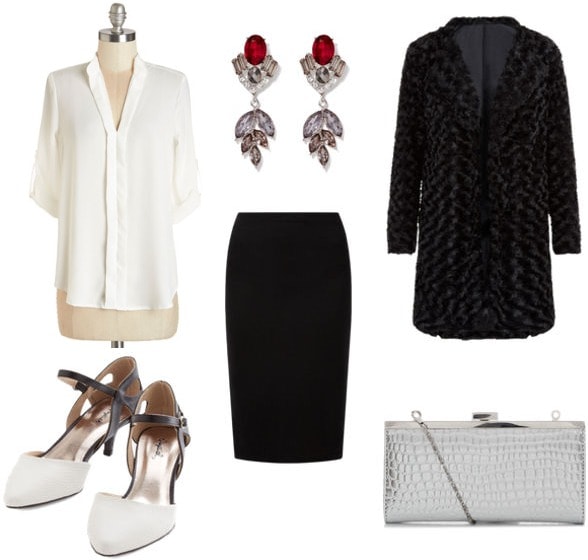 Product Info: Blouse, Skirt, Jacket, Bag, Shoes, Earrings
Winter is one of the most hectic seasons for one's social calendar. Between holiday parties, winter weddings, and the ballet (Nutcracker season is my favorite!), it can be a headache trying to pick out so many different special occasion outfits. This year, I'm sticking to the white blouse and black skirt combo, then switching out accessories.
Since there's no such thing as too much sparkle for the holidays, I went with a pair of over-the-top, opulent earrings and a glitzy crossbody bag. A fun faux fur coat will keep you warm without sacrificing style, plus these heels aren't too high and are neutral enough to go with any special outfit this season.
What do you think?
Will you be trying out any of these blouse-and-skirt remixes? Where will you wear it? Let me know down below, and happy shopping!