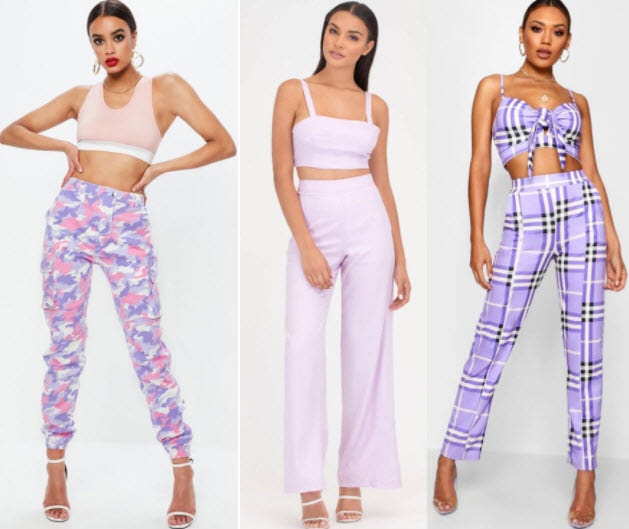 Products L-R: MissGuided, GoJane, & Boohoo.
Lilac is a color symbolizing love and innocence — it's a perfect springtime shade that's set to trend in a big way this year. One of our favorite unexpected ways to wear the shade is with a pair of lilac pants. Ready to give this statement-making style a spin? We're here to help.
Below are two ways to help you style lilac pants for class and a colorful night out!
How to Style Lilac Pants – Outfit for Class: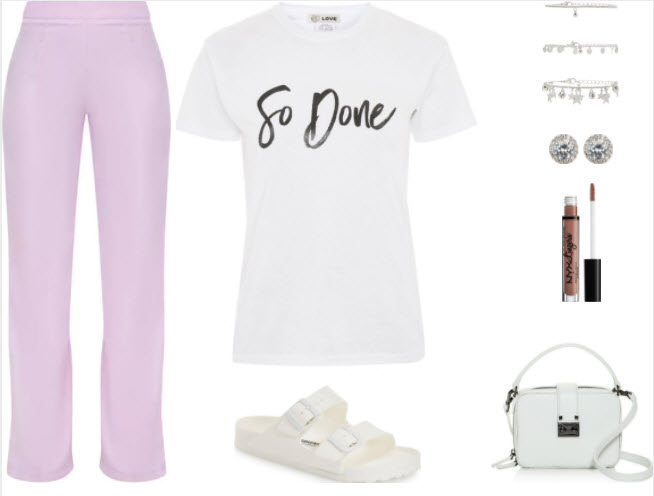 Products: Pants – Pretty Little Thing, Shirt – Topshop, Earrings – Nordstrom Rack, Bracelet – Forever 21, Sandals – Birkenstock, Purse – Aqua, Lipstick – NYX.
This is the ultimate look for class. While it's stylish and trendy, it's also very comfortable and relaxing. Deciding to wear the "So Done" t-shirt from Topshop (make sure the shirt is loosely tucked in) is where the "relaxing" part comes in. Adding the off-white jelly Birkenstock sandals provides the "comfort" part of the look. You can never go wrong with cute charm bracelets from Forever 21, a small all-white purse by Aqua, and Nordstrom Rack's silver studs.
How to Style Lilac Pants – Outfit for a Night Out: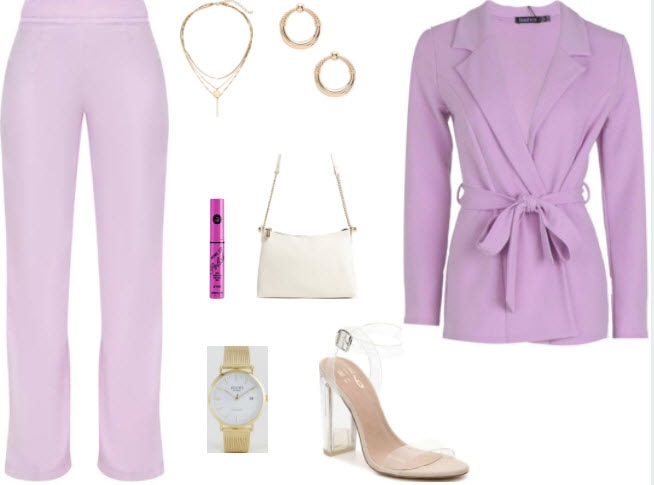 Products: Top – Miss Guided, Blazer – Boohoo, Pants – Pretty Little Thing, Heels – DSW, Lipstick – Amazon, Earrings – Forever 21, Necklace – H&M, Watch – ASOS.
We'd like to think you would wear this outfit for a date night but it's flexible. Pick a night out event and you can probably wear this!
Go bold and do lilac-on-lilac for this look. Boohoo's lilac tie blazer is a little darker than the pants but it still works. Clear strap heels match with everything and are trendy right now so you can never go wrong with them.
What's your take on lilac pants?
Lilac pants can be found almost anywhere and lilac is the perfect color for Spring. What's your take on lilac pants? Will be killing it in lilac pants this season? Comment and let us know!