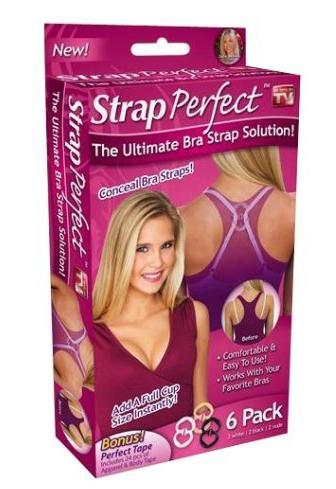 I hate how trashy exposed bra straps look, but ever since I grew out of my sole racerback bra at age 15, I've always had to deal with my bra straps showing while wearing some of my favorite tops. And going braless (or buying an expensive convertible bra just to wear with a few tops) is something I'd rather not do.
That's where Strap Perfect comes in. I'm sure you guys have probably seen it on TV – the Strap Perfect commercial claims the product will transform any bra into a racerback bra perfect to wear with all your favorite tops. In addition, it's supposed to increase your cup size and give you a major lift in the front, all for $9.99. Sounds pretty good… but does it actually work?
I recently got the chance to try Strap Perfect for myself, thanks to my friend Mary Beth who bought a set, and I'm here to share the results with you. Did Strap Perfect work as promised? Was I able to completely hide my bra straps while increasing my cup size? Is this product worth your 10 bucks? Read on to find out!
My Experience: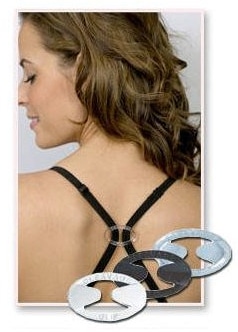 After grabbing my favorite racerbank tank from the drawer, I rushed to attach Strap Perfect- with no success. I tried and tried to get the thing on, but I finally gave up and had to go across the hall and get a friend to help me. Although the commercial makes it look easy to attach, it is definitely not so simple. However, once it was on, it stayed on until I took it off- hours later.
Although attaching Strap Perfect was a difficult task, once it was on, I found it was super-comfortable. I literally forgot it was ever there- until I took my bra off at the end of the night and got the Strap Perfect tangled in my hair! I fell asleep that night not knowing how I'd gone 19 years without a Strap Perfect in my life.
My Results: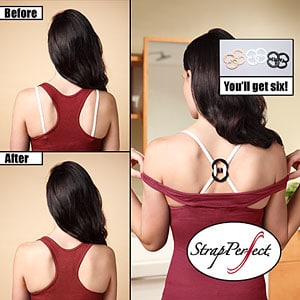 As soon as I put my tank top on, I was amazed- my bra straps weren't showing and the Strap Perfect was invisible. My biggest surprise came when the feeling lasted all night, as it literally did not budge from my upper back. As I mentioned before, it was really, really comfortable. I did, however, notice that I had to loosen up my bra straps quite a bit- if I hadn't, the Strap Perfect would not have been as comfortable.
While the product does work for taming bra straps, it's not a miracle cup size booster. The commercial claims that Strap Perfect lifts the bust up, adding volume and fullness, but I didn't notice a difference. When I mentioned this to Mary Beth, she told me that she only noticed this lift when she tightened her bra straps to the point of discomfort. I tried her technique, and found that the small, barely-visible lift was not worth an aching back and sore shoulders.
My Overall review: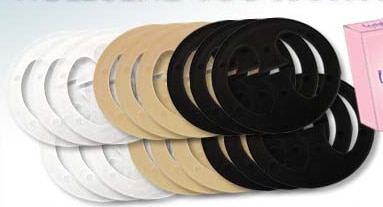 Will this product help you hide regular bra straps under racerback and cross-back garments? Yes. Will your breasts look a cup size bigger? No– but you can get minimal lift if you sacrifice any sort of comfort. That said, you could just buy a push up bra instead and save yourself the pain. Are Strap Perfects worth it? Yes, especially if you have tops that show your bra straps. Just don't expect it to do much else than hide your straps.
At $19.99 plus shipping+ handling, it's a bit pricey if you order from the TV commercial, but fortunately, Target sells Strap Perfect for only $9.99, making it pretty affordable. In addition, you can split the cost with friends because you only really need one Strap Perfect (or, for two, if you're forgetful like me), not the 18 that come in a pack.
While Bump Its and Smooth Away didn't make me believe in the results of As Seen On TV products, Strap Perfect has definitely restored some of my faith in infomercial goodies.
Have you guys tried Strap Perfect?
What did you guys think of it? Do any of you want to try it now? Do you have any other As Seen On TV products that you'd like me to try? Tell me everything in the comments!