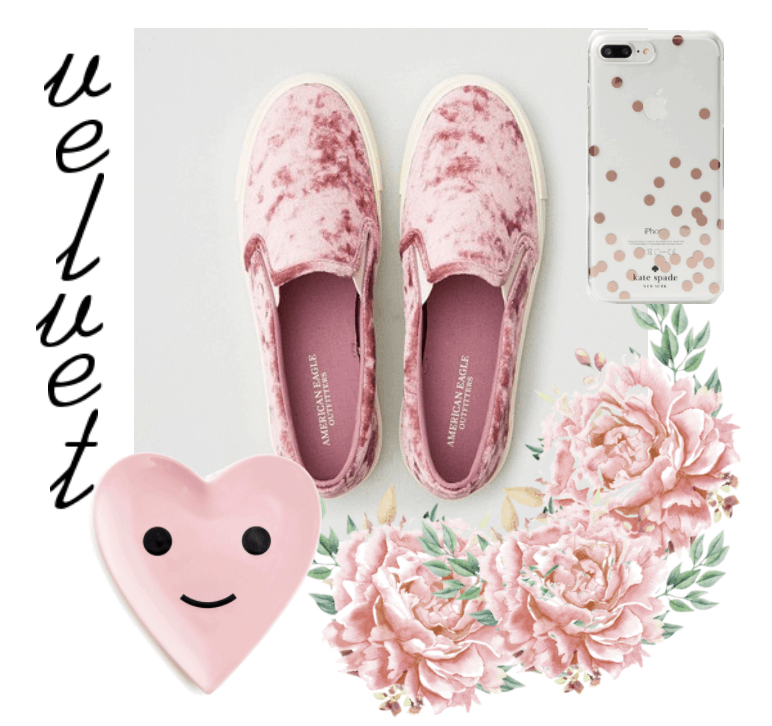 Products: Sneakers, Print, Phone Case, Dish
The "Fabulous Find of the Week" column brings you a new style steal weekly that will both keep some cash in your wallet and keep you looking, well, fabulous.
Each week I peruse the web for some miraculous item that keeps you updated on the hottest trends but doesn't make you spend too much of your hard-earned part-time job wages. This week is no exception: enter in these sweet, lovely, baby pink velvet slip-on sneakers.
Velvet is a legendary fabric. It's soft to the touch, elegant on the eyes, and gives every piece it graces sophistication and dignity. We've written many an article about why we love velvet, and here lies one more.
As The Fashion Spot predicted back in August, velvet shoes have been all the rage lately and will continue to be as more fall/winter footwear trends emerge in the shops and on our feeds. And, as cool as velvet boots are, velvet sneaks give you a more casual, I-just-slid-these-on vibe that every gal needs from time to time.
SoOo, when I was, again, perusing the webisphere, and my eyes landed on these baby pink babies, I was beyond sold. I cannot get over how chic (and cheap – less than $20!) these sneakers are. #Blessed.
Below, I'm gonna show you how to wear velvet shoes, and when I'm done, you're gonna wanna buy them. Wait for it.
P.S. Here are a couple other velvet sneaker pairs I found that are super cool!
Velvet Sneakers Outfit 1: Yeah, I Just Threw This On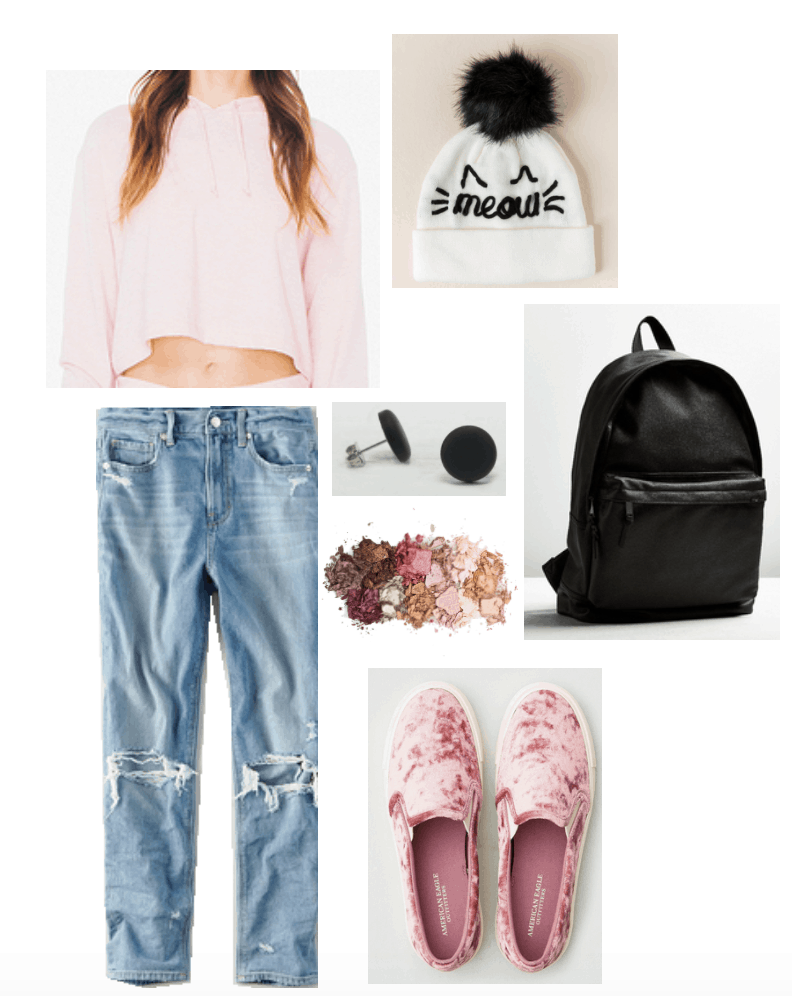 Products: Sneakers – American Eagle, Hoodie – American Apparel, Jeans – American Eagle, Palette – Dolls Kill, Backpack – Urban Outfitters, Beanie – Francesca's, Earrings – Etsy
SO you just rolled out of bed and you need something quick, easy, and stylish to throw on with your eyes closed. This is your outfit.
Pair your velvet sneakers with a casual pink cropped hoodie and high waisted distressed mom jeans, for a perfectly casual, street-wear vibe. Don't worry about any bedhead, either, because this adorable "Meow" beanie covers that right up.
If you have time to add a bit of color to your eyes, go for this Sigma Warm Neutrals Eyeshadow Palette, and focus warm browns and pinks on your crease and lid. Pop in some black stud earrings for a simple touch of glam, and carry all your stuff in this perfect black leather backpack from Urban O. You're all set to take on this day.
Velvet Sneakers Outfit 2: French Lady Fashion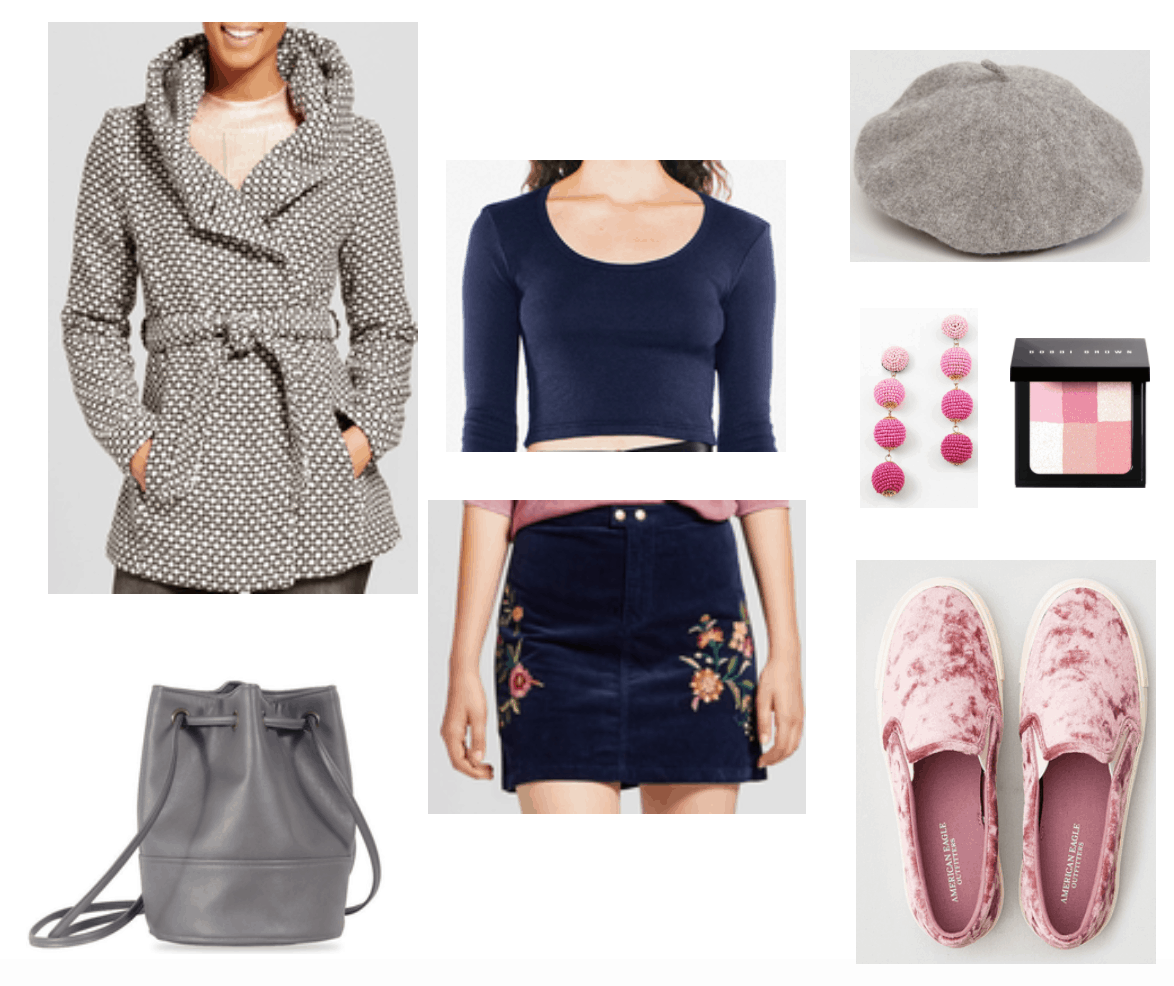 Products: Sneakers – American Eagle, Top – American Apparel, Wrap – Target, Skirt – Target, Blush – Gilt, Beret – ASOS, Earrings – Etsy, Bag – Etsy
For this next look, we're going to experiment with some color pairings. Pink + navy + grey? Yeah, I think so.
Mismatch your velvet sneakers with this navy long sleeve crop top and navy corduroy floral skirt to introduce a new color and a new texture (you're a brave fashionista, you got this). Add a grey wrap jacket and grey beret to give it that French élégance and to keep you warm amidst the blistery winds.
A grey bucket bag comes next, along with chic pink bauble earrings. Toss your hair into a low bun for this look, and sweep some pink blush on your cheekbones to give you that rosy glow. C'est magnifique!
Velvet Sneakers Outfit 3: Angsty And Smart
Products: Sneakers – American Eagle, Jacket – Target, Pants – Nasty Gal, Top – Charlotte Russe, Socks – DSW, Sunglasses – American Eagle, Earrings – Topshop
For the third and final look using these fabulous pink velvet sneaks, I went for a more cool, edgy vibe. This is not your traditional emo-meets-goth edgy though — this is more of an edgy smart look. Am I making sense?
First up, grab a blush pink bandage crop top and these super sweet grey checked cropped pants (smart piece #1). Then, grab some grey argyle socks to add another pattern (smart piece #2).
To add the edge to this look, grab your favorite black leather jacket and some black cat-eye sunglasses. To continue with the pink theme, rock blush tassel earrings. You are lookin' mighty fine. Don't forget to straighten your tresses (it adds more edge).
Thoughts??
How do you feel about this week's Fab Find? What are your favorite sneakers? Will you give these one's a try? Let me know down below.