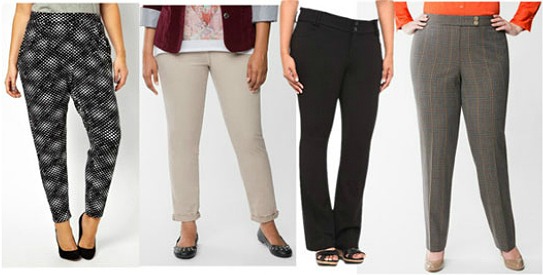 (L to R) 1. ASOS, 2. Lane Bryant, 3. Torrid, 4. Lane Bryant
A well-fitting pair of pants is amust-have for every college girl's wardrobe. Whether you need them for interviews, internships, or jobs, the right pair can boost your confidence and give you that extra kick in your step. That said, I know firsthand that finding a great pair of plus size pants can be frustrating at times. However, worry not, CF is here to help!
Below I've included some of my foolproof shopping tips for finding the perfect pairof plus-size pants, as well as the best places to shop for them – scroll down to learn more:
5 Tips & Tricks for Finding Plus-Size Pants
Research the different styles and fits each brand carries. Most of the time, a brand will carry multiple fits for various body shapes, as well as different styles of leg openings. If you don't know which one is right for you, you can ask the staff member for help or you can try them all on and see which one you feel fits and flatters you best. Don't worry if it's not the one suggested for you, just use your best judgment and remember that staff members aren't always right!
Try on every single pair of pants before you buy them – even if you know it's yoursize. Two pairs of pants are never exactly the same, so it's better to be safe than sorry.
When trying on pair of pants (which you should always do!), make sure to sit down, walk around, and move around as much as possible to make sure that the pants are a perfect fit. It's no fun to be wearing a new pair of pants and feeling like you're unable to move in constricting fabric.
Speaking of fabric, look for the stretchy material! Without a doubt, my favorite pants are my stretchiest pants. Not only are they insanely comfortable, but they also offer the most breathing room.
If you don't see your size on the shelf, don't be afraid to ask a staff member if they can order it online for you. Most stores do this and will even bypass the shipping cost by shipping it to the store for pick-up instead!
The Best Stores to Find Plus-Size Pants
Specialty Stores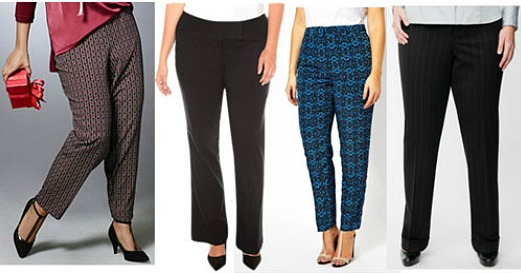 (L to R) 1. Lane Bryant, 2. Torrid, 3. ASOS, 4. Lane Bryant
It should come as no surprise that my number one store for finding plus-size pants is Lane Bryant. When it comes to style and variety, I find that LB really takes the cake on this one. Their stock is more or less divided between business and casual attire, which means they usually have quite a few different types of pants in stock, be it black, khaki, plaid, or striped. They also carry three different lengths: petite, average, and tall. In addition, some of their pants are made with Tummy Control Technology for an even smoother fit!
Torrid also offers plus-size pants and most of them have a wide waistband (similar to LB's Tummy Control Technology) for a smooth fit. The wide waistband is one of my favorite things about Torrid pants since, at least for me, it takes the place of a belt.
If you're looking for a more bold and trendy pair, I suggest shopping at ASOS. While their pants aren't the most business-friendly option for more conservative workplaces, they carry some really cute patterned pants that are worth taking a look at. As a bonus, ASOS offers free shipping and free returns, so you can easily try out multiple fits and sizes from the comfort of home.
Department Stores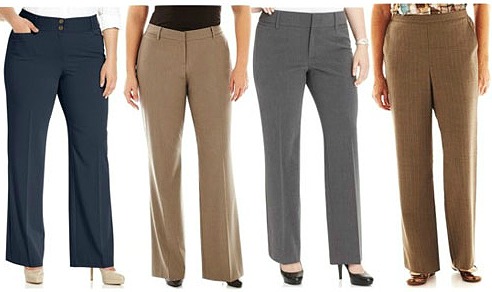 (L to R) 1. Macy's, 2. JCPenney, 3. Macy's, 4. JCPenney
Department stores such as Macy's and JCPenney are also great places to find plus-size pants. Their variety is similar to their regular plus size stock, so, while it's not expansive, you can usually find a few good pairs on a good day.
Always check their clearance sections as you're likely to find a pair for a better price there! Personally, I've encountered problems shopping at department stores for pants because of my height (I'm really tall!) but if that isn't a problem for you, I highly suggest heading to your local mall and trying on a few pairs.
What do you think?
What are your tips and tricks for finding plus size pants? What are your favorites stores to find them at? Which of the pairs pictured above is your favorite? Let me know in the comments!