The temperature is dropping, rain is falling, and fall is approaching rapidly. Or, at least, that's how it's feeling where I live. For those of you still living in summer weather, I envy you.
This hooded sweatshirt dress is ideal for those rainy days where it is still pretty warm outside. We're going to show you how to dress it up…and down for any occasion.
First, I'll show you the dress. Then, we'll get to three hooded sweatshirt dress outfits.
Forever 21 Hooded Sweatshirt Dress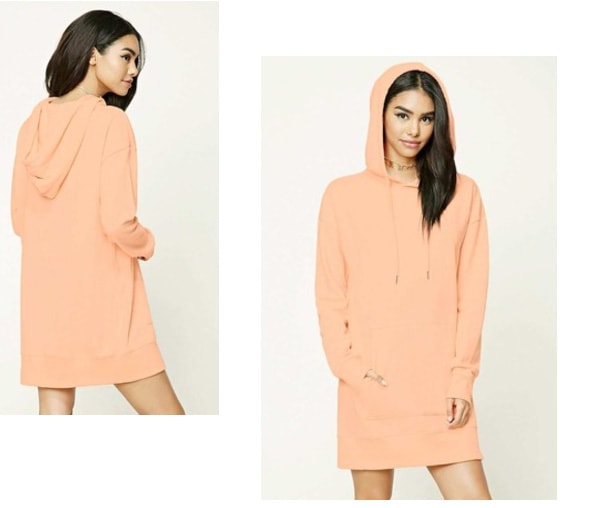 Did we forget to mention it is available for only $16.03 at Forever 21? Click here to buy it before it sells out.
Hooded Sweatshirt Dress Outfits
Keep scrolling for 3 ways to style this dress!
Forever 21 Hooded Sweatshirt Dress Outfit 1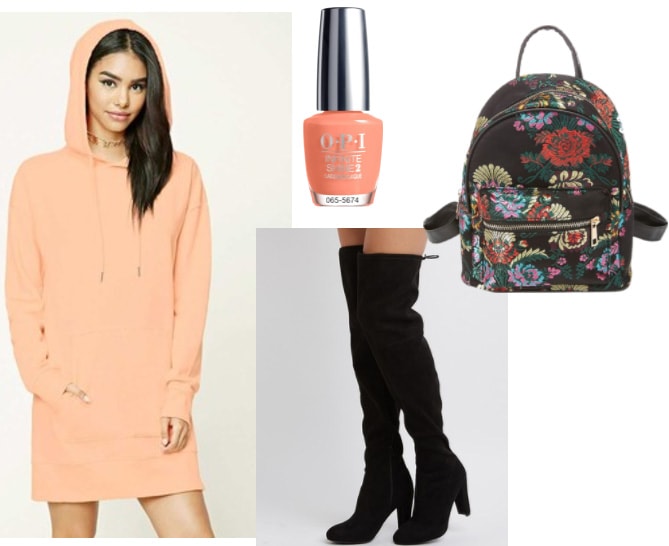 Products: Hooded Dress – Forever 21, Heels – Charlotte Russe, Bag – Charlotte Russe, Nail Polish – Amazon
This outfit is great for any chill evening event, from attending a spoken word performance to a movie date.
The over-the-knee boots give you some height, yet are super cute and will keep your legs warm in cool temperatures. The floral backpack adds style while bringing the look together. Finally, some bright coral nails will stand out while pulling out the color of the dress.
Forever 21 Hooded Sweatshirt Dress Outfit 2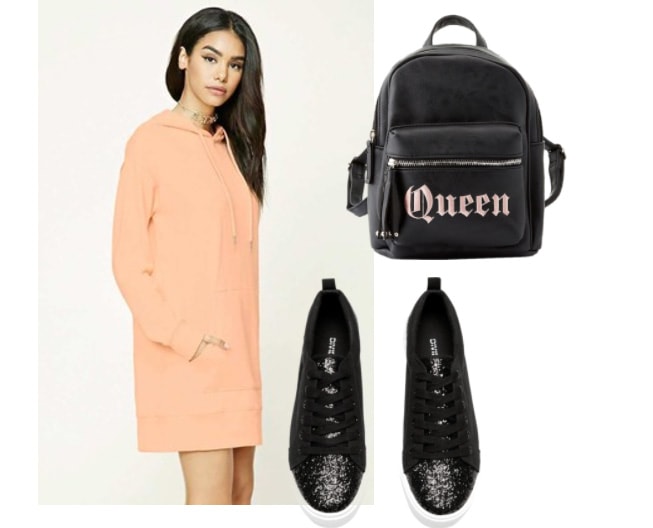 Products: Hooded Dress – Forever 21, Shoes – H&M, Backpack – Charlotte Russe
This style is really laid back and is simple yet stylish. This is one of those mid-week outfits for class that will have you looking like the most stylish girl on campus. With very minimal effort.
The glitter sneakers speak for themselves as they sparkle with your walk. The bag makes a big statement on its own, letting everyone know royalty is coming through.
Forever 21 Hooded Sweatshirt Dress Outfit 3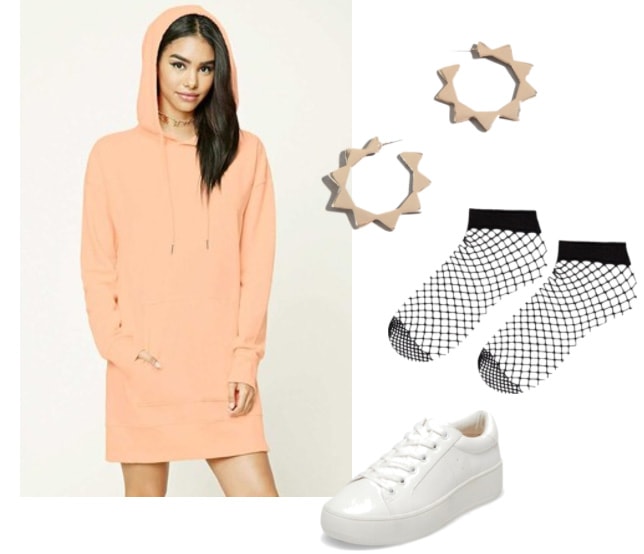 Products: Dress – Forever 21, Socks – Asos, Earrings – Pacsun, Shoes – Target
This outfit can be worn for just about any occasion. The peach dress is accompanied by all white kicks giving off a cool athleisure vibe that's a little unexpected in fall. The earrings and socks are spunky and fun, definitely giving edge to the outfit.
How do you style a hooded sweatshirt dress?
Is peach your color this fall? What kicks are you going to pair with your hooded dress? How do you spice up your fall dresses? We want to know what makes your hooded dress stand out!