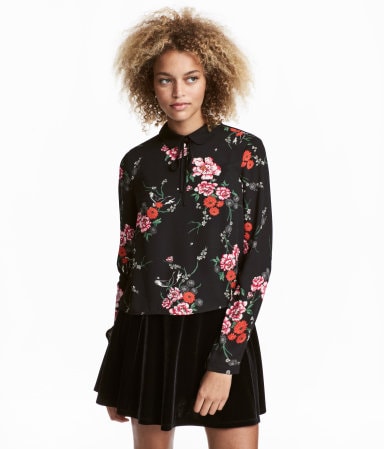 The "Fabulous Find of the Week" column brings you a new style steal weekly that will both keep some cash in your wallet and keep you looking, well, fabulous.
Merry Christmas, Hanukkah, Kwanzaa, and Happy Holidays to all of our lovely readers out there. Thank you for being a part of the CF community! I hope you're taking a well-deserved load off after the stress and insanity of finals week.
You all know the deal — I bring you a new style steal every week that is the perfect new addition to your closet, but it won't break the bank (thank God).
This week is no exception. As I was surfing the web looking for trends to show you guys, I was happy to stumble upon this black floral patterned chiffon blouse from our old friend H&M. Immediately it reminded me of Victoria Beckham's collab with Target!
This blouse spoke to me. People always assume you can't wear florals in the wintertime because flowers aren't actually blooming now. But, who cares? Floral prints make us think of how nice it will be when spring does come, adding some cheer to our winter wear. I say bring on the florals.
And, if you're going to wear any floral blouse, make it this one. This blouse is so airy because of its light chiffon material: You can layer it over a cami or under a blazer. Instead of typical buttons up the front, this blouse has a soft-edged, peter pan collar with ties at the front, giving it an atypical uniqueness. H&M truly hit it out of the park with this piece (and it's $19.99 — wut).
If you'd like to see 3 ways to style this ultra-chic blouse, check out my ideas below.
Floral Blouse Outfit 1: Playing With Textures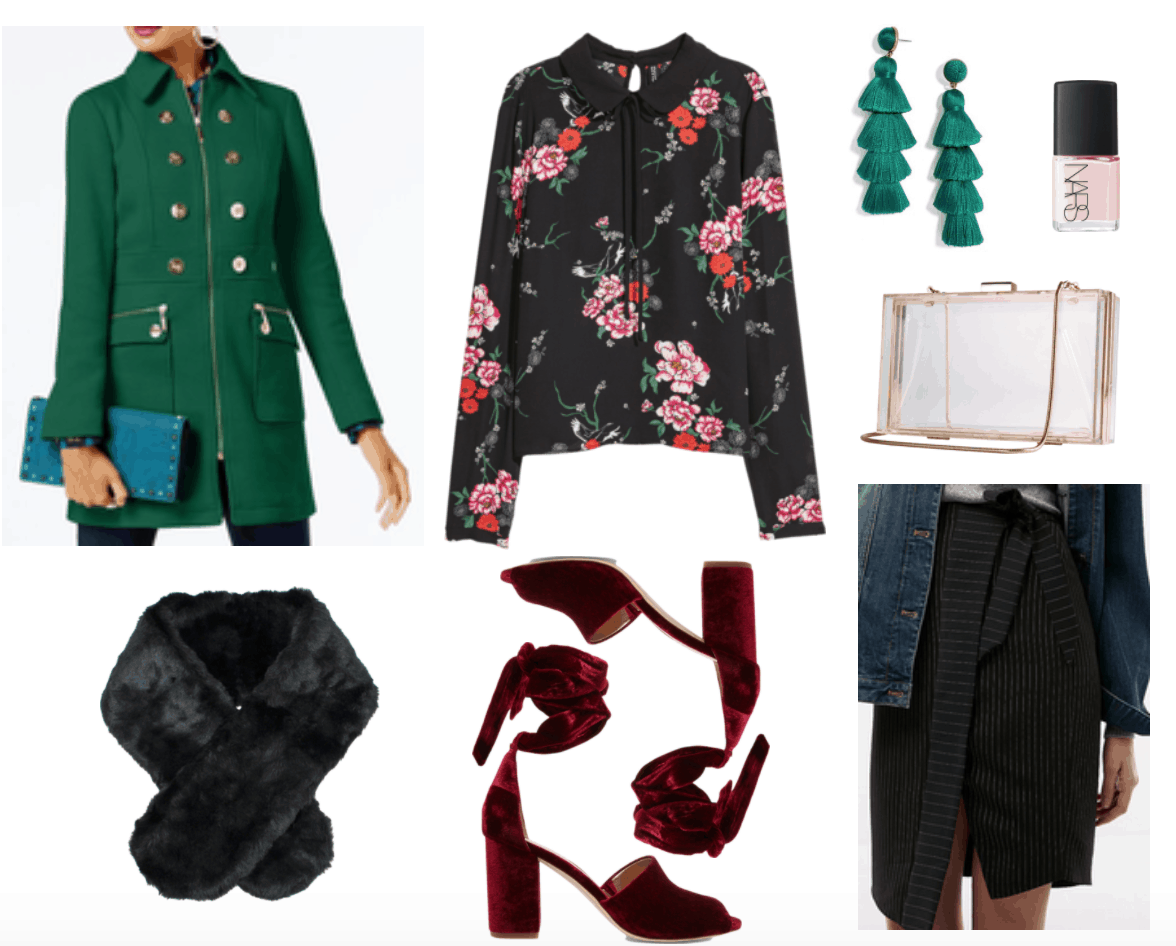 Products: Blouse – H&M, Coat – Macy's, Skirt – Express, Sandals – Net-A-Porter, Clutch – Amazon, Wrap – Walmart, Nail Polish – Blue Mercury, Earrings – Baublebar
I adore mixing up textures in looks. Velvet, fur, chiffon, and wool? A floral blouse + a striped skirt + a see-through acrylic clutch? Why not? The fashion world is your oyster, girl, so make the most of it!
If you ever come across some piece and think ugh I could never pull that off, just remember: the only one stopping you from rocking a look is yourself! So go for it.
With that said, take your floral blouse and grab a black tie-up striped pencil skirt for an unexpected turn of events. Burgundy velvet ankle tie sandals come next, for a pop of color and a perfectly wintery texture. Cozy up in this beautiful emerald green coat with gold hardware and wrap a simple black (faux) fur scarf around your neck.
Accessorize with matching emerald fringe earrings (gosh I love emerald) and swipe some baby pink polish on your fingers + toes. Finally, a transparent acrylic clutch is a perfect addition to this fancy outfit — no one will be expecting to be able to see through your purse! You look legit.
Floral Blouse Outfit 2: Happy New Year, Darling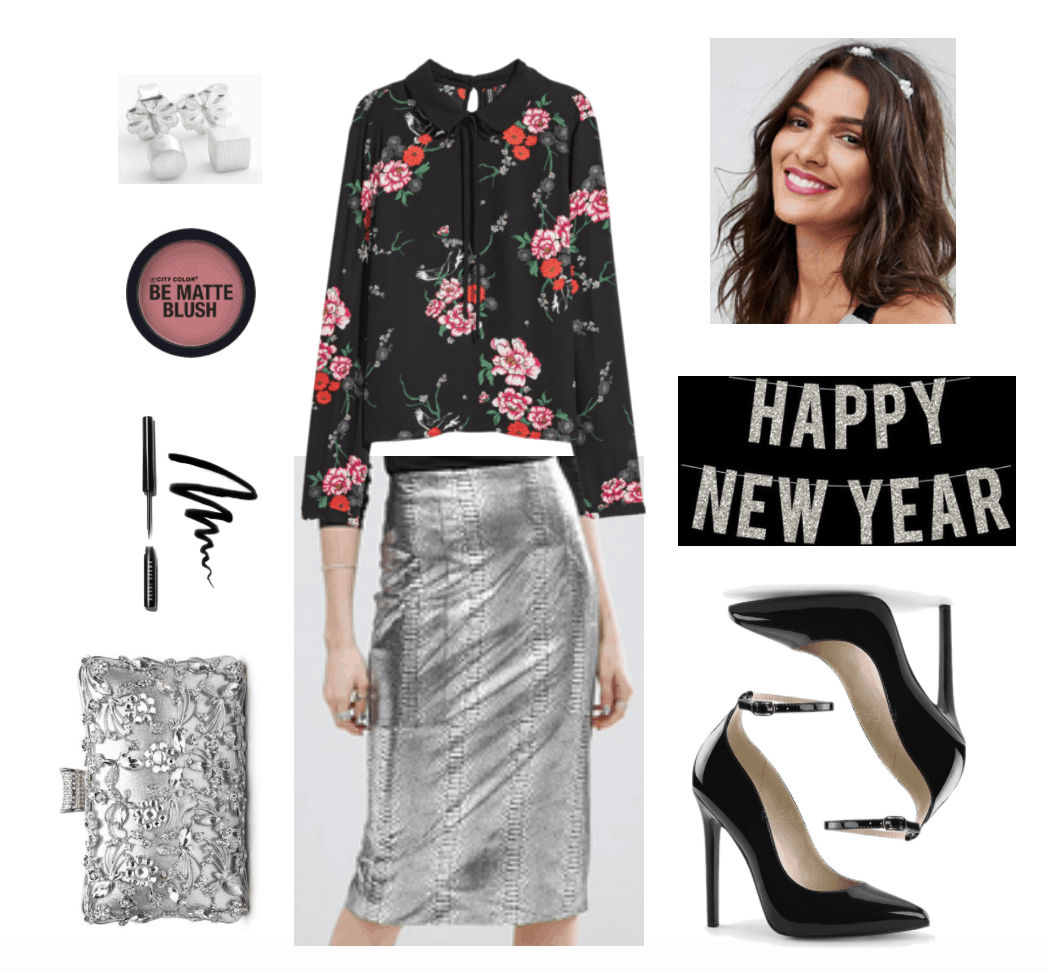 Products: Blouse – H&M, Skirt – ASOS, Pumps – Shoes.com, Headband – ASOS, Clutch – Amazon, Studs – Etsy, Blush – City Color Cosmetics, Liner – Shop Bazaar, Banner – Etsy
New Year's Eve is all about making a statement with glitter, sequins, sparkles, etc. Even if you're not a girl who typically goes for the sparkly stuff (I'm not either), NYE is the night to push past your comfort zone and grab something shiny. You'll feel more in the spirit, and you'll glisten in any kind of light.
For this look, pair your blouse with a lovely silver pencil skirt, like this one from ASOS, which I especially love because of its length — no need to pull it down every 5 seconds! Some simple black Mary Jane pumps are the perfect staple for this look. Amazon is killing it with its clutch game, so grab a silver floral embroidered clutch to complement your skirt. Slip in some silver studs as well.
Keep your hair down and flowy, and add a fun silver pearly headband for a little more glitz. As for makeup, don't feel the need to go too crazy, as your outfit is already glam enough, but swipe on a cat eye and some pink blush to give you a beautiful NYE glow.
Floral Blouse Look 3: Walking Down the Streets of Times Square (Or At Least Feeling Like You Are)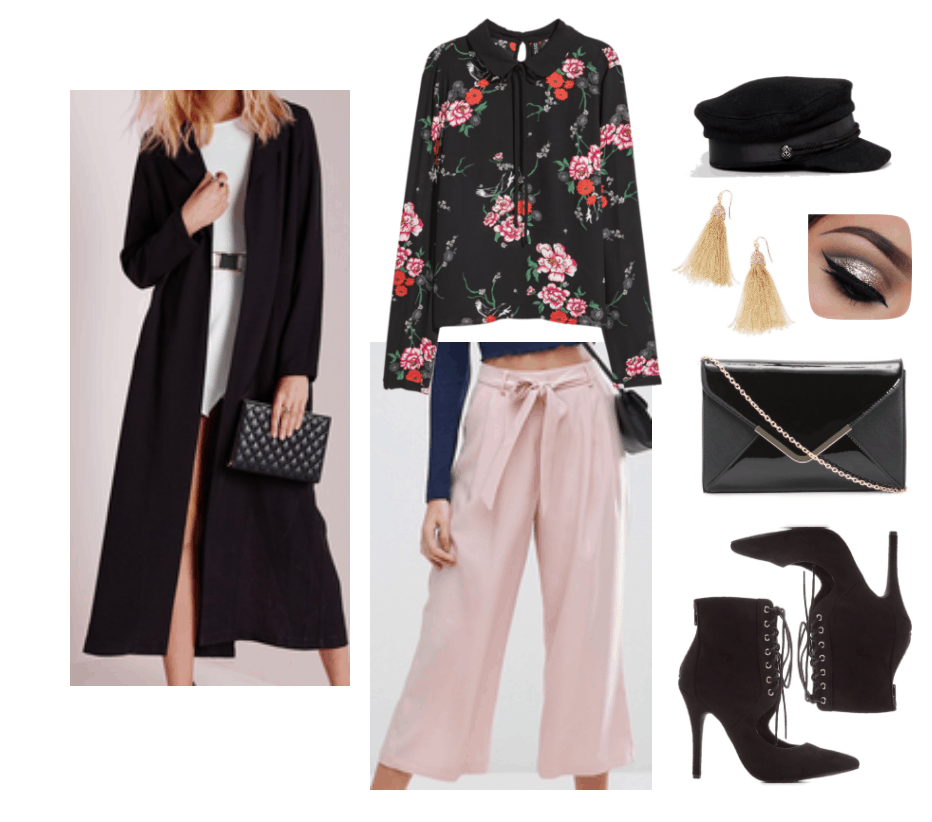 Products: Blouse – H&M, Culottes – ASOS, Duster – MissGuided, Hat – ASOS, Boots – Charlotte Russe, Crossbody – TJ Maxx, Earrings – Nordstrom, Glitter – Showpo
This outfit is so incredibly smart, it makes me want to move to Manhattan right now! Drinks or dinner dates would be ideal for this stylish look.
Grab a pair of dusty pink culottes with their fashionable tie waist and tuck your blouse into them. A black duster coat layers over this outfit well, and definitely stays true to the New York vibes. Feel extra vogue in these lace-up black boots from Charlotte Russe.
A black and gold envelope clutch will come in clutch (get it?) to carry your phone + lipstick, and perhaps a little more gold glitter for when you feel like your eyes need a boost. Slip in some gold fringe earrings for fun and top this look off with a dapper black baker boy hat. So chic!
Yay for Fab Finds!
How do you like this week's Fab Find? Which outfit is your fave? What will you be wearing this NYE? Start the conversation down below!