Even though it's been 21 years since the first Harry Potter book was released, I'm still a huge fan of the series. (Judging by the positive responses to all our other HP articles over the years, many of you are too!)
So, since July 31st is Harry Potter and author JK Rowling's birthday, I thought it was the perfect time for a roundup of the best Harry Potter fashion finds from around the web.
These aren't your typical Hogwarts house scarves and school uniforms. Instead, we're featuring clothes, jewelry, and accessories that are stylish, fun, and can be incorporated into your day-to-day look–while also showing off your love for the HP fandom. Keep reading to see all 10 of our picks!
1. Harry Potter Wizarding Floral Tank Dress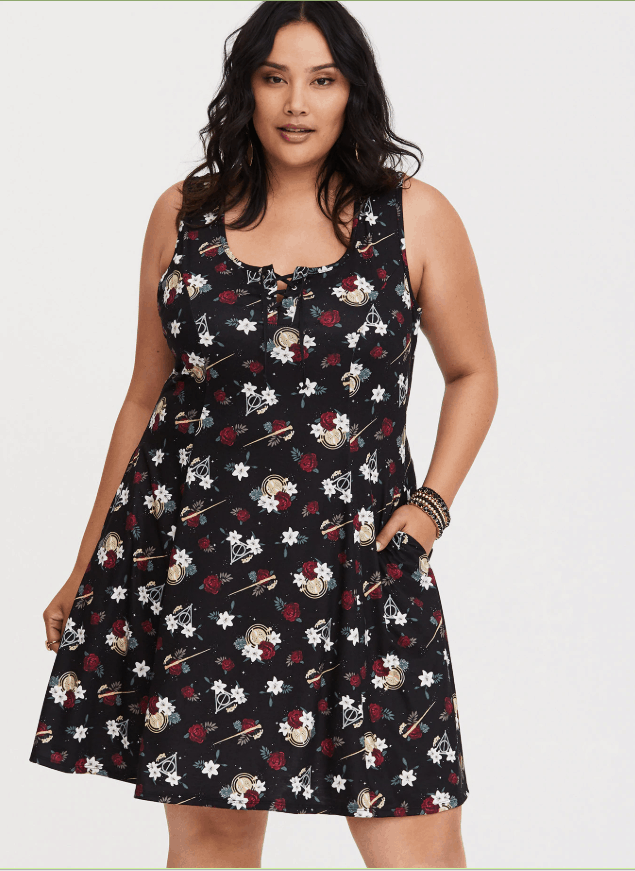 Product Info: Harry Potter Wizarding Floral Tank Dress – Torrid
This is such a subtle way to show that you're an HP fangirl. At first, it seems like any other sleeveless dress, but look closely. Its floral pattern also features wands, time-turners, and even Deathly Hallows symbols. Extra touches, like a tie-up front and lacy back, make it a geek chic find.
2. Hedwig Backpack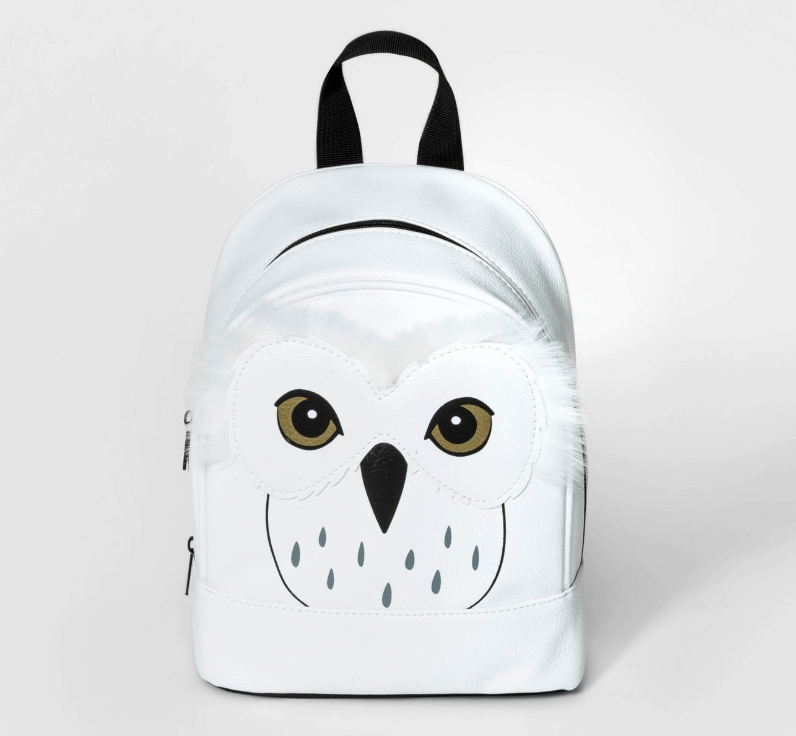 Product Info: Harry Potter Hedwig Owl Backpack – Target
Okay, full disclosure: this is marketed as a child's backpack. But you know what? College-aged HP fans can definitely carry it, too! This cute Hedwig backpack is such a fun choice that's sure to get noticed.
3. Harry Potter Glasses Wrap Ring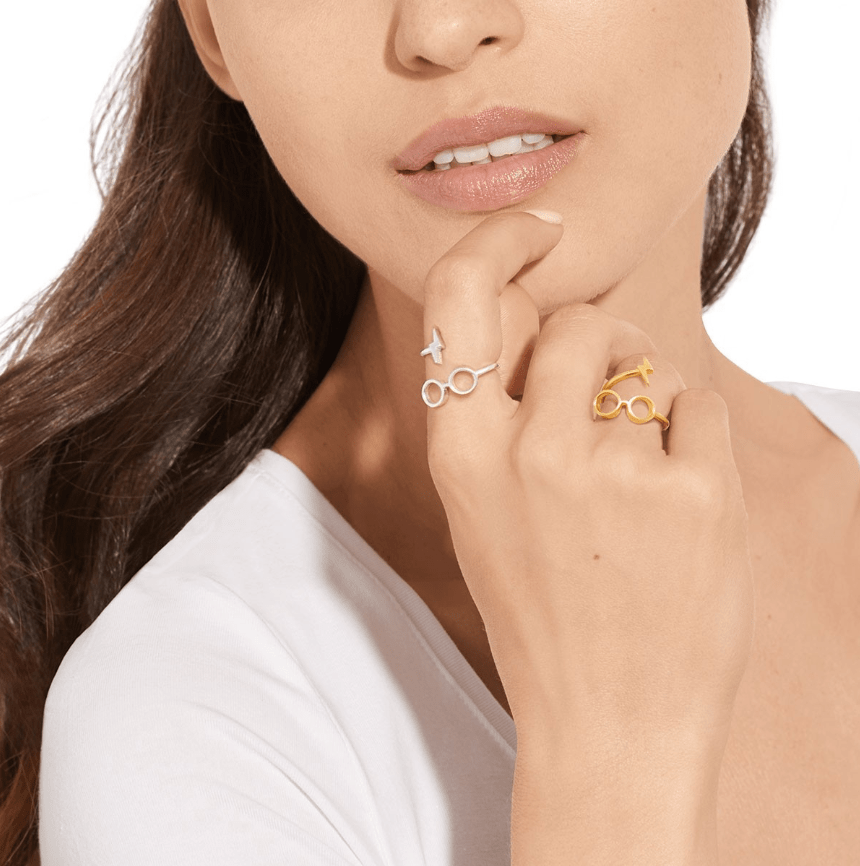 Product Info: Harry Potter Glasses Wrap Ring – Alex and Ani
If minimalist jewelry is your thing, check out this fashion-forward wraparound ring with a Potter-ific twist. It's a quirky-cute design that could easily become a signature piece. As a bonus, it comes in either sterling silver or gold-plated sterling, so you can rest assured this ring is going to have a long life in your jewelry box.
4. Free Dobby T-Shirt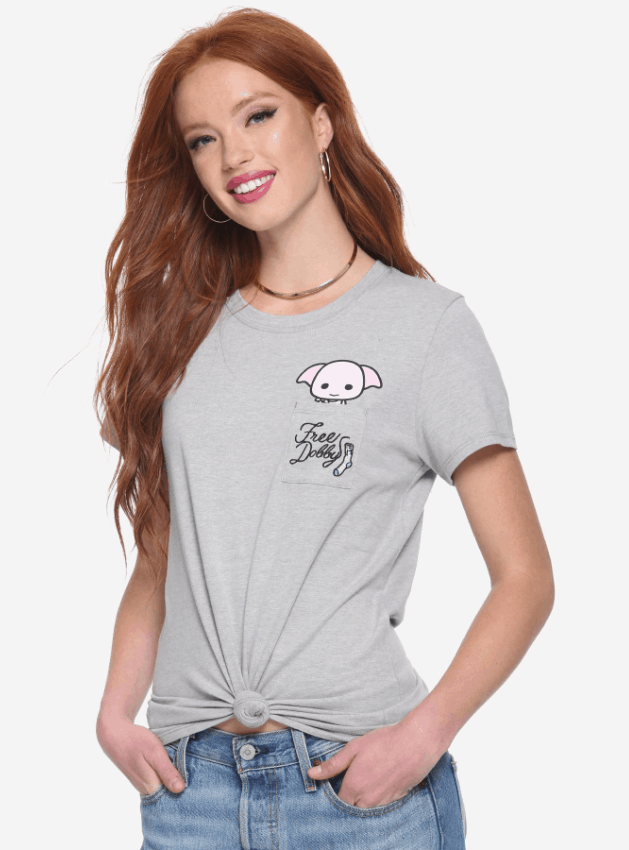 Product Info: Harry Potter Free Dobby Pocket Tee – Box Lunch
We'd like to think Hermione would wear this t-shirt … with her S.P.E.W. badge right alongside it, of course. It's an adorable version of your typical pocket tee and can be worn so many ways. We really like how the model above tied hers in a knot for a more fitted look.
5. The Great Hall Dress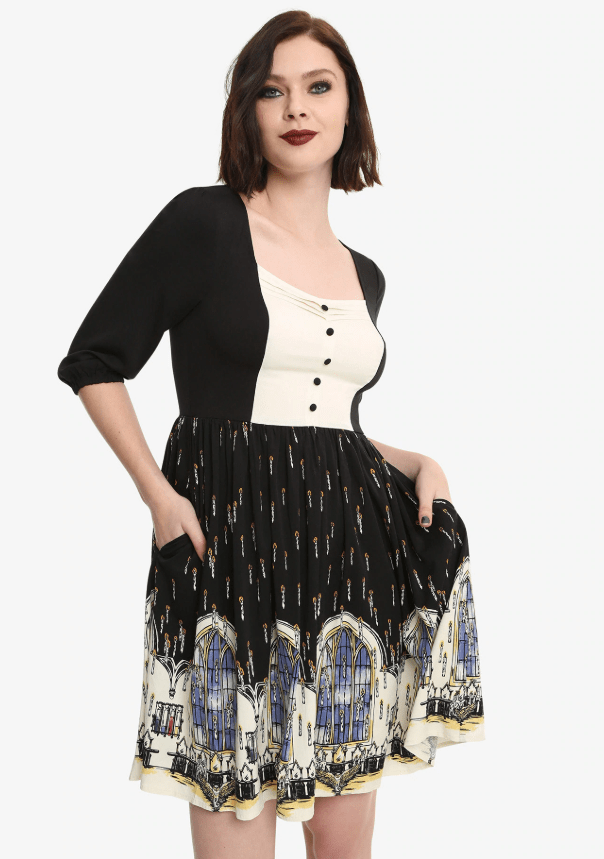 Product Info: Harry Potter Great Hall Border Dress – Hot Topic
It may look like separates, but this find is actually a dress! It has a gorgeous illustration of The Great Hall around the skirt (complete with magical floating candles, naturally), while the top half is a more subdued, with cute button details. We can see this one working for dressy occasions or even at an internship with a business casual dress code.
6. Hogwarts Racerback Tank Top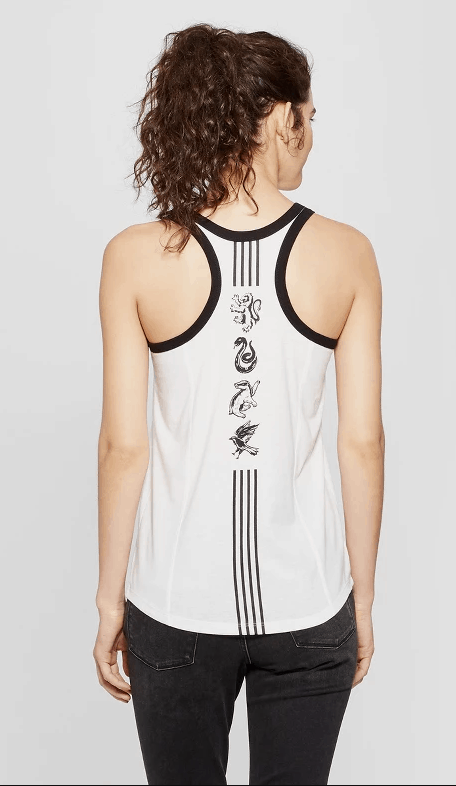 Product Info: Harry Potter Hogwarts Racerback Graphic Tank Top – Target
Whether you're on the Quidditch Pitch, training for the Triwizard Tournament, or just, you know, at the gym, grab this racerback tank. Its simple yet bold graphic design is a cool way to up your workout attire.
7. Hogwarts Uniform Purse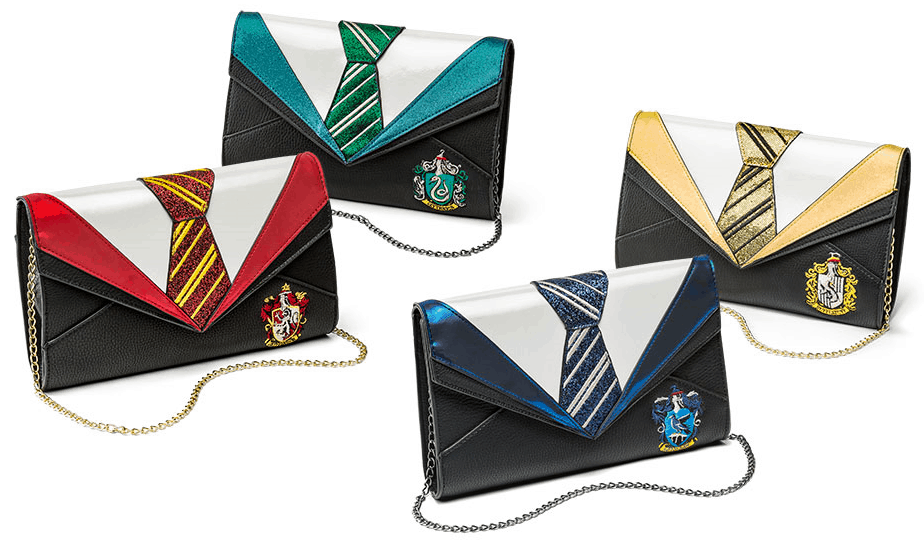 Product Info: Harry Potter Uniform Clutch with Shoulder Chain – Danielle Nicole via Think Geek
Show off your house pride with this novelty purse. While the silhouette and chain strap are classic, the sparkly Hogwarts uniform design makes it a unique, attention-grabbing find.
(Sidenote: Designer Danielle Nicole has a bunch of other officially licensed Harry Potter handbags. We're also swooning over this Luna-inspired backpack.)
8. Hogwarts House Quidditch Sweater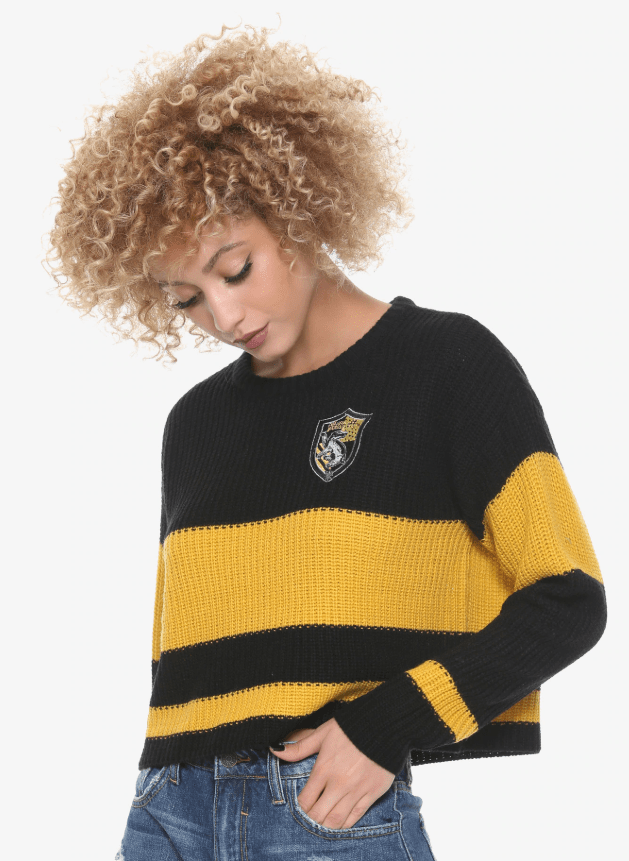 Product Info: Harry Potter Hufflepuff Quidditch Sweater – Hot Topic (Also available for Gryffindor, Ravenclaw and Slytherin)
How cozy does this sweater look? It's a pretty spot-on replica of the Quidditch sweaters worn by Hogwarts students in the HP films, but it comes in a trendy cropped length. Definitely pick one of these up, then wear it throughout autumn with jeans and your go-to boots.
9. Marauder's Map Skirt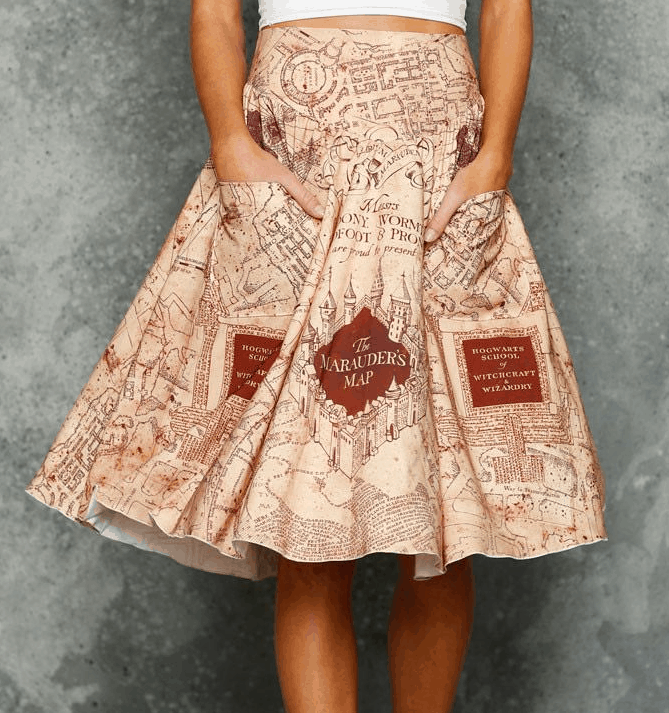 Product Info: Marauder's Map Yoke Midi Skirt – Black Milk Clothing
Messrs Moony, Wormtail, Padfoot, and Prongs, Purveyors of Aids to magical Mischief-Makers, are proud to present: The Marauder's Map skirt.
We love absolutely everything about this skirt, from the chic midi length to the practical pockets. It's a true statement piece that's insanely detailed. In fact, whenever you wear it, everyone's going to want to take a closer look!
10. Hogwarts House Leggings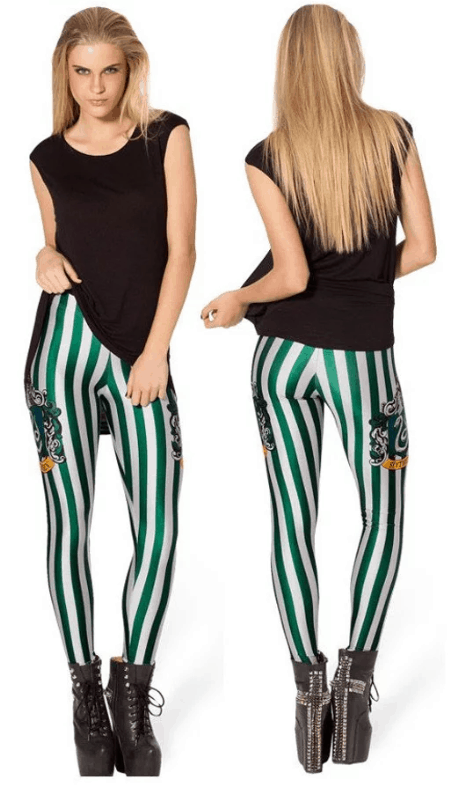 Product Info: Harry Potter Slytherin Emblem Leggings – SuperNerdCosplay via Etsy (Also available for Gryffindor, Ravenclaw, and Hufflepuff)
These leggings are a bold way to tell everyone where The Sorting Hat placed you. For a super-casual look, pair with an oversize tee, a baseball cap, and your favorite sneakers. Feeling daring? Rock them on a night out with a strappy top, platforms, and huge earrings.
Mischief managed.
What do you think of these fashion finds? Are you a big Harry Potter fan, too? Which house are you in? (Proud Ravenclaw here!) Do you already own any HP merch? Would you want to see more posts like this? Drop a comment and tell me your thoughts.