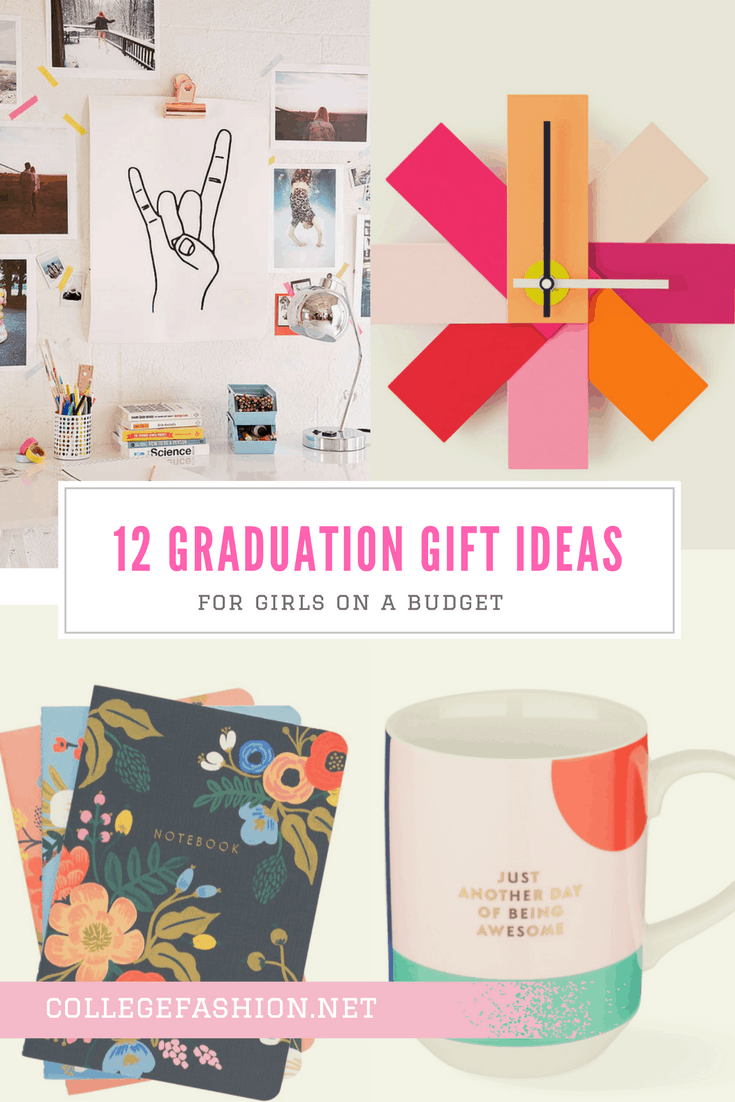 College graduation is right around the corner, and I'm both scared and pumped for it. If it's your time to walk the stage, congratulations! If you've got a few more semesters, keep going strong as the semester finishes out.
If you aren't graduating, you probably know someone who is. And if said graduating friend/sister/co-worker is moving somewhere else after college, she won't turn down something cute to decorate or embellish her new post-grad space! Just make sure you don't get something that will be a hassle to pack or ship. 
Here are some gifts to get your graduate that won't cost a fortune:
Related reading: The 27 Most Perfect Graduation Gifts to Give Her This Year
Under $20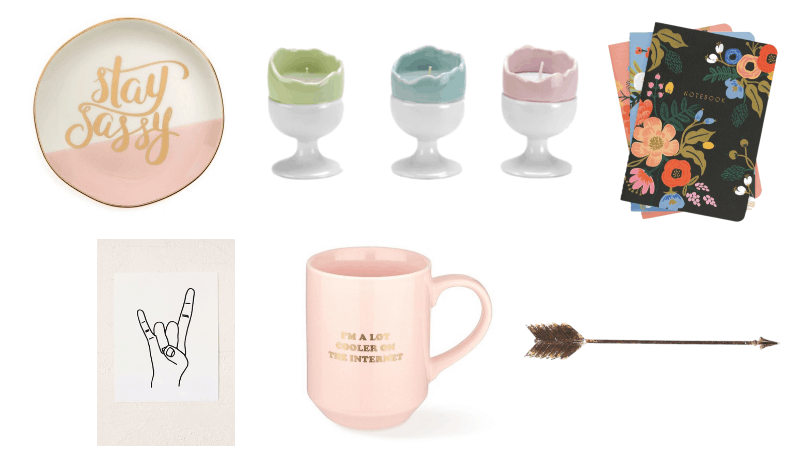 Trinket Tray, Nordstrom – I don't know about you, but I always forget to put my jewelry back in its proper place after wearing. Instead, I end up leaving rings and necklaces on the counter next to my sink, where they can easily fall and get lost. Trinket trays are a great way to keep jewelry pieces visible and together. (Care to buy me one?)
Egg Cup Candles, Laura Ashley – Why stop at just one? This trio of candles gives off total spring vibes, but will brighten a space throughout the whole year.
Floral Notebooks, Rifle Paper Co. – Graduates may be leaving school, but that doesn't mean they have to stop writing! Give your most insightful friend one of these floral notebooks so she can jot down ideas to her heart's content.
Rock On Wall Art, Urban Outfitters – It's not too hard to bring along an extra 8×10 piece of paper, so this print is a great idea for someone who needs to travel to their new home lightly.
Sassy Mug, Nordstrom – There are a few different texts you can choose for this mug, so pick the one that best suits your recipient. Plus, everyone knows that you can never have too many mugs.
Metal Arrow, Target – Buy one, or buy a few! This arrow is a reminder to keep moving forward, no matter what life hits you with.
Under $50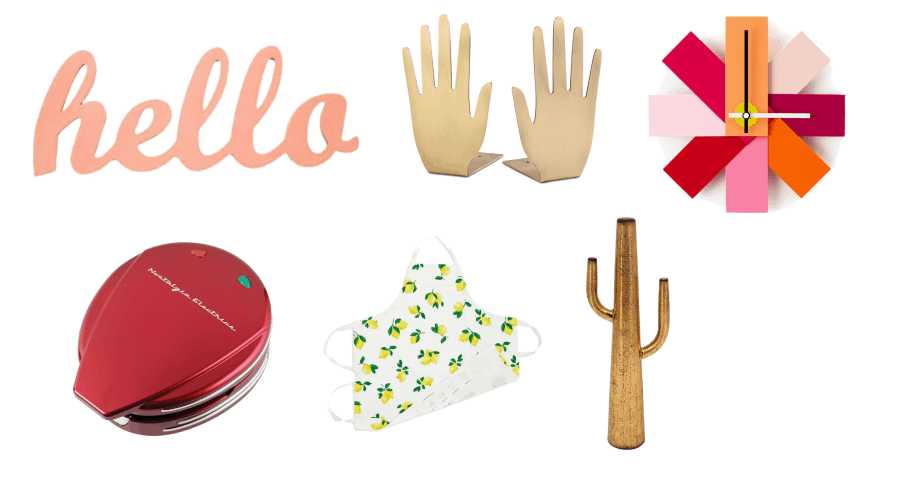 Hello Sign, Chairish – What's the perfect way to greet people as they come in? With this coral "hello" sign!
Hand Bookends, Bloomingdale's – These Kate Spade bookends are the perfect way to cinch together and store books, magazines, old textbooks, etc. So stylish and they'll go with almost any space.
Wall Clock, Amara – This Scandinavian-inspired wall clock makes it impossible to be late, with bright colors that draw your eye.
Waffle Maker, JCPenney – Know someone who likes to cook? Or maybe she just enjoys breakfast more than the average girl? Get her something for the kitchen that has both retro vibes and a practical purpose.
Lemonade Apron, Bloomingdale's – Give your baking buddy a treat with this dazzling lemon apron by Kate Spade!
Cactus Statue, Kirkland's – Okay, maybe you don't live in the desert, but this cactus statue can be appreciated anywhere. If you have a friend who likes to stand out, this one's for them.
What are your college graduation gift ideas?
What are you planning to get your friends/family for graduation? Share your ideas in the comments section below!