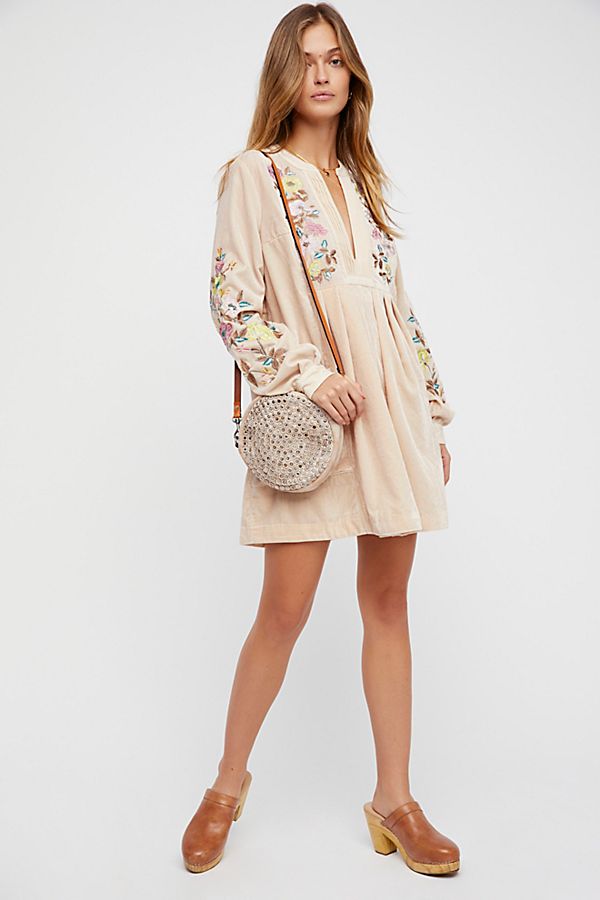 Whenever I'm shopping, I love to play a little game called "Find the Look for Less". It's such a thrill to find items that are similar to more expensive ones, especially as a college girl on a budget. It feels like I'm winning every time!
One of my favorite brands is Free People — their clothes are gorgeous, however they also often cost more than I can afford on my budget. So today I challenged myself to find some Free People dupes for less. Here are some items that are very similar to Free People pieces but at a fraction of the cost!
Can afford to spend a bit more? The links to the gorgeous Free People items will also be available to shop!
1. Denim Overalls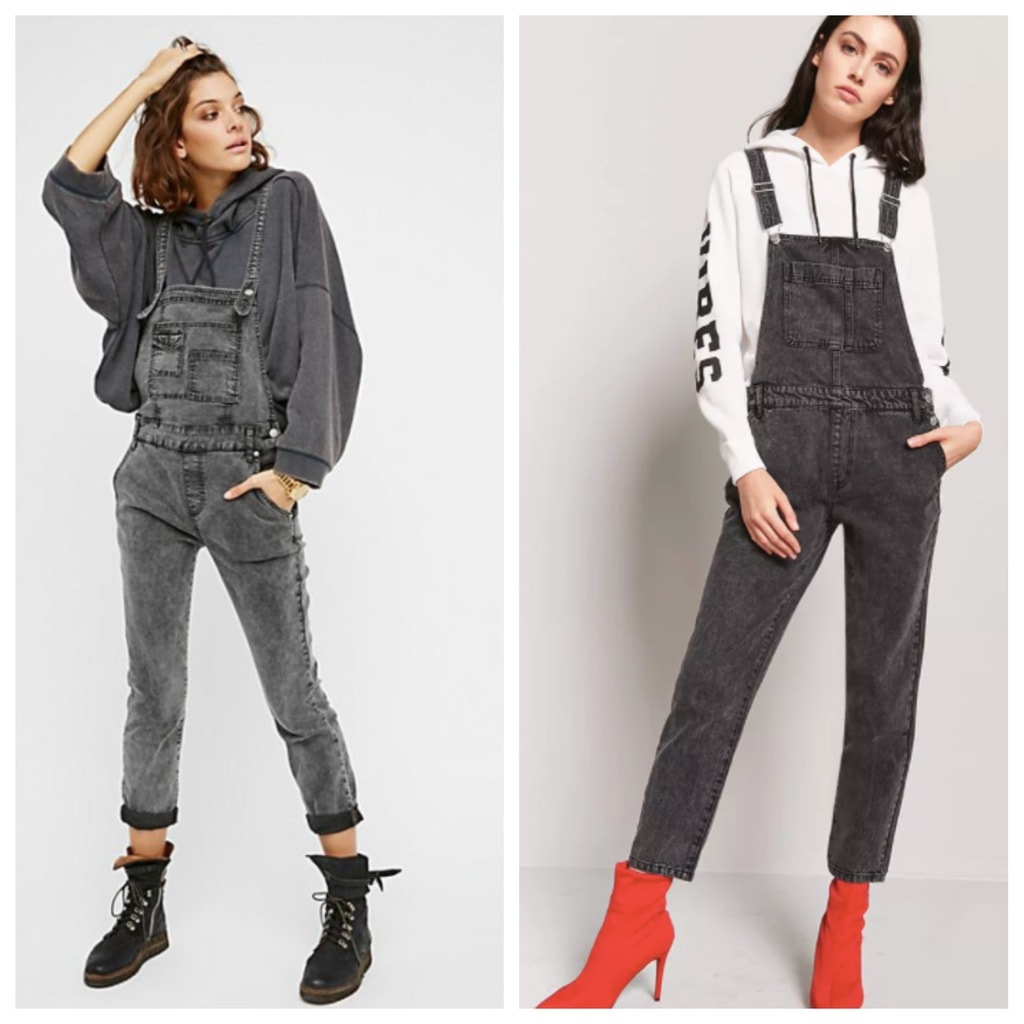 Products: Left – Free People, Right – Forever 21
Overalls of any kind are a closet must-have. These washed black denim overalls are a more edgy alternative to the regular denim classic. The Free People overalls retail for $98, while the Forever 21 pair are are less than half the price, at just $34.90.
Overalls look great paired with any kind of boots, as you can see above! I suggest pairing a bright colored shoe with them to really contrast the dark color of the overalls.
2. Peg Pants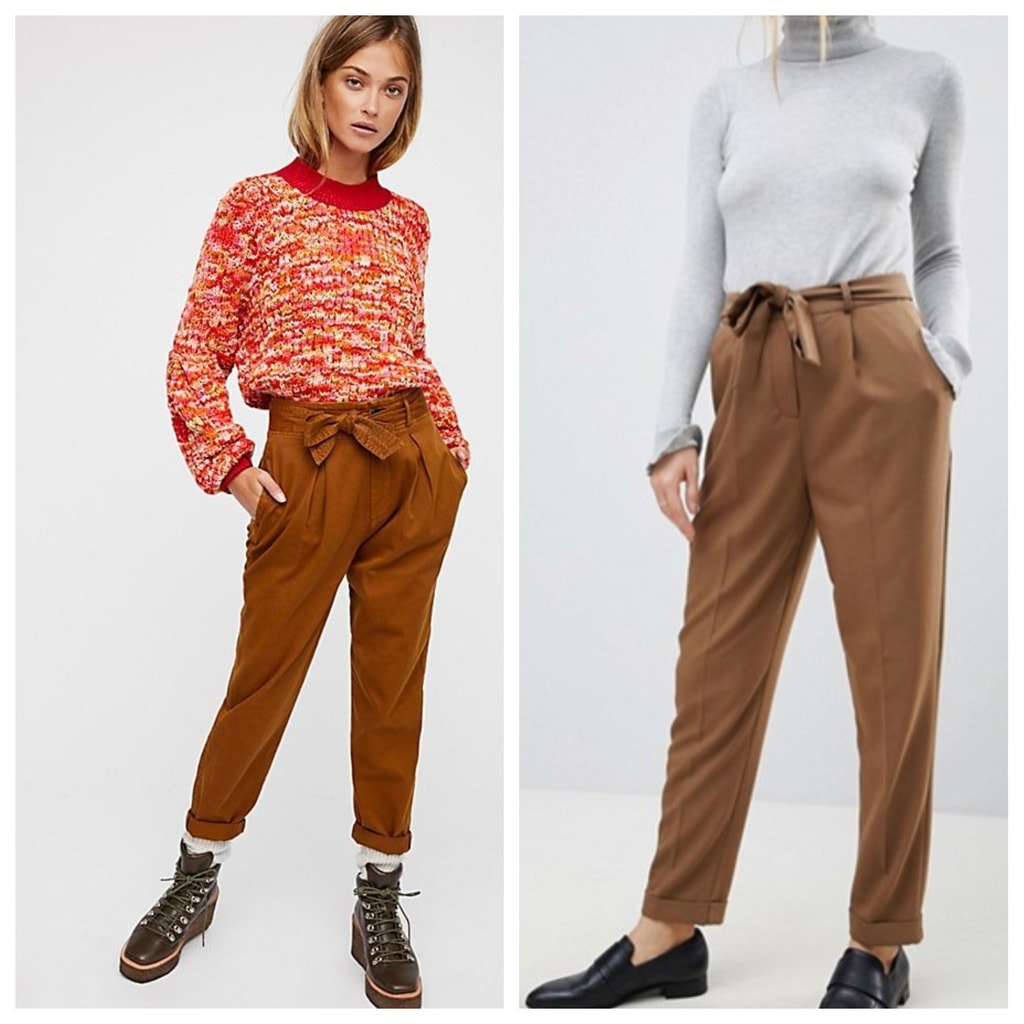 Products: Left – Free People, Right – ASOS
Peg pants are my favorite pants style for all situations. They add a little something extra to any casual look, yet are also great for a business casual day at the office.
The Free People pants on the left retail for $78 and the ASOS pants on the right cost a more affordable $40. These pants pair nicely with sweaters as you can see, but they also look great with classic utility blouses. Mules and oxfords are my go-to shoe styles for pairing with peg pants.
3. Gray Skinny Jeans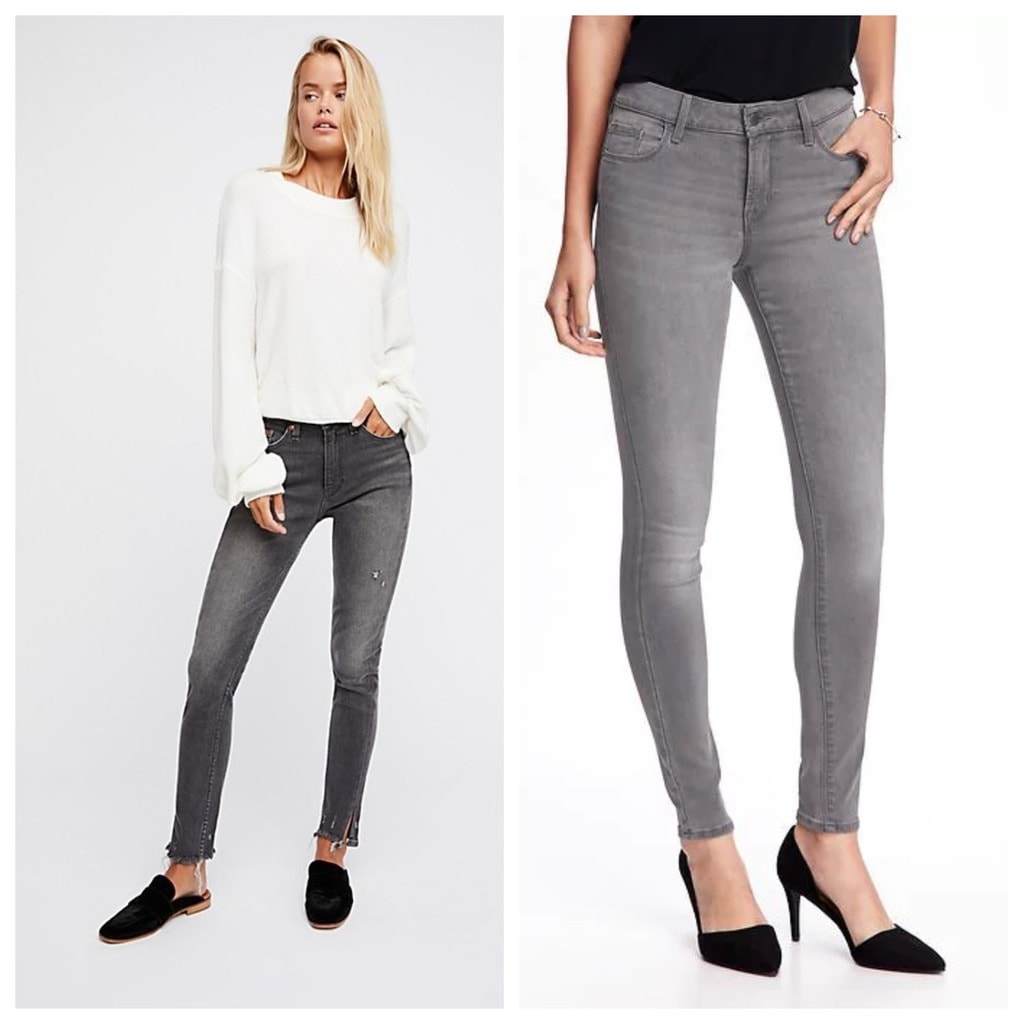 Products: Left – Free People, Right – Old Navy
Gray is the new black! At least in the case of jeans it is. Raw hem jeans, like these gorgeous ones from Free People, are my favorite jeans right now. However, these Rockstar jeans from Old Navy, though not featuring a raw hem, are comfortable, cute, and still make all outfits killer. (And you could always cut the hem yourself if you wanted…)
The Free People jeans on the left retail for $98, whereas the Old Navy jeans are only $34.99 — perfect for girls on a budget!
A pair of gray skinnies pairs wonderfully with any kind of loose blouse. The tightness of the jeans offsets the volume of the blouse for a perfect combination.
4. Transprent Sunnies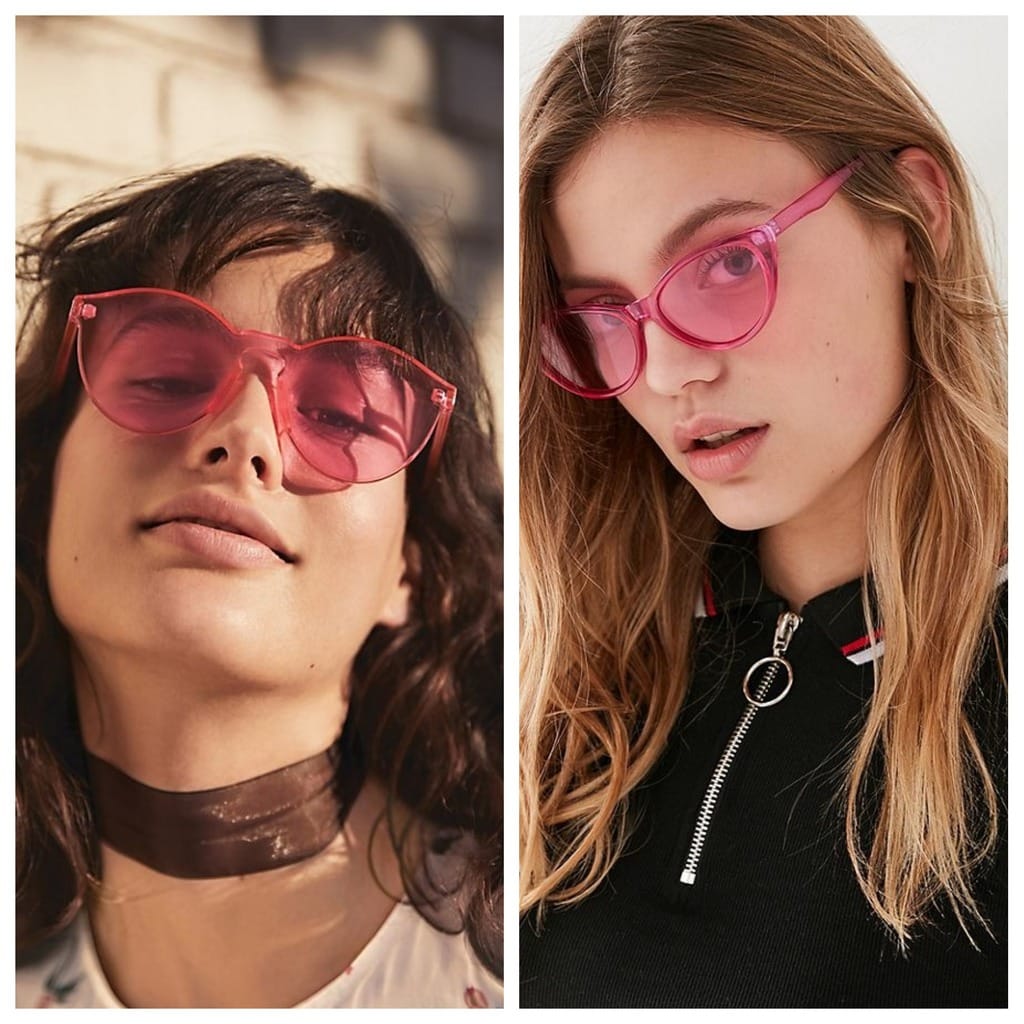 Products: Left – Free People, Right – Urban Outfitters
Transparent sunglasses have been trending like crazy the last few months — expect to see them everywhere during spring break! They're a new take on an age old classic and enhance any outfit.
The Free People pair on the left retails for $30 (not too bad by Free People standards!), however the pair from Urban Outfitters costs just $16. Both pairs come in many colors in addition to this pink shade, including orange, red, and blue.
5. Black Beret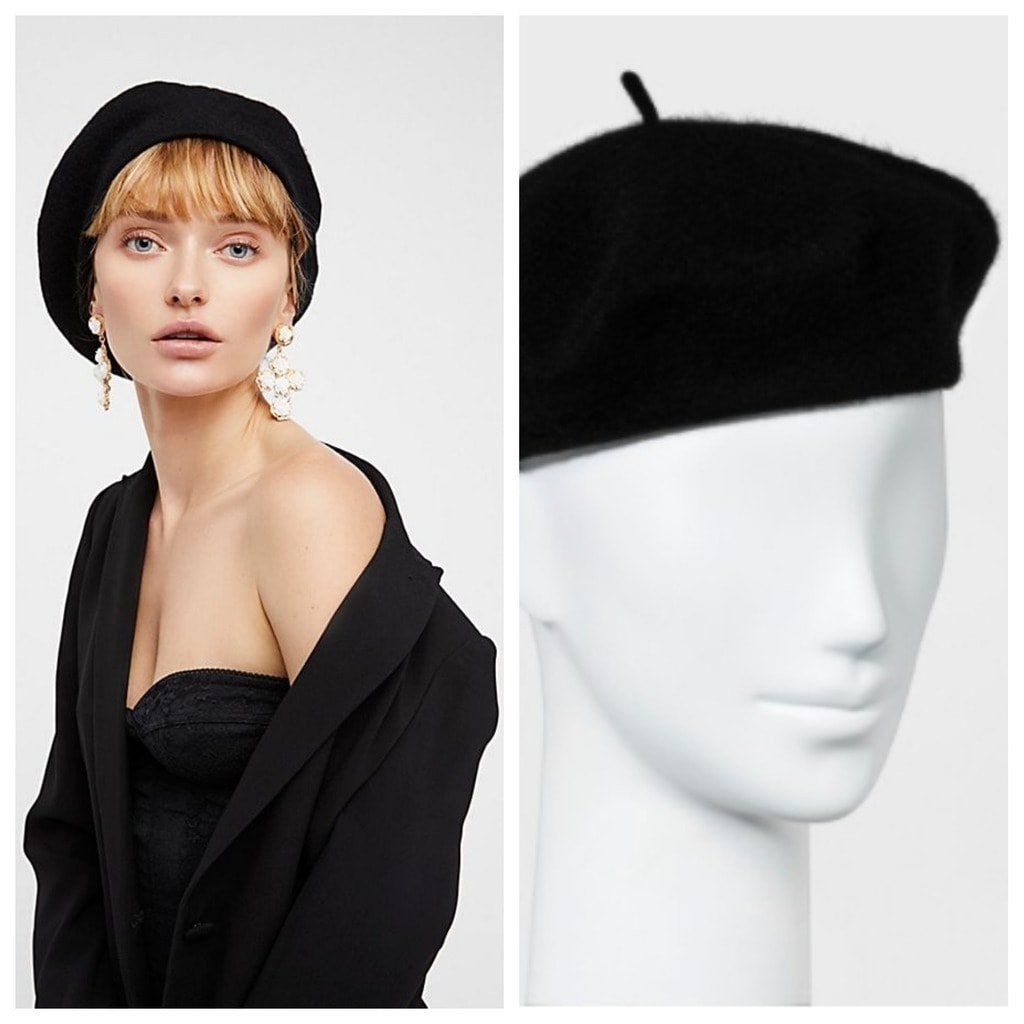 Products: Left – Free People, Right – Target
Berets have a long, rich history, first arriving on the fashion forefront in the early 1900s. They add a Parisian flair to any outfit and look great with almost every hairstyle.
The left beret is from Free People with a retail price of $28, and the beret on the right is from Target for only $12.99. Either beret would look gorgeous with a plethora of outfits and will surely add sophistication to your look.
6. Classic Black Belt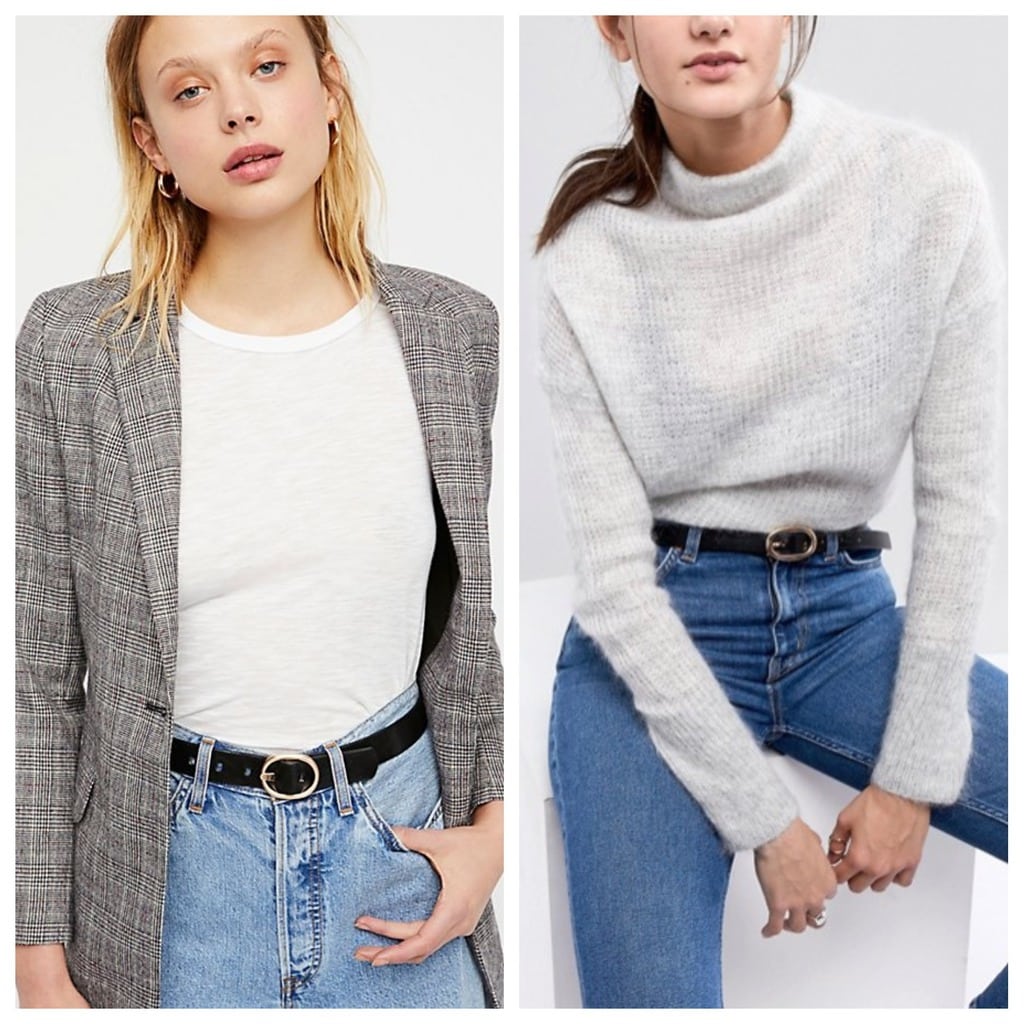 Products: Left – Free People, Right – ASOS
A classic black belt is a staple that all college girls should have in their closet but it's not something you should spend too much on! The Free People version of this classic belt is $38 and the ASOS version rings in at $29 for a savings of $9.
Classic black belts are such great items because they really pull together an outfit! If you don't have one yet, you need to invest. I chose these belts in particular because the round buckle sets them apart from their usual square counterparts.
Want to see more "Look for Less" posts like this?
Comment below if you'd like to see this done with any other brands and if there's certain brands you'd like to see!