Kimonos have become ultra popular over the last few years, and I attribute the garment's popularity to its versatility. From a transitional piece, to a jacket, to a swimsuit cover-up, a kimono is whatever you need it to be.
That's why I was excited to find this particular kimono at Walmart for just $14.41!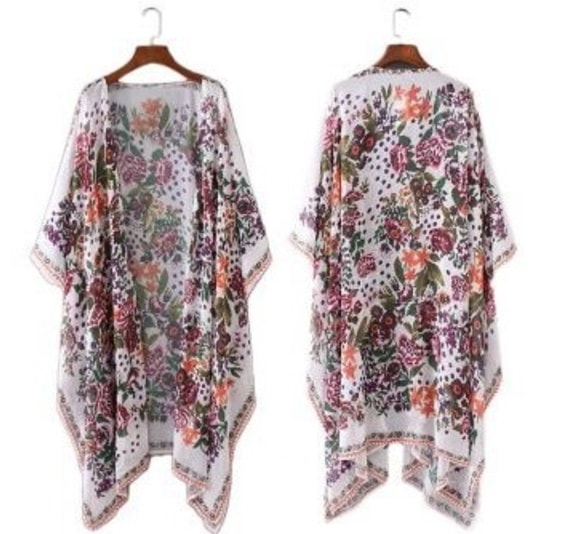 Below, I'll show you three ways to style this floral kimono — the possibilities are endless!
Floral Kimono Outfit 1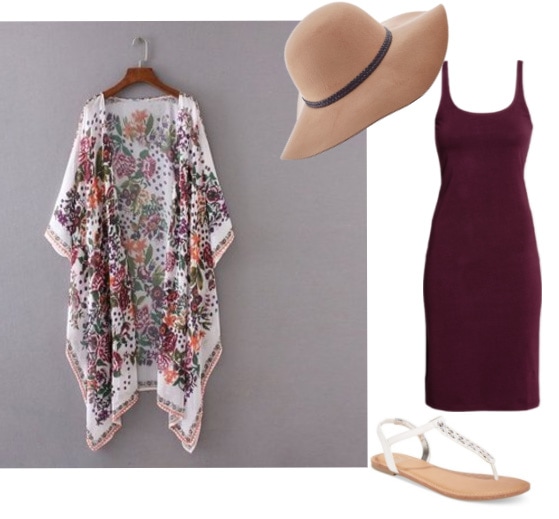 Products: Kimono – Walmart, Dress – H&M, Hat – Target, Sandals –Macy's
Even though summer is wrapping up this month, we are not done taking our vacations and beach trips. If you find yourself lunching by the water, this outfit is for you.
This burgundy body-con dress is sleek and chic, the perfect counter to the loose, floral kimono. The long arms on the kimono will protect you from wind and the floppy sunhat keeps the sun from your eyes. The sandals are super cute, bringing some girly sparkle into the outfit.
Floral Kimono Outfit 2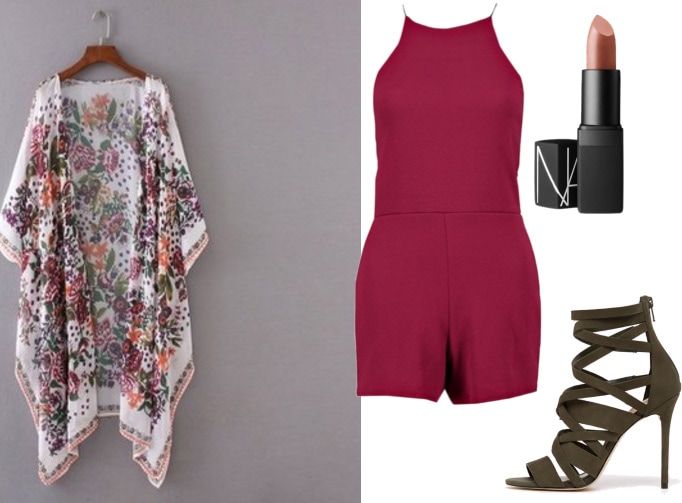 Products: Kimono – Walmart, Heels – Aldo, Lipstick – Nars, Romper – Boohoo
When you're rocking a statement kimono like this one, you can keep the rest of your outfit simple. The romper/heels combo is a popular look right now and can be tied together and toned down with the addition of a kimono.
This burgundy romper brings out all of the colors in the kimono, while the olive green heels match the leaves on the print. The satin lipstick is a champagne color that won't distract from this eye-catching look.
Floral Kimono Outfit 3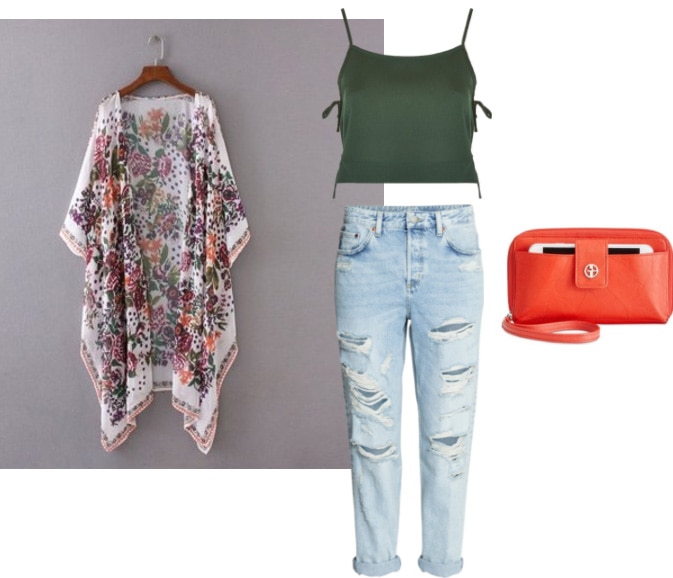 Products: Kimono – Walmart, Clutch – Macy's, Jeans – H&M, Crop Top – Topshop
Of course, kimonos do not have to be dressed up – it's also great to pair a kimono with a super casual look.
Again, this olive green crop matches the colors of the leaves on the kimono. The boyfriend jeans are a relaxed summer staple. A simple orange clutch further highlights the kimono's print. I didn't include shoes because you could go either way — any pair of neutral sandals or heels would look fab with this look.
How do you rock kimonos? Do you like this find?
Let us know if you have added some Japanese flavor to your closet. How vibrant is your kimono and what all have you paired it with?