The "Fabulous Find of the Week" column gives you the heads up on all the hottest, most affordable items at your favorite stores!
Hello lovely ladies! I hope each and every one of you has been making the best of 2019 so far. I'm so confident it's going to be a great year! If you haven't made a list of resolutions yet, it's not too late to set goals.
Sweater weather is often associated with the fall. But in the Northeast, it lasts until at least the end of March, making now a great time to stock up on cozy knits. So for this week's Fabulous Find, I will be helping you style one of my favorite sweaters of the season. It's super gorgeous and incredibly classic. Take a look below!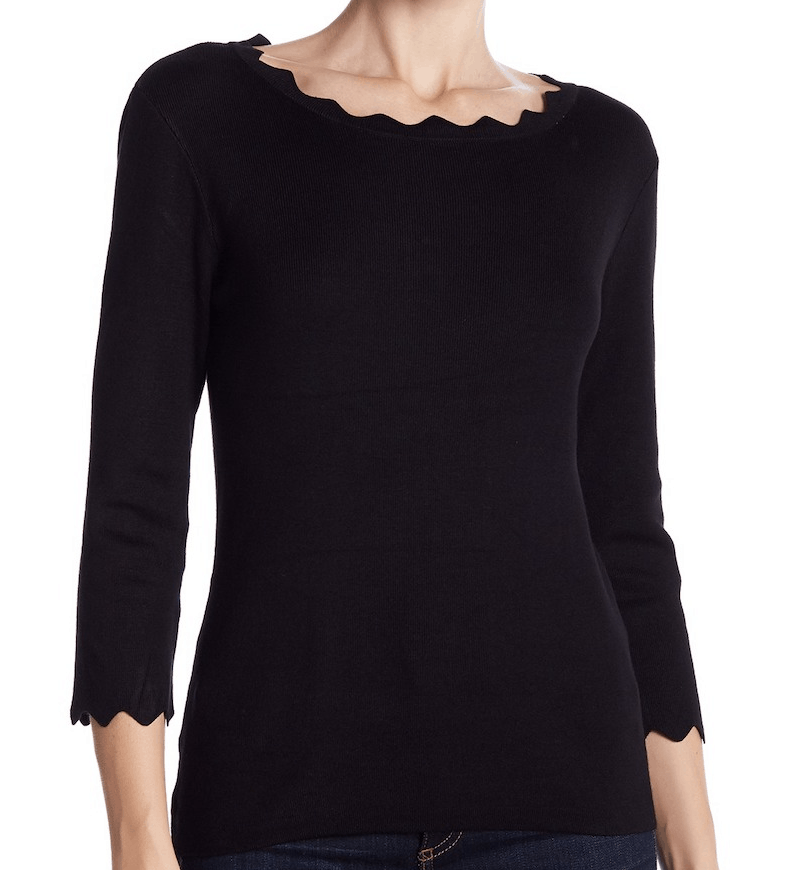 This simple scalloped sweater is gorgeous. I'm in love with the detailing. The design is so simple and ladylike; it would go with anything. It also comes in 5 amazing colors, including this classic black. You can easily dress it down with jeans for class or add a skirt and heels and wear it out to dinner. Not to mention, it's only $16.97! Such a steal for a sweater you'll wear time and time again.
Here are some ways I'd style this classic closet essential:
Back in Black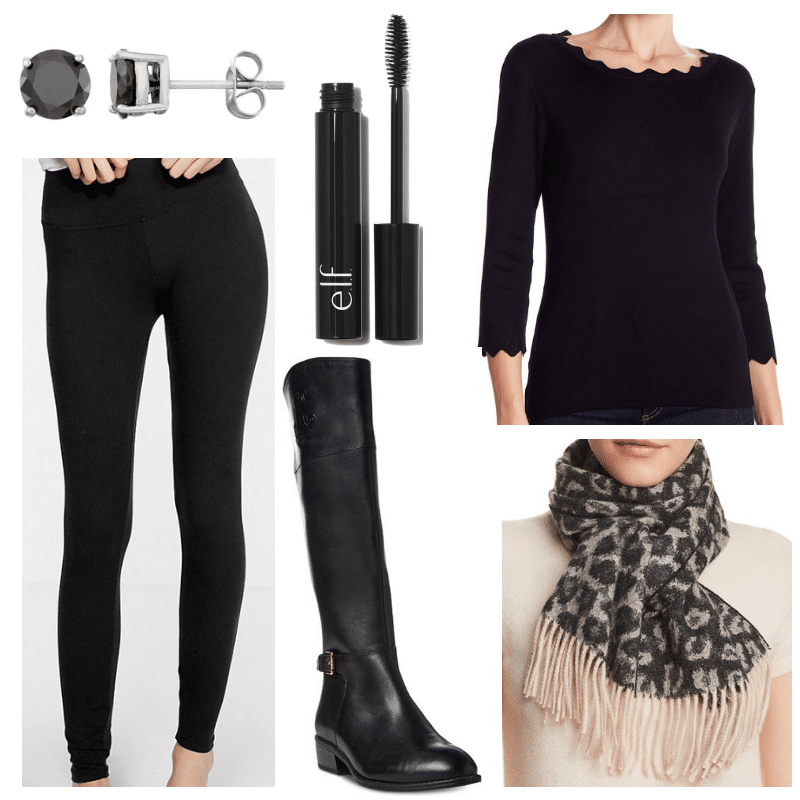 Products: Scarf – Bloomingdales, Sweater – Philosophy Apparel (Nordstrom Rack), Mascara – elf, Boots – Lauren Ralph Lauren (Macy's), Earrings – Kohl's, Leggings – Express
This outfit is perfect for going to class. The leggings are incredibly comfortable and something every girl needs to have in her closet. It's great to have few pairs because they're something you will wear all the time.
I'm also a huge fan of riding boots. They're one of my favorite styles of preppy shoes and I wear them very often on campus. They are elegant, ladylike and also comfy. You can walk everywhere in them and you won't even notice you're wearing them.
Pink Faux Fur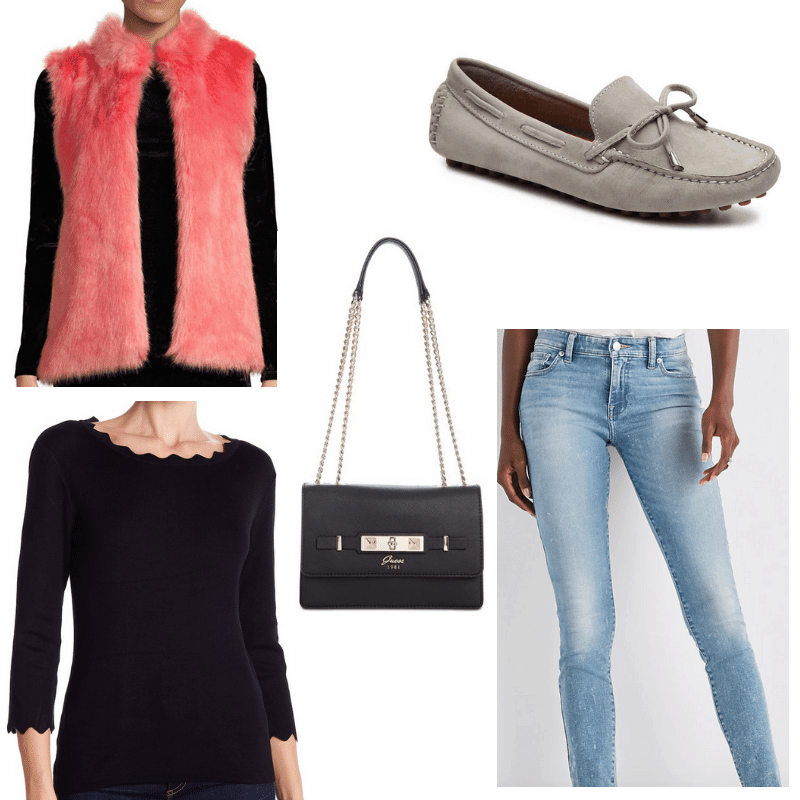 Products: Jeans – Lucky Brand, Loafers – Mercanti Fiorentini (DSW), Vest – Michael Kors (Lord + Taylor), Handbag – Guess (Macy's), Sweater – Philosophy Apparel (Nordstrom Rack)
This outfit is perfect for grabbing drinks or dinner with friends. It's casual but also very fun and playful. The faux fur vest is by far my favorite piece. The color is so vibrant and perfect for Spring. It's also so soft and comfortable so you'll want to wear it time after time.
I'm also a huge fan of loafers. They're another one of my favorite kinds of shoes. They're great for going to classes as well as grabbing lunch or dinner. They're also classic so you'll have them forever.
Grey and Black Preppy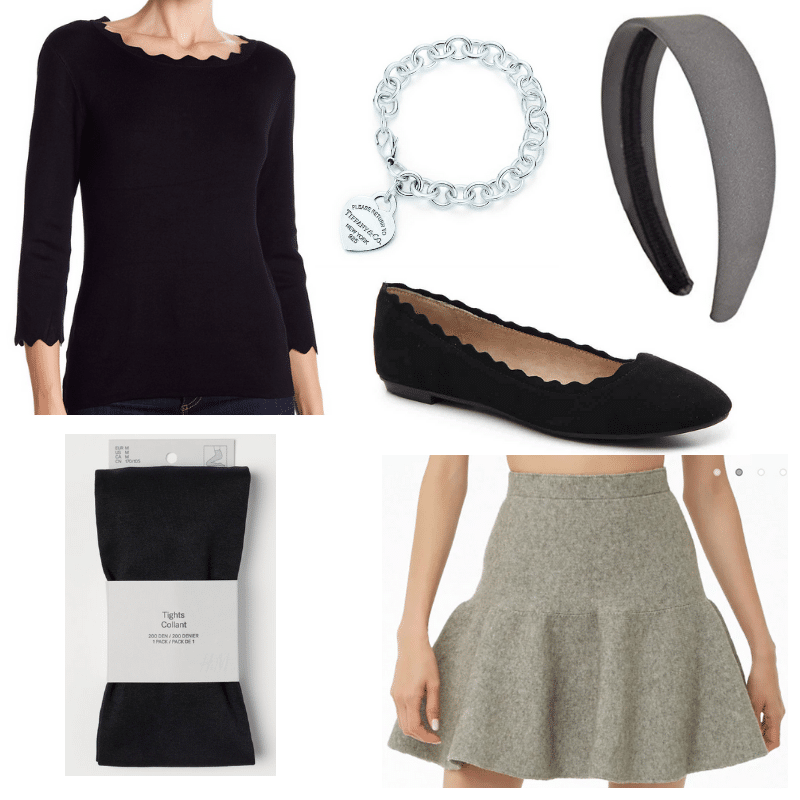 Products: Tights – H&M, Bracelet – Tiffany & Co, Sweater – Philosophy Apparel (Nordstrom Rack), Headband – Motique Accessories (Amazon), Flats – Crown Vintage (DSW), Skirt – Forever 21
I love how gorgeous and preppy this outfit is. If you feel like dressing up to go to class it's perfect but you could also pull it off for a fun first date with that special someone. It's very ladylike but also effortless and easy to pull off.
I'm obsessed with the skirt. I love how it accentuates your waist but also has a stunning shape towards the bottom. Not to mention the incredible price. You'll for sure wear this all Winter and Spring long!
What did you think about this week's Fabulous Find?
Do you like this sweater? Are you a fan of Nordstrom Rack? What are your favorite styles of sweaters? What have been your favorite winter trends so far? Start the convo below!