When the weather is hot, humid, and generally disgusting, there's nothing better than slipping into a lightweight and breezy summer sundress. It makes the muggy weather just a little bit more bearable and you'll look stylish to boot.
This week's Fabulous Find is just that — an adorable and easygoing dress from one of our favorite budget-friendly fashion meccas, Forever 21. The dress features a drapey blue top half with a trendy body-con striped bottom portion. The best part? This fantastic frock costs less than $18 and — with the right accessories — can be styled countless ways. All you have to do is scroll on down to check out the dress and some outfit inspiration.
The Dress: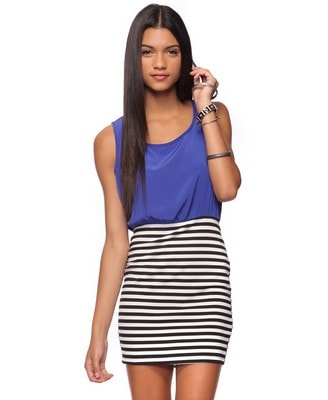 Solid & Striped Dress — $17.80 at Forever 21
Outfit Inspiration
If you like this budget-friendly frock then you're going to love the outfits we put together for inspiration. Read on to find out three stylish ways to wear this week's Fabulous Find:
Outfit #1: Stars & Stripes Forever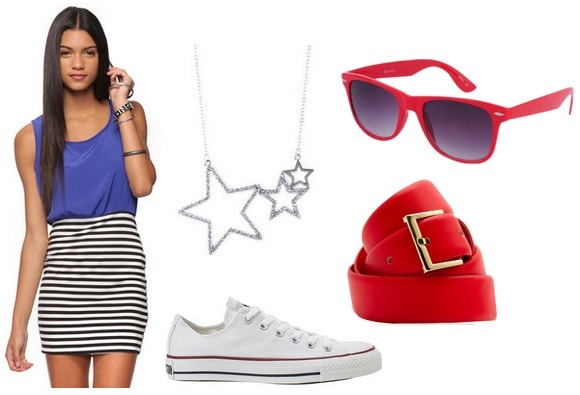 Product Info: Dress- Forever 21, Necklace- Deb, Sunglasses- Forever 21, Shoes- Converse, Belt- Mango
The Fourth of July is mere days away and although we've already covered Independence Day fashion, we couldn't help but create another look with our Fabulous Find — this dress is just too perfect for the occasion!
First, add a red belt, which will help define the waistline and add a bright pop of color. Next, classic Converse sneakers not only incorporate the red, white and blue motif, but are the perfect footwear choice, whether you're spending the Fourth at a barbecue or watching the fireworks. Accessorize with an adorable star necklace and red Wayfayers for a stylish and practical holiday outfit.
Outfit #2: Trendy & Sophisticated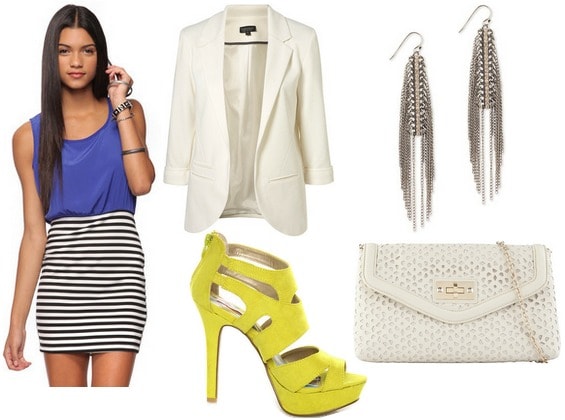 Product Info: Dress- Forever 21, Blazer- Topshop, Earrings- Pink Mascara, Shoes- Lulu's, Bag- Aldo
For a more dressy look, pair the dress with a crisp ivory boyfriend blazer, which gives a polished, yet low-key vibe. Sky-high yellow heels give this outfit a major dose of style and color, while the cutout leather clutch adds a stylish touch. Accessorize with some edgy fringe earrings and you'll have the perfect outfit for grabbing dinner and drinks on a balmy summer night.
Outfit #3: Mixed Prints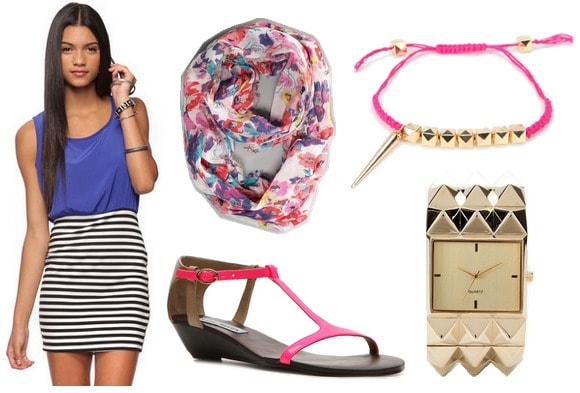 Product Info: Dress- Forever 21, Scarf- American Eagle Outfitters, Bracelet- Urban Outfitters, Shoes- Steve Madden, Watch- Urban Outfitters
Our final outfit incorporates something we love here at CF — mixing prints. For this look, we decided to pair the striped dress with a colorful floral infinity scarf. Add a pair of comfy mini-wedge sandals and accessorize with a matching hot pink bracelet and pyramid stud watch for a cute and casual summertime outfit.
Your thoughts?
What do you think of this week's Fabulous Find? Would you buy this F21 dress? Which look is your favorite? How would you wear the dress? Remember to leave a comment below and tell us what you think!