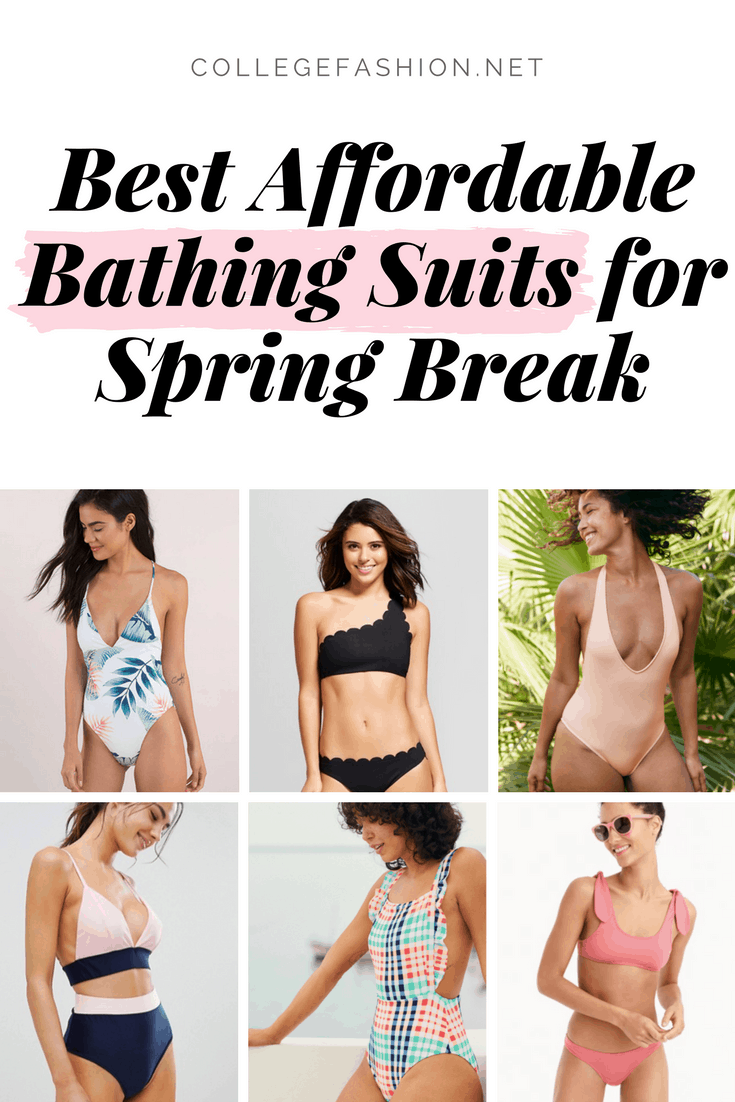 It's officially spring break time, and if you don't have a new bathing suit yet, it's time to click "add to cart."
To help you out, these are 10 of my current favorite affordable bathing suits that are perfect for any spring break trip or beach vacation! They range from classic one-pieces to your typical bikinis. They're also all budget friendly and all super cute.
Related reading: 5 Extremely Cute Bikini Outfits You'll Wear All Summer Long
1. Palm Print Low-Back One Piece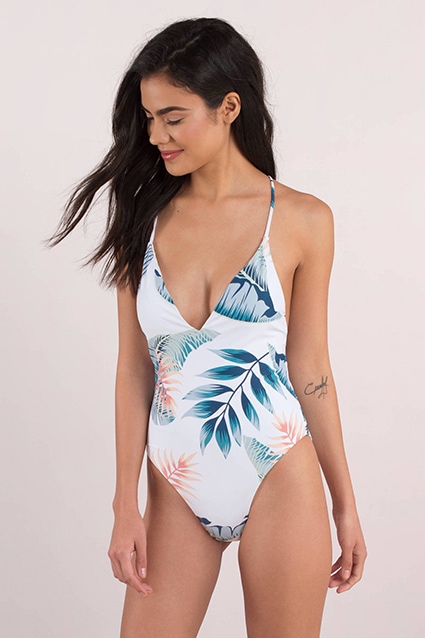 Foliage prints are super trendy so why not rock them on your bathing suit? This one-piece is from Tobi and it's different from the cliche one piece with a regular higher back. It has a super dip plus cute criss-cross straps in back, in addition to a low neck — it's anything but basic!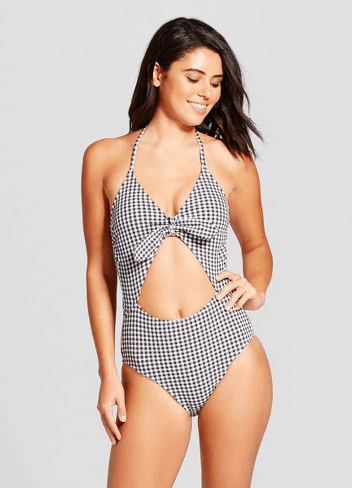 This second bathing suit is from Target, a great place to find cute bathing suits on a budget. Gingham is one of the best prints ever in my opinion. Whether the print is large or small, it always looks great! This suit is no exception to that fact. The print is so cute, the peep hole in the bodice is super flattering, and the tie at top is flirty and fun!
3. Scalloped One-Shoulder Bikini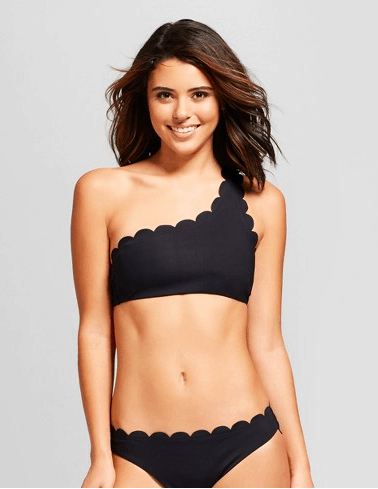 This next bathing suit — also from Target — is another super cute and classic choice for the beach. Black is always a great go-to bikini color because it's lovely on all skin tones. This is a new twist on a classic suit and the scallops make it even better! You do have to purchase each piece separately but both together ring in at just under $50. (The link for the bottoms can be found here.)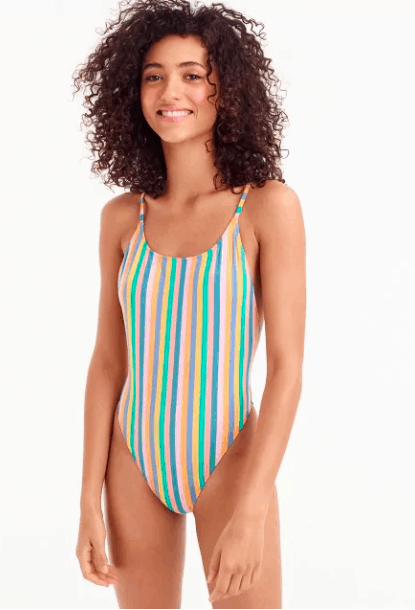 This next suit from J.Crew is such a good option for spring break. The stripes are to die for and the colors are so pretty and fun. This one will also look great on most skin tones due to the color variety. If the vertical stripes aren't your thing, fear not: This suit comes in four different patterns, all equally adorable.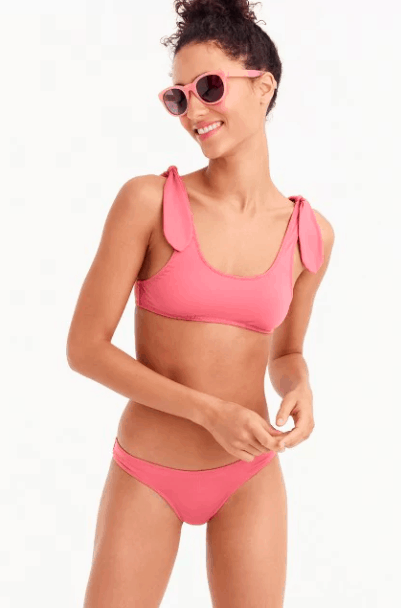 This bikini is also from J.Crew and you can tell because of the slightly muted tone of the pink. This bathing suit is perfect for someone who wants a little twist on the classic bikini. The tie-shoulders make this suit flirty and subtle at the same time!
Pink not your go-to shade? That's fine! There are four other color choices you can choose from. The bottoms for this bikini (here) also come in all shades.
6. Super Plunge V-Neck One-Piece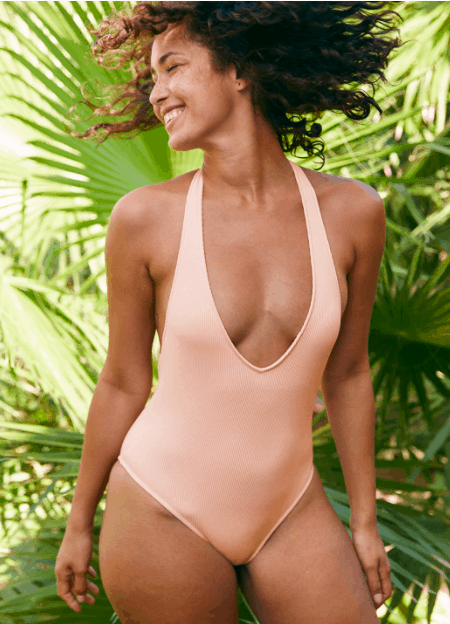 Can we appreciate the gorgeousness of this suit for a sec? This one-piece from Aerie is perfect for any girl wanting to show off a little more skin! With stellar reviews you definitely can't go wrong choosing this one-piece. It comes in this lovely peach shade as well as a bright white!
As soon as I saw this one-piece pop up on my Instagram feed, I knew I needed to include it! The colors are bold, the ruffle is adorable, and you'll look super cute while wearing it! If you aren't a fan of this color combo, there's also a denim blue one, and a tropical orange and green version. Either way, you're sure to turn heads.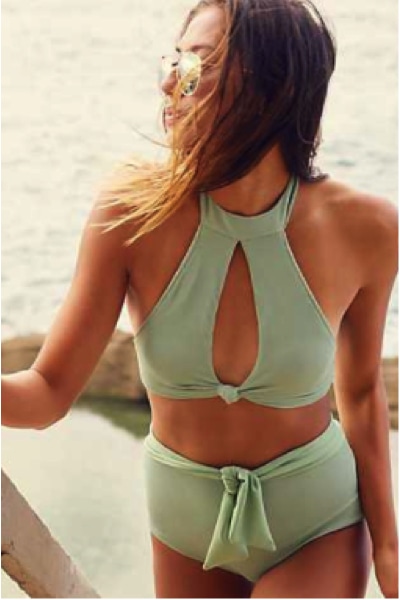 I chose this last bathing suit from Aerie for its freshness: It's a style I hadn't seen before. The tie-waist of the bottoms is so pretty and different from all other bottoms out there. The top is also adorable and shows just enough skin while still being modest. (The bottoms are available here.)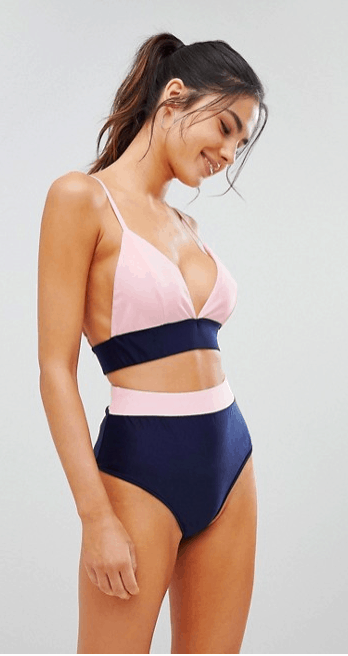 I actually purchased this PrettyLittleThing bathing suit this season and since then I've also seen many bloggers wearing it on Instagram! The contrast of the blue and pink is gorgeous and the top and bottom are perfectly shaped to give you coverage while still showing the right amount of skin. This bikini is basically perfect. (You can find the bottom for this set here.)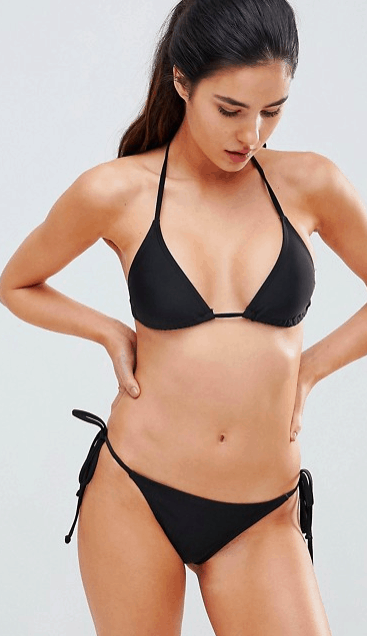 For the last bikini of this post, I decided to go with a classic! Triangle bikinis are always a great choice. They're comfortable, simple, and usually pretty inexpensive! I went with a classic black here even though there are many color options available as well. (You can grab a pair of bottoms here!)
Do you like any of these bathing suits? Which is your fave?
I hope y'all enjoyed this post! If you decide to purchase any of these bathing suits for a spring break trip of your own don't forget to tag College Fashion in your posts! We might just re-post you on our Insta.