The "Fabulous Find of the Week" column gives you the heads up on all the hottest, most affordable items at your favorite stores!
Raise your hand if you're ready for warm weather! We are more than halfway through March and it's still incredibly cold. My mind, however, is thinking ahead to warmer days and all the amazing outfits I have planned for spring.
This week's Fabulous Find is a cute bow clutch which I'm really looking forward to wearing soon. It is simple, yet incredibly elegant. Plus, it's only $4.99 for ShoeDazzle VIPs. Now that is what I call a worthy investment! The clutch comes in five beautiful colors but I found the black and rose gold to be the best choices for outfits this Spring.
Glistening in Gray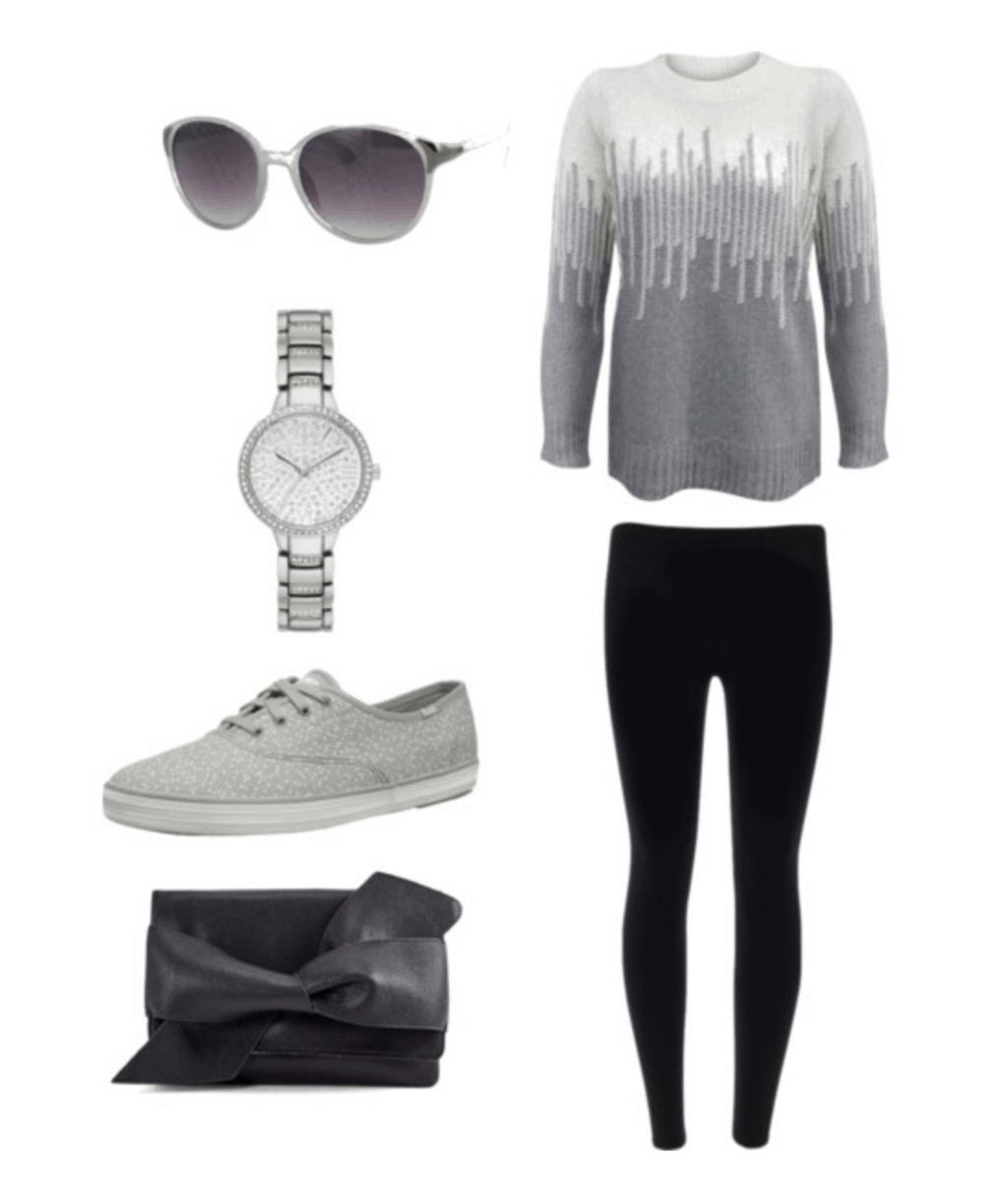 Products: Watch – Jennifer Lopez (Kohls), Sneakers – Keds (Amazon), Leggings – Vestry, Clutch – ShoeDazzle, Sweater – Luxury Divas, Sunglasses – Jones New York (Ebags)
This look is casual, comfortable, and perfect for going to class. Its value lies in its simplicity because it is easy to wear all day long yet still has a sophisticated vibe.
As we enjoy the early days of Spring, you (hopefully) won't be needing a jacket in many parts of the country but will still need to stay warm. For that, this sweater is perfect! It's cozy and cute and goes great with the leggings. I will admit, I love the pattern and find it sweet and charming!
I love the subtle gray color scheme of the outfit. The sneakers and sunglasses match perfectly and make the combo quite chic. The clutch, our Fab Find, is great for storing your phone, student ID, and wallet. It's small, compact, and super useful.
Clutching the Rose Gold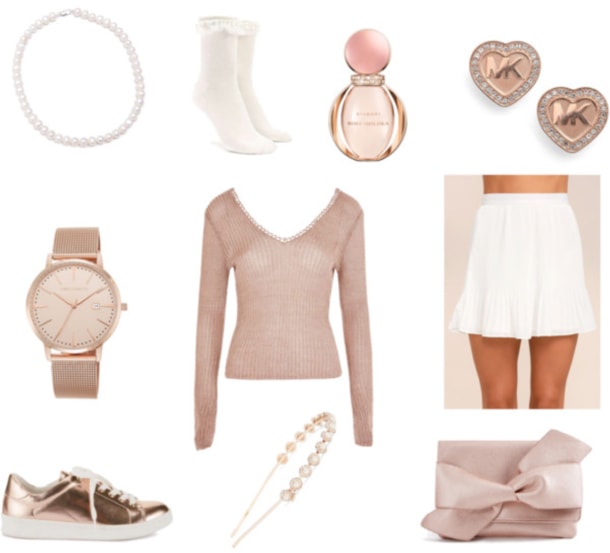 Products: Earrings – Michael Kors (Nordstrom), Perfume – BVLGARI (Harvey Nichols), Watch – Vince Camuto (Nordstrom Rack), Socks – Forever 21, Clutch – ShoeDazzle, Top – Topshop, Sneakers – Miss Selfridge, Pearls – Handpicked, Headband – Tasha (Nordstrom), Skirt – Lulus
Pink is my FAVORITE color, and I'm obsessed with the gorgeous shade of rose gold this clutch comes in. It's delicate, elegant, and just plain stunning. This is why I fell in love with the rose gold clutch and consequently the whole outfit itself! I think this look would be perfect for a fun lunch with friends!
While the skirt and top are absolutely stunning, what really hits me about this outfit is how the accessories perfectly complement each other. As always, headbands are my absolute favorite accessory and this one is so elegant and understated but adds sparkle to the look. The pearls, earrings, and watch are so classy and feminine and really work together.
While the black clutch works for a wider array of occasions, the rose gold one is my favorite. It shines in any light and will make sure you shine all day.
Graceful in Black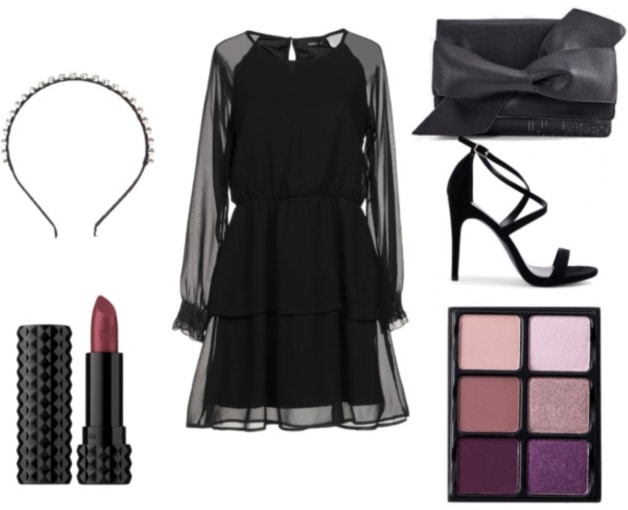 Products: Stilettos – New Look, Lipstick – Kat Von D (Sephora), Dress – Yoox, Headband – Forever 21, Clutch – ShoeDazzle, Eyeshadow Palette – Viseart (Revolve)
This outfit is great for a night out with friends. It is simple yet elegant and beautiful yet understated. And hey, it's a perfect example of how that black clutch can be used for completely different occasions.
The dress is stunning and is a steal for only $22! I adore the sheer long sleeves. The stilettos are classic and a shoe that can be worn countless times. I really love the matte shimmer of the eyeshadow and the gorgeous shade of the lipstick. These touches add an extra glow to the outfit and will ensure you're gorgeous for a night out.
What did you think about this week's fabulous find?
Do you like clutches? What color is your favorite? How do you feel about headbands? Start the convo below!