The season for layers is here! Nobody really likes the cold, but since it is inevitable, we have found a jacket that will keep you warm and on-trend.
Charlotte Russe has this distressed, oversized denim jacket with rose embroidery (a hot trend for fall) on sale for $25!
The Jacket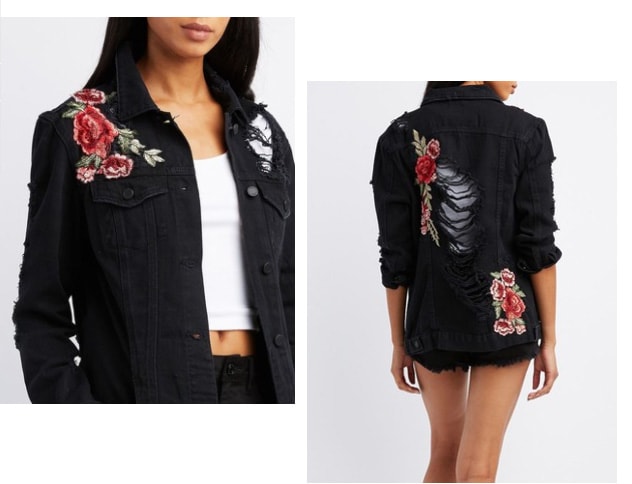 Embroidered Destroyed Denim Jacket – $25 at Charlotte Russe
This jacket is super cute and fun and can work for any casual occasion on campus. And, of course, if you want to see how to style it, we have three outfit ideas ready for you:
Embroidered Jacket Outfit 1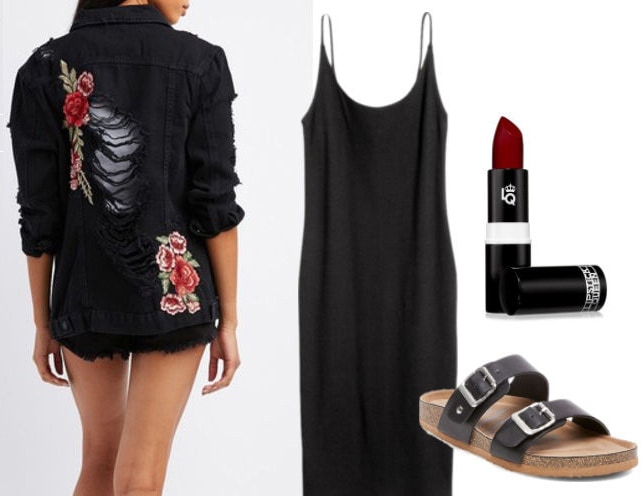 Products: Jacket – Charlotte Russe, Lipstick – Nordstrom, Shoes – Target, Dress – H&M
This look is super simple and smart — you can't go wrong with an all black outfit, especially in the fall, and the monochrome palette allows the rose embroidery to really shine.
Just throw on a simple dress and comfy sandals, then swipe on a red lip and you're good to go.
Embroidered Jacket Outfit 2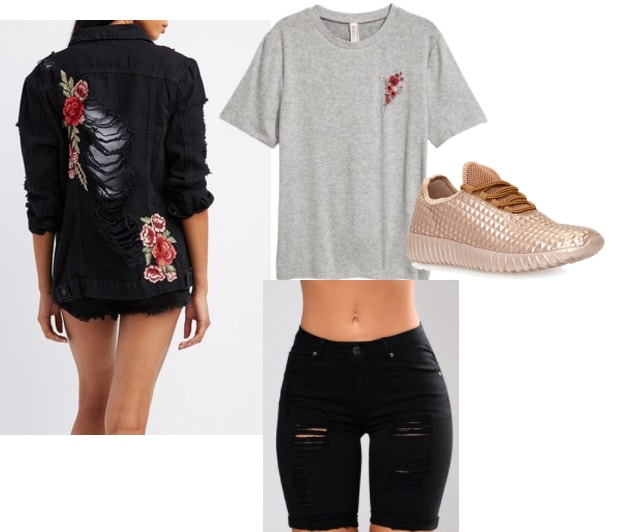 Products: Jacket – Charlotte Russe, Shorts – Fashion Nova, Shirt – H&M, Shoes – Rainbow
This look is SO chill yet completely adorable. Of course, the shirt and jacket go hand-in-hand with the rose embroidery. The rose gold sneakers are absolutely eye-catching and make a huge statement to complete the look.
Embroidered Jacket Outfit 3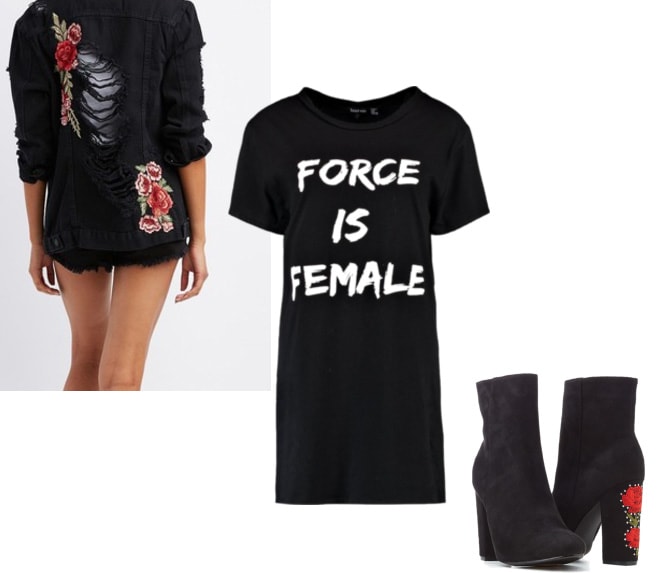 Products: Jacket – Charlotte Russe, Dress – Boohoo, Shoes – Charlotte Russe
Here's a perfect way to wear the jacket for a night out. The statement on the T-shirt dress is bold and attention-grabbing, while the rose detail on the shoes matches the embroidery on the jacket. Add the red lipstick from outfit 2 (or one of our favorite red lipsticks, ever), and you're all set.
Do you have any embroidered jackets for this fall?
What will you rock with yours? Which one of these styles best fits you? Comment and let us know!