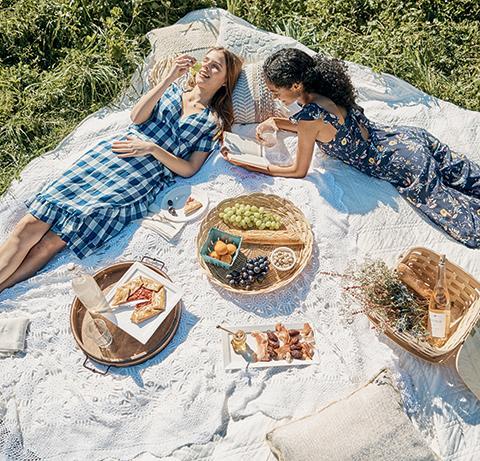 With Earth Day having recently passed, there's been buzz around sustainability in the fashion industry. When we think about sustainability, we think about not eating certain foods, not using plastic water bottles, and composting. While these sustainability efforts are great, we shouldn't stop there — it's important to think about making your style more sustainable, too.
I can't lie, it's easy for me to go to Forever 21 or H&M and pick up something that's cute. But then I remember that these brands are fast fashion clothing brands. Meaning that they crank out a mass amount of clothing to meet popular demand, creating a ton of waste in the process. No good.
If you want to be a more sustainable fashionista, a great place to start is by supporting eco friendly clothing companies. But you can't buy eco-friendly clothing if you don't know any eco-friendly clothing brands. So below are 9 eco-friendly clothing brands you have to check out!
1. Christy Dawn
At first glance one might not see what's unique about Christy Dawn. However, once you learn more, you'll quickly find out what the hype is all about.
Founder Christy Dawn mixes the vintage style of her hometown with a goal of being kind to the Earth. She does this by using deadstock fabric, which is the extra fabric left over from fashion companies that would otherwise end up in landfills. Before the fabrics go to waste, Christy gets ahold of them and creates gorgeous limited edition dresses.
2. Amour Vert
https://www.instagram.com/p/Bd0KpV2H72Q
One of the main criticisms waged against eco-friendly brands is that they aren't fashionable. Amour Vert is a company that proves the stereotype wrong. They offer classically feminine clothing while doing a great service to the environment.
Alongside trying to use materials that create zero waste, for every tee shirt they sell Amour Vert plants a tree in North America. As of today, they've planted over 165,000 trees.
3. Study NY
Leaning towards the more experimental side of the fashion spectrum, Study NY dedicates its time to making clothing that will cause the least amount of harm to the environment.
One cool thing about this eco friendly clothing company is that they do a good amount of their production in New York. This helps cut down on any extra gas or CO2 that would be emitted to the air. Also, any extra fabric they have leftover from one product gets used for another article of clothing.
4. United By Blue
https://www.instagram.com/p/Bg10k8ig-Wp
If your style leans towards the outdoorsy side or you just need some new clothes for camping, United by Blue is the brand for you.
What makes this brand stand out is the positive impact they are making in the world. They pick up a pound of trash for every item they sell. Also, United By Blue hosts frequent cleanups. They get volunteers to go out and pick up trash and waste in various waterways, adding to their overall impact.
5. EcoVibe Apparel
What does a person working in the fashion industry have in common with someone who works in sustainability? Most people would say nothing but this husband and wife duo would disagree. Combining their varying expertise, Leonard and Andrea Allen came up with EcoVibe Apparel.
EcoVibe Apparel has partnered with organizations like 1% For The Planet to help protect forests, get plastics out of the water, get toxic materials out of the Earth, and more. Their brand is built entirely around sustainability so you can feel good about purchasing from them.
6. Alternative Apparel
Alternative Apparel's clothing resembles the trendy basics found in all of your favorite stores, but with an alternative means of production (hence the name). Alternative Apparel tries to be as eco-friendly as possible by making clothing that uses less water, using organic fabrics and recycled materials. They even state that "We make over 80% of our garments with sustainable materials and processes."
7. SUSI Studio
Every shoe lover knows that footwear can make or break your outfit. So thank goodness for the sustainable brand SUSI Studio. They create quality shoes that are as harmless as possible.
These shoes are made with a vegan mentality meaning that there aren't any animal products used within their shoes. You get cool shoes like the Chelsea boots above, while knowing that there weren't any animals harmed in the making of that shoe.
8. SiiZu
SiiZu, a minimalist brand, believes in being sustainable in as many aspects of the production as possible. They do this by using 100% organic fabrics. Recently, they've also switched their packaging to recyclable bags.
But they don't stop there. Knowing how important trees are for life, SiiZu donates 10% of their profits to planting trees with the organization American Forest.
9. Winter Water Factory
Last but not least we have the funky clothing brand Winter Water Factory. They are helping to reduce waste by having their items produced locally, with all production done within the U.S. They also use organic materials like organic cotton to make their products. Fun fact, this company sells clothing for women, men, children, and babies, so there's a little something for everyone.
Thoughts?
What do you think? Have any of these companies convinced you to shop eco-friendly? Let us know and thank you for reading!