Wintertime is often associated with fashion styles that are not so fun – the heavy layers, heavy-duty winter boots, chunky winter jackets.. all for the sake of staying warm. Winter gets a bad reputation for being the 'boring' time for fashion. But I'm here to prove the otherwise: here are some fabulous dresses that will brighten up your winter days.
Check out these seven cute winter dresses that stood out from the crowd, perfect for buying now and wearing all season long:
Related reading: 15 Extra Cute Sweater Dresses We Are Obsessing Over
1. UO Jill Turtleneck Sweater Mini Dress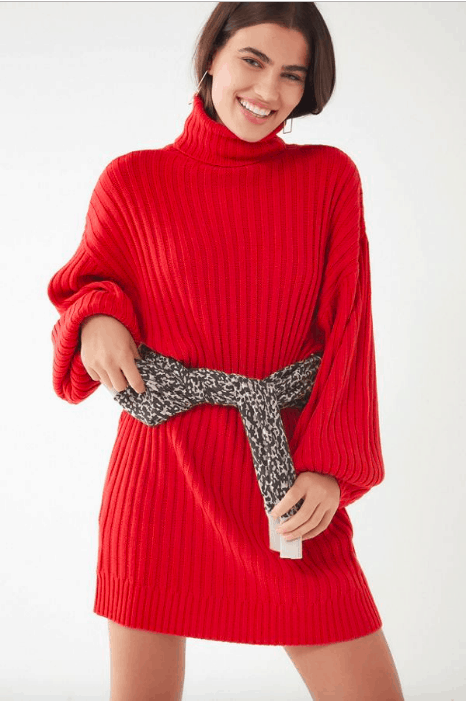 Product: Urban Outfitters, $69
This Urban Outfitters dress combines the two things we need the most for winter: comfort and coziness. Not only is this sweater dress absolutely comfortable, the balloon sleeves and bright pop of color are an upgrade from your plain turtleneck sweater dress.
2. ASOS Design Button Through Mini Skater Dress with Tie Sleeves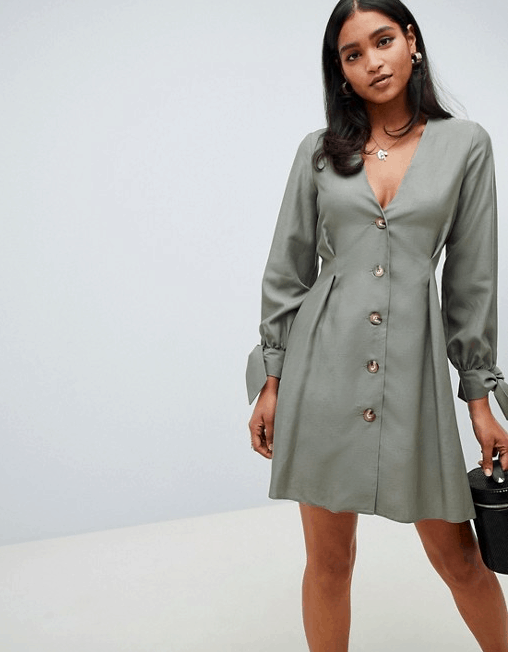 Product: ASOS, $51
I love this dress from ASOS because of its trendy details. Tie sleeves, tortoise-print buttons, A-line fit… this dress is versatile in many ways and can be dressed up or worn casually.
3. J.Crew's Strappy Knit Midi Dress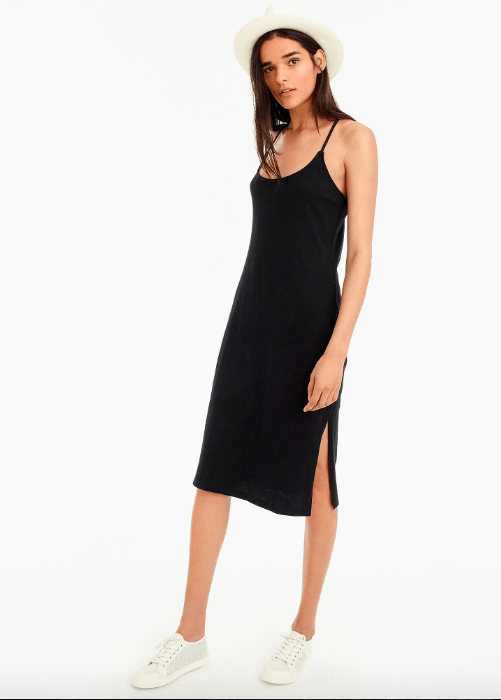 Product: J.Crew, $69.50
You must be thinking, "A strappy dress for winter? Are you crazy?" No, I am not crazy — this is where your layering skills come in to play! Pair this cute dress with a white turtleneck underneath and voila! A brand new way to wear your favorite summer dress for the winter months.
4. AE Rugby Stripe Sweater Dress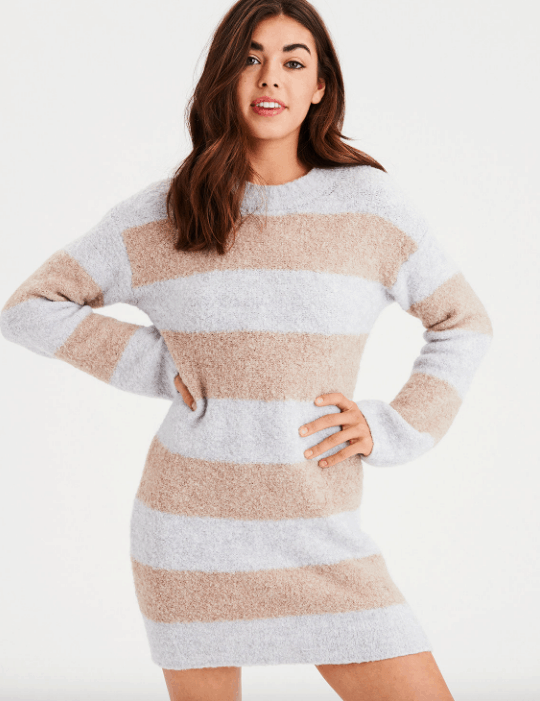 Product: American Eagle Outfitters, $60
There are days when you feel like you just want to be wrapped in a giant blanket. For those days, this ultra-soft dress from American Eagle has your back. It is fuzzy, cozy, and cute at the same time – so no one has to know you only spent two minutes getting ready this morning.
5. H&M Patterned Chiffon Dress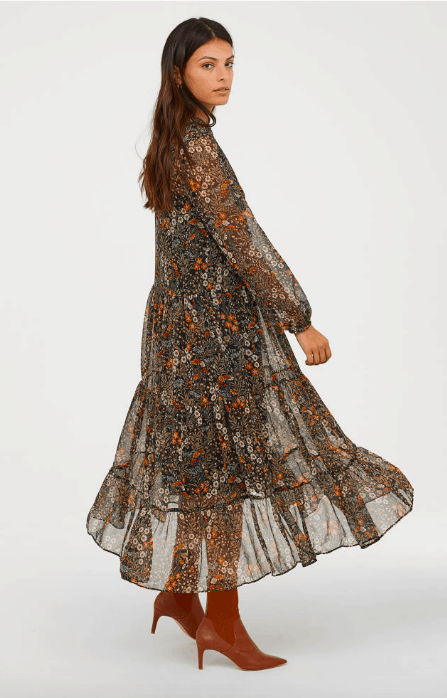 Product: H&M, $49.99
I fell in love with this dress the moment I spotted it online. Everyone should have a classic bohemian-inspired flowy dress in their wardrobe: a) because it's an entire outfit in one statement-making piece; b) it looks great on just about everyone (P.S. accessorize with a belt if you want to accentuate your waist)!
6. Toria White and Navy Blue Striped Pleated Sweater Dress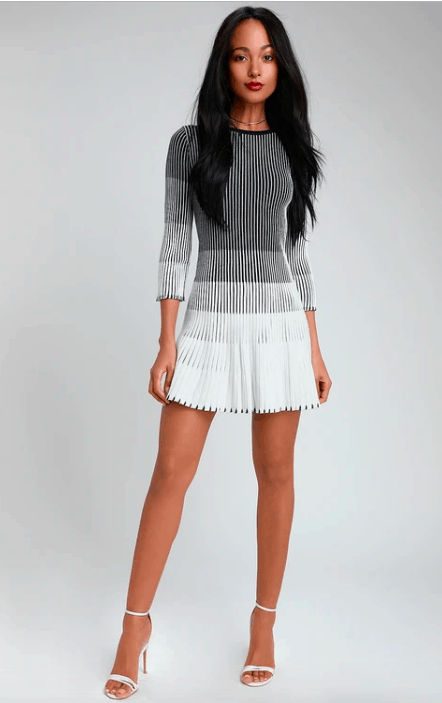 Product: Lulu's, $75
How gorgeous are the ombre shades of black on this dress? The design on this Lulu's piece screams intrigue. Its intricate details elevate a simple sweater dress to an elegant, sophisticated fashion find that looks much more expensive than it is.
7. Zara Ruffled Dress with Metallic Thread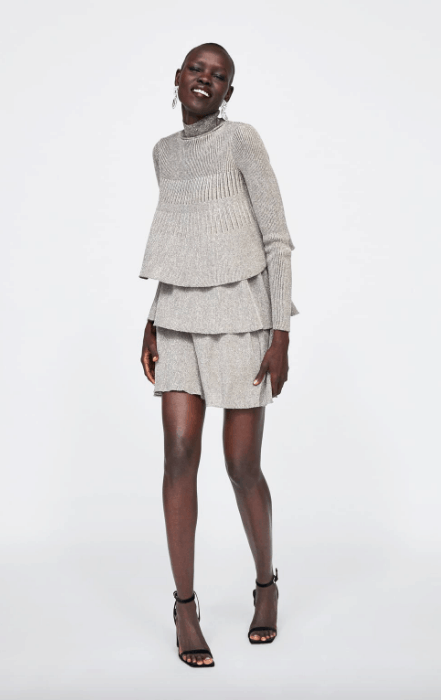 Product: Zara, $99.90
Wondering how to make a proper entrance at your holiday party? This dress knows. Subtle yet eye-catching, this all-silver dress is easily the highlight of the holiday dress list, and perfect for any soiree you have coming up. The best part? The ruffles on the dress will twirl with you as you dance your night away.
Here is my take on the best, cute winter dresses!
What are your thoughts on them? Do you have a favorite style? Share with us in the comments below!