Earlier this week, I stopped by Walmart on my way home from work. Though I originally went there to buy deodorant and paper towels (#adulthood), a super-cute army jacket in the clothing section caught my eye.
Call me a fashion elitist, but Walmart is usually the last place I think of when I'm searching for new duds. But, that jacket impressed me so much I just had to check out their online offerings to see what other hidden treasures are out there.
Below, I've rounded up 15 cheap and chic fashion buys you can snag at Walmart right now. Scroll down to see them all: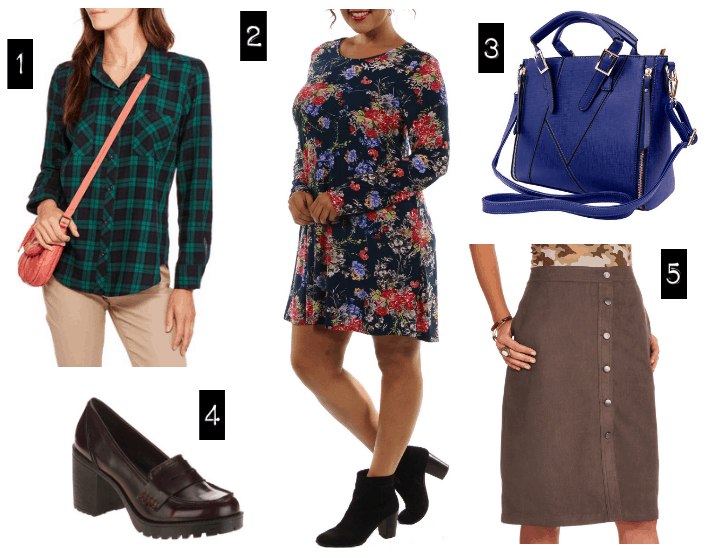 1. Plaid Shirt, 2. Floral Dress, 3. Satchel, 4. Heeled Loafers, 5. Button-Front Skirt
1. Everyone needs a trusty plaid shirt in their closet. Layered under sweaters, worn over tees, or just styled on its own, this button-up is the ultimate wardrobe staple.
2. This comfy floral print dress is just the thing to brighten up your winter wardrobe. Pair it with tights and ankle boots for a no-fuss yet totally cute look.
3. That structure. That color. And it's only $45?! Pick up this satchel ASAP.
4. A little trendy yet a whole lot classic, these lug-soled heeled oxfords will easily take you from an afternoon lecture to a night out with the girls.
5. This chic button-front skirt looks fabulous with everything from flowy blouses to graphic t-shirts.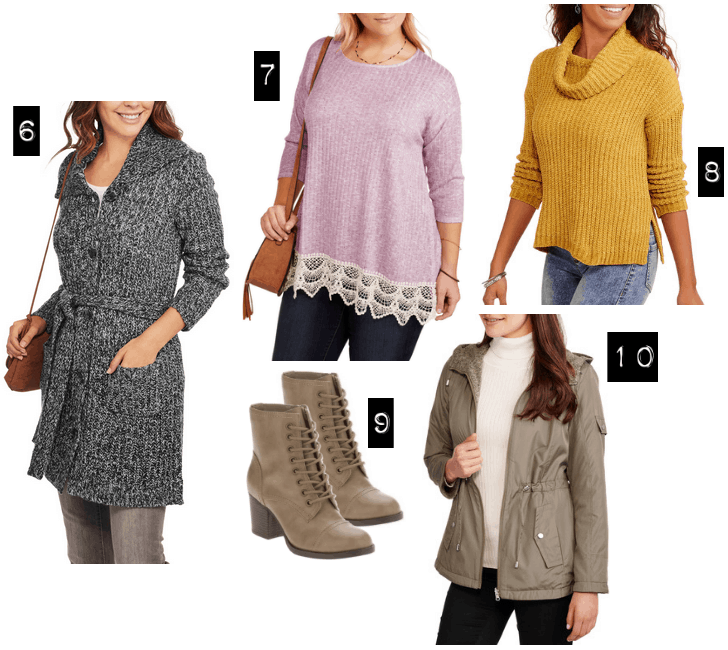 6. Cardigan, 7. Lace Knit Top, 8. Mock-Neck Sweater, 9. Boots, 10. Anorak Jacket
6. A cozy cardigan is the perfect piece for coffee dates or even just kicking back in your dorm room. Belt it for an instantly polished look.
7. Laid-back yet girly, this lace-trim top will be your go-to on casual days.
8. If you aren't quite ready to rock a turtleneck, this mock-neck sweater is a fabulous alternative.
9. Heeled boots like these never go out of style, whether you style them with your ultra-distressed jeans or your prettiest mini-dress.
10. This anorak is reversible, so you get double the style at a budget-friendly price. Talk about a win-win.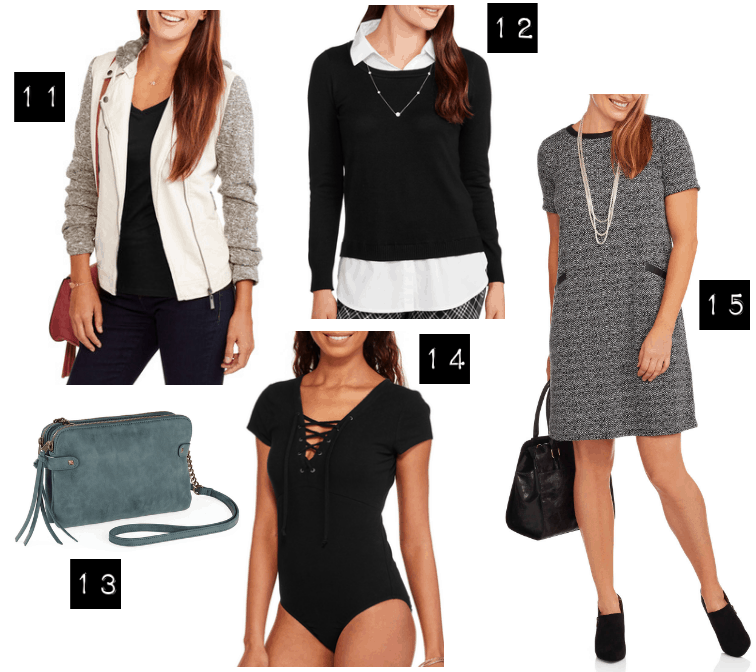 11. Moto Jacket, 12. Sweater, 13. Bag, 14. Bodysuit, 15. Dress
11. Ditch the hoodie and reach for this mixed media moto jacket instead.
12. Get ready to wow at your job or internship in this collared sweater. It gives you a sleek layered look without adding any extra bulk.
13. The tassel and chain-link strap really up the style of this crossbody bag.
14. Haven't tried a bodysuit yet? At just $5, this lace-front version is an inexpensive way to take this trend for a test-drive. We bet you'll love how it looks with jeans or your favorite skirt.
15. Faux leather details edge up this black-and-white printed dress.
What do you think?
Have you ever found super-stylish clothes or accessories at Walmart? Which of these items is your fave? Would you like to see more posts like this? Tell me your thoughts by leaving a comment!