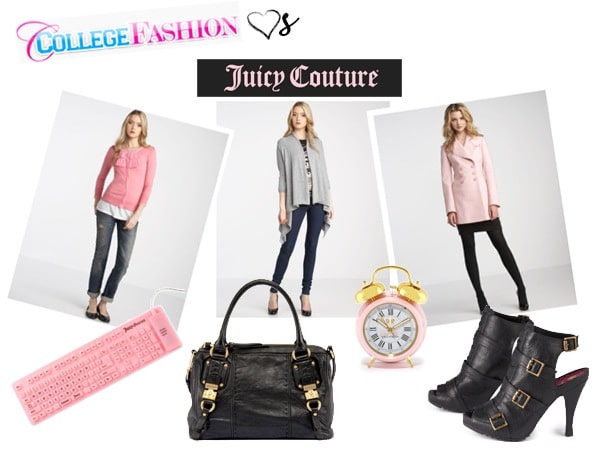 Exciting news! CF is partnering with the always fabulous Juicy Couture and we're giving away a $100 Juicy Couture gift card to one lucky College Fashion reader in celebration of Juicy's new college student promotion!
As I mentioned last week, Juicy's new Smart A#* Juicy Girl promo is going on right now, where college students can get a special 20% off discount at any Juicy store. The second part is starting today: buy a Juicy tracksuit and receive a FREE Juicy dorm room kit. For more info on the promos including coupons, see Juicy Couture Student Discounts.
Contest details:
Now on to the contest! One lucky CF reader will win a $100 gift card to Juicy Couture. If you combine the gift card with Juicy's college student promo, you can get some amazing deals for back to school.
Here's how to enter:
Answer this question: if money was no object and you could buy any ONE thing from Juicy Couture, what would it be? Visit the Juicy Website, browse around, find your favorite item, then comment on this post and tell us what your choice is and why you love it! Be sure to include a valid email address when you comment!
A winner will be chosen at random on Monday August 24th, so get your entries in before midnight EST on Sunday, 8/22. This giveaway is open to U.S. residents only. One entry per person, please: duplicate entries will be deleted.
Can't wait to see your responses!