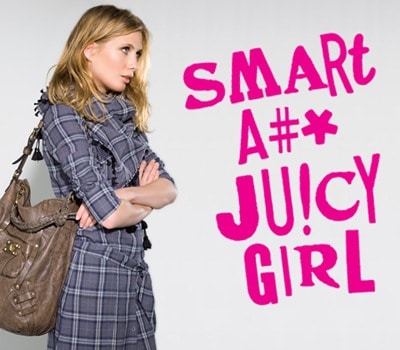 Juicy Couture is offering college students a discount during back to school shopping season with their Smart A#* Juicy Girl promo – bring your student ID to any Juicy Couture retailer to get 20% off full price items until September 8.
You can also score a free Juicy Couture Dorm Room Kit if you buy a tracksuit between August 19 and August 24, so if you're a fan of Juicy's tracksuits, this is a great chance to score some free stuff for something you'd already buy.
This promo is good for IN STORE purchases only, and you can redeem at any one of Juicy Couture's 61 retail locations across the U.S. To find the closest Juicy store to you, use the Find Juicy store locator.
Print out these codes (click here, then go to File > Print) and bring them with you to get the discounts:
– BTSID20:Student ID + You= 20% off – Entire Back to School time period – August 5 – September 8
– BTSGWP: Buy a tracksuit, get free dorm stuff – August 19 – August 24
Thanks to Danielle for the tip!