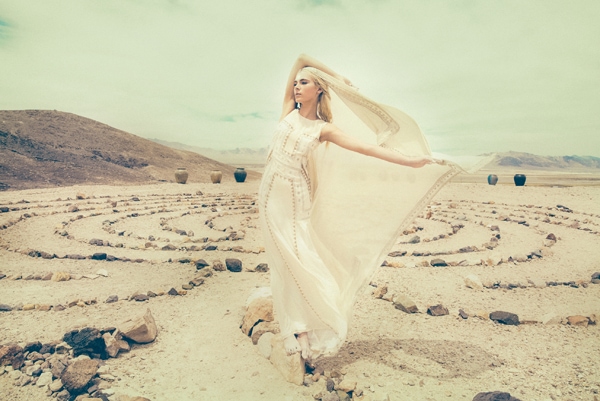 With the weather finally starting to warm up, I'm filled with a sense of wanderlust that makes me want to release my inner bohemian goddess, jump in a car, and go on a spontaneous road trip. While this may not be the most realistic option considering the mile long to-do list in my planner, there's no reason why I can't at least dress the part.
With the promise of summer freedom on all of our minds, the easiest way to channel it is through our clothes. Boho style is difficult to explain, but unmistakable to identify. It is characterized by loose, free-flowing pieces and ethnic prints that are reminiscent of the 1960s and '70s. The key is to keep the style looking relaxed and carefree. Easier said than done though, am I right?
I've done the hard work for you and put together three outfits that will allow you to achieve a free-spirited, boho chic look this summer without breaking the bank. And for more boho inspiration, check out this CF article from the archives!
1. Modern Hippie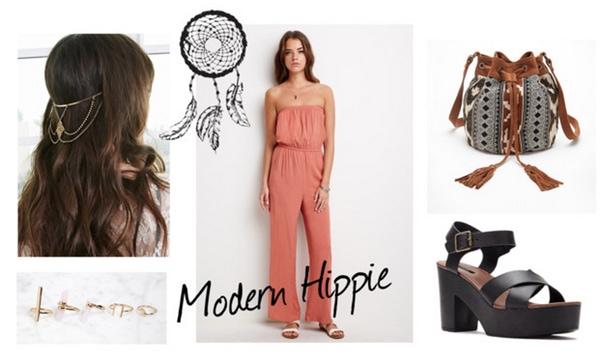 Chain Headband | Midi Ring Set | Jumpsuit | Printed Bag | Platform Sandals
For starters, can we just take a second to acknowledge how comfortable this outfit would be? The jumpsuit is essentially a stylish onesie and the sandals are platforms, so they'd be effortlessly easy to walk in. What's not to love?
The boho elements of this outfit are simple, but make a big statement. The jumpsuit is loose-fitting with a wide-leg silhouette that would make any hippie proud. The ethereal chain headband is unique and would be the perfect accessory for a music festival. Complete the look with a printed bucket bag and a few midi rings, which are also on-trend right now.
2. Wild Child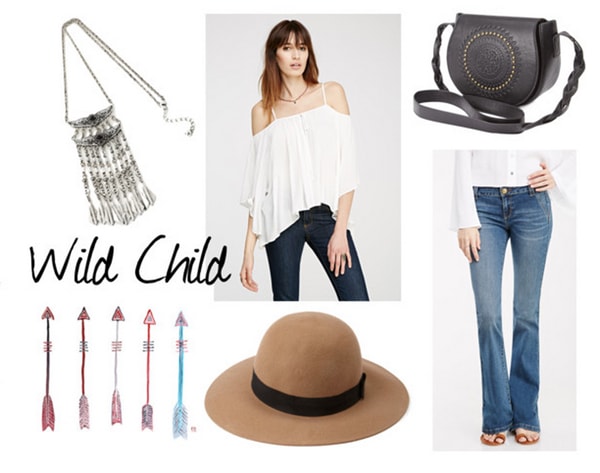 Pendant Necklace | Off-the-Shoulder Blouse | Black Crossbody | Floppy Hat | Flared Jeans
Do you remember the days when the only jeans you ever wore were flared? Skinnies may have take the fashion world by storm, but I've got good news: flares are back! If you're anything like me (AKA haven't gotten any taller since middle school), maybe you even have an old pair stashed away somewhere that still fits.
Want to know the secret to making an outfit look effortless but still chic? Wear a hat. It seems too good to be true, but there's something about hats that instantly pulls a look together. It's also functional, since a hat will keep the bright summer sun out of your face.
Throw on a loose fitting, off-the-shoulder top, like the one above, as well as a long pendant necklace. Grab a crossbody bag to finish the outfit.
3. Chic Nomad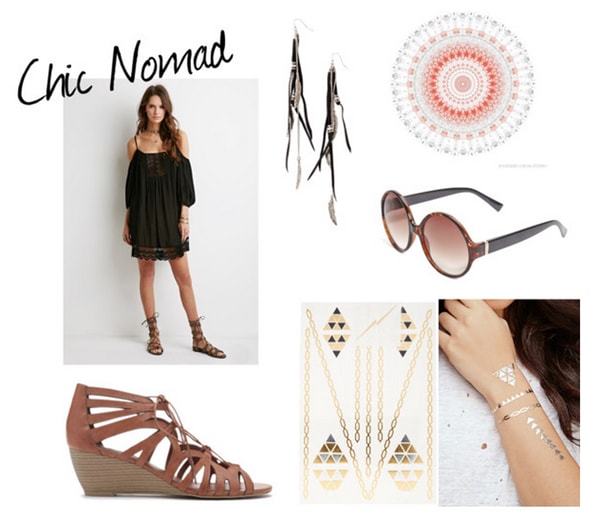 Off-the-Shoulder Dress | Dangly Earrings | Lace-up Sandals | Sunnies | Metallic Tattoos
During the summer months, I sort-of have this unofficial rule where I don't wear pants and exclusively live in dresses. Call me crazy, but there's nothing better than throwing on one piece of clothing and being ready to conquer the day. Not only that, but people actually think you put MORE effort in because you're wearing a dress. It's a win-win.
This dreamy, delicate dress is the epitome of boho style with its off-the-shoulder top and crochet panel detailing. I'm a huge fan of pairing black and brown, and these lace up sandals are ideal for the wanderer at heart. The look is completed with suede fringe earrings, John Lennon-inspired sunnies, and one of my current obsessions – Flash Tattoos. These tattoos look like jewelry and can be worn in an infinite amount of ways. As an added bonus, they also last a super-long time!
Your thoughts?
How do you feel about bohemian style? Love it or hate it? How and where will you be wearing boho chic looks this summer? Sound off in the comments, I can't wait to hear what you beautiful people have to say!