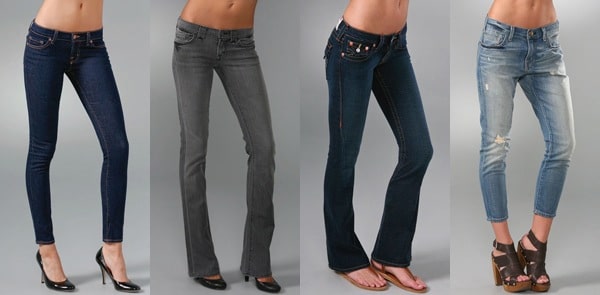 Jeans are forever a wardrobe essential. From day to night, casual to formal, high school to college and everywhere in between, denim is the one clothing item that's never out of place. Jeans go with everything and there's a pair out there to flatter everyone.
No matter your personal style, there's no way you can go back to school without at least one amazing pair of jeans. They're the foundation of a look, the makings of countless great outfits, and one of the most comfortable and classic pieces you can own. As the first installment of CF's Back to School Shopping series, here's a guide to finding some great jeans this season.
The 3 Hottest Cuts:
There are 3 main cuts of jeans that are hot for fall '09 back to school: the skinny, classic bootcut, and trendy boyfriend cut. All three can be made trendy or classic – it all depends on the style and wash.
Here's some more info on the top three cuts you'll be seeing in stores this season:

Skinny Jeans
Skinny jeans have been hot for a couple years now, and they're still going strong. While other cuts of denim have been fighting for popularity in recent seasons, the skinny cut just isn't going anywhere. Whether they're sleek and sexy with a dark wash, shredded for rocker appeal, or simply cute and comfy for a day of studying and hanging out around campus, skinny jeans are versatile and perfect for a number of occasions.
Skinny Jeans Under $100: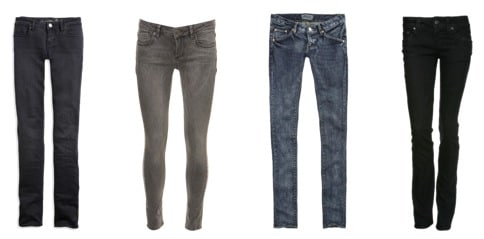 Product Information (from left): Women's Skinny Jean – American Eagle, Ultimate Skinny Jean – TopShop, Wesc Eve Super Skinny Blizzard Jeans – Pacsun.com, Hydraulic Skinny Jeans – Charlotte Russe

Bootcut Jeans
If you've read this article and STILL don't like skinny jeans or just want to add some diversity to your denim wardrobe, bootcut jeans are the way to go. They're completely classic, work with everything, and can go from casual to dressy in a snap. They also help balance out a wider thigh, work well with sandals or boots, and will certainly stand the test of time.
Bootcut Jeans Under $100:

Product Information (from left): Women's Artist Jean – American Eagle, Vigoss Double-Button Destroyed Stretch Bootcut Jean – Alloy.com, Women's Slim Boot Jean – American Eagle, Hurley Skinny Bootcut Destroyed Black Jeans – Pacsun.com

Boyfriend Jeans
The ultra-trendy boyfriend jean is a popular choice for fall as well. This generously cut, slightly slouchy style gives off that effortlessly cool vibe so many strive to attain. Of course, these aren't ACTUALLY boy's jeans.. they're women's jeans cut to look like guys jeans fitted to a woman's body. They're cute for fall and work well with wedges or sandals.
Boyfriend Jeans Under $100: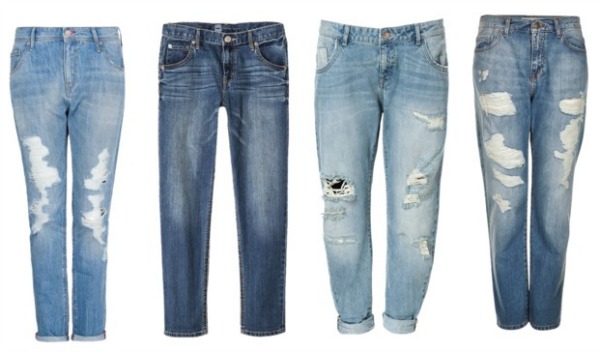 Product Information (from left): VIGOSS Boyfriend Girl's Jeans – Tilly's, Bullhead Surfside Boyfriend Destroyed Medium Blue Jeans – Pacsun.com, Fragile Boyfriend Crop Jeans – Charlotte Russe, Boyfriend Jeans – Gap.com
Trends & Variations:

Shredded & Ripped Jeans
Shredded and ripped jeans have been a huge trend since they showed up on the runways at Maison Martin Margiela. Ripped up jeans were a major denim trend for fall 2008, and they're still hot for fall 2009. If you like the rocker chick look, ripped up skinnies are a must-own item. Wear them dressed up with killer heels and a loose tee or dressed down with a pair of cute flats and a simple tank.
Ripped Jeans Under $100: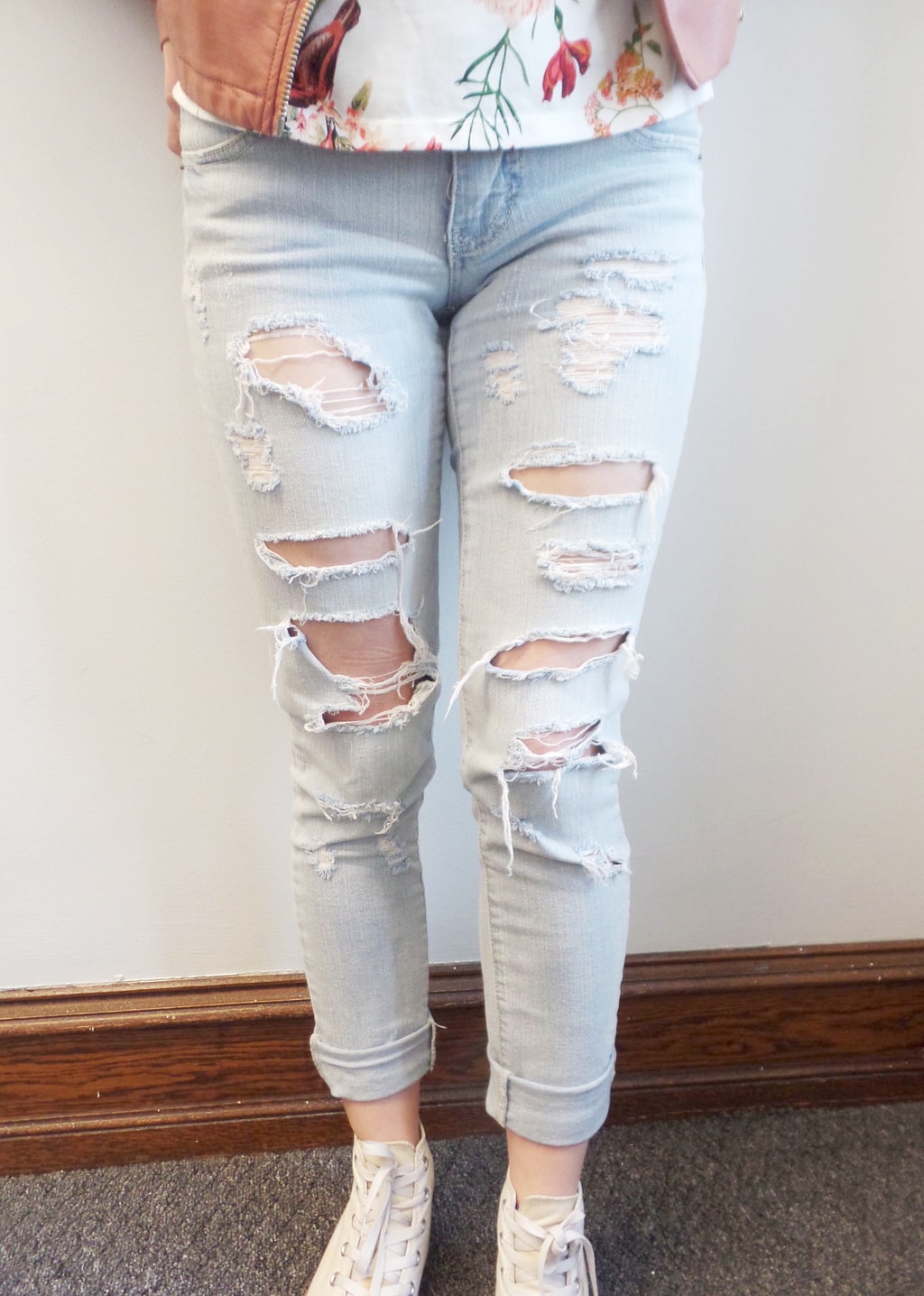 Product Information (from left): Lust Rip Skinny Jean – Arden B., Vintage Baxter Skinny Jeans – TopShop, Hurley 80'S Super Skinny Dark Rinse Destroyed Jeans – Pacsun.com, Destroyed Skinny Jeans – Wet Seal

Bleached Jeans
Bleached denim is a major trend for fall (I mentioned it here earlier this year), but beware: while these jeans are super hot right now, they're so trendy that they probably won't be around for long! Whatever you do, don't spend major money on bleached jeans because they're not going to last more than a season or two. If you have extra cash in your budget, though, bleached jeans are perfect for a night out paired with a simple tank, rocker chick ankle boots, and plenty of attitude.
Bleached Jeans Under $100:

Product Information (from left): 2020 Extreme Skinny Tie Dye Studs Jeans – Pacsun.com, Marble Bleached Crop Jeans – TopShop, 2020 Extreme Skinny Indigo Shattered Jeans – Pacsun.com

Colorful Denim
Brightly colored skinny jeans have been trendy for a few seasons now, and are still going strong for fall '09. Whether you prefer hot pink, cobalt blue, purple, or bright red, any of your favorite colors goes for fall. When you wear colorful jeans, remember to let them be the focus of your outfit! Keep the rest of the colors basic – blacks, whites and neutrals are your friend.
Colorful Jeans Under $100: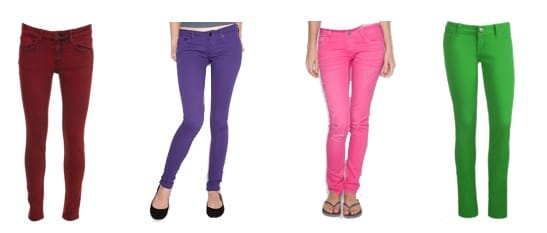 Product Information (from left): Over Dyed Acid Skinny Jean – TopShop, Bullhead Crescent Denim Leggings – Pacsun.com, Roxy Melly Super Skinny Jeans – Pacsun.com, Ankle Zip Skinny Jean – Wet Seal

Black and Grey Jeans
This season's black and grey jeans are part of the whole 80's resurgence that's going on in fashion right now. Black skinny jeans are a slimming option that work with almost everything, while grey is a little bit trendier and trickier to pull off. If you're going for an investment, black skinny jeans are your best option. Grey jeans are cute but will probably be out of style by next fall – not exactly worth spending tons of money on.
Black & Grey Jeans Under $100: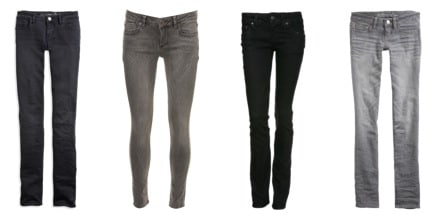 Product Information (from left): Skinny Jean in Faded Black – American Eagle, Ultimate Skinny Jean – TopShop, Hydraulic Skinny Jean – Charlotte Russe, Super Skinny Jean in Faded Grey – American Eagle
Splurge or Save?
I know many of you don't have tons of cash to spend (and who does in college?), so I'm here to help narrow the choices down. Which types of jeans should you invest in and which should you buy cheap (or not at all)?
If you had to only choose one jean to buy this fall, I recommend a dark wash pair of skinny jeans. They're so versatile and cute, as well as flattering on any body type. You can wear them with a cute top and sky high platforms for a night out or during the day with a simple tank top and sandals. They'll make your legs look great and add style to any outfit.
Skinny jeans aren't your thing? The second pair I'd recommend you get is a nice dark wash pair of bootcut jeans that flatters your figure. Make sure they're long enough to work with boots or flats (or buy two pairs with different inseams if the budget allows). Fit is everything so be prepared to send things back if you buy online!
If you have money left over in your budget, then you can play a little with the trendier jeans. Loving shredded skinnies? Why not go for it? Can't wait to rock purple denim this season? Who's to tell you no? Get the trendy jeans on the cheap, though – there's no sense investing tons of cash in a fad that'll be played out in a year or so.
Your Thoughts?
You've seen my choices for fall denim.. now I want to know what you think!
I know you all love jeans, but which style of denim is your favorite? What kind of jeans do you plan to buy this season? What is your favorite brand? Let me know your thoughts by posting a comment.