Explore our Abercrombie and Fitch outfits fall must-have list!
This week, I scoured the entire Abercrombie & Fitch website and rounded up the most fashionable pieces for fall so you can save time and go straight to the fun part: adding to the cart!
Even though Abercrombie is best known for its denim (or the all-logo-everything merch from back in the day), it offers a wide range of super on-trend clothing (and logo-less) clothing.
The following (mostly) under $100 will elevate your fall wardrobe from fun prints to rich colors and textures.
About Abercrombie & Fitch
Abercrombie & Fitch is a well-known American retailer specializing in casual clothing and accessories, primarily targeting young adults and teenagers. The company was founded in 1892 by David T. Abercrombie and Ezra Fitch, originally as an upscale sporting goods store. 
Over the years, Abercrombie & Fitch has undergone various transformations in its brand image and merchandise. These days, it's a go-to spot for Gen-Z, thanks to its wide variety of jeans and other trendy styles.
Related Post: Fashion Beyond Abercrombie & Fitch (or How to Develop Your Own Style)
1. Drapey Wide-Leg Pleated Pants
One of the biggest trends this season is wide-leg trouser pants, but rather than styling them for the office, give them a streetwear spin.
This pair from Abercrombie has all the right details: a high waist, pleated front, and the perfect camel brown hue that is SO fall. The styling possibilities are endless, but I envision these with some chunky sneakers, a tank top, and a moto jacket for that effortlessly chic vibe.
2. Faux Leather Shirt Dress
I bet none of your friends will guess where you got this super sleek dress from! Faux leather is another huge trend this fall, especially in unexpected pieces like dresses and shirts.
This faux leather shirt dress features a classic collar, button-up front, and a tie belt to cinch your waistline.
Wear it with some black knee-high boots and carry a mini handbag for a killer look.
3. Long-Sleeve One-Shoulder Bodysuit
Asymmetrical tops with cutouts or one-shoulder designs are such a cool way to add some flair to your look. This basic long-sleeve bodysuit is elevated by the one-sleeve design and would look great with jeans, faux leather pants, or skirts.
4. 90s Ultra High Rise Straight Jeans
Of course, I couldn't do an A&F shopping round-up without including jeans.
I recently picked up this pair myself, and love how they fit! The 90s style design is very "in" right now, with a relaxed fit through the legs for a straight cut.
There are two reasons why I especially love these jeans: the ultra high rise, and the stretch.
These are the perfect jeans to wear with crop tops since the rise is so high and usually hits right under my top.
RELATED POST: The Best High-Waisted Jeans Outfit Ideas & Styling Tips
Plus, these are more comfortable to wear compared to jeans without stretch, IMO. I like to feel like I can move around in my denim, and the little bit of stretch also helps the jeans retain their shape while you're wearing them.
5. Classic Sweatpants and High-Low Hoodie
Everyone needs a comfy yet cute sweat set in their life, and there's something about matching sweats that just make you feel more put-together.
Abercrombie makes super soft sweats, and this combo features a fun leopard print in a dark color scheme.
This combo would be perfect for studying, running errands, or cozying up on the couch and binge-watching Netflix.
6. Leopard Duster Cardigan
Speaking of leopard print, how adorable is this leopard print duster cardigan?
It looks so soft and cozy, and I love the muted, neutral color scheme which makes the print more versatile within your wardrobe. The cardigan's balloon sleeves are a fashionable touch, and it has pockets, which is always a plus!
Abercrombie is one of our favorite places to buy sweaters, so we had to include at least one on this list!
7. Satin Plisse Wrap Dress
You guys, I've found your Thanksgiving outfit right here.
This A-line mini dress in the color "Orange Spice" is the quintessential fall/Thanksgiving hue – just add some booties and some pumpkin pie.
The satin plisse fabric gives it a dressy look, while the wrap front and tie-waist look great on everyone.
8. Plaid Poncho
It wouldn't fall without some plaid, am I right?
This camel brown plaid poncho features a fringe hem that is very on-trend, and its throw-on design makes it easy to layer with your clothing.
Pair this poncho with jeans and booties for a timeless fall look.
9. Sherpa Mini Puffer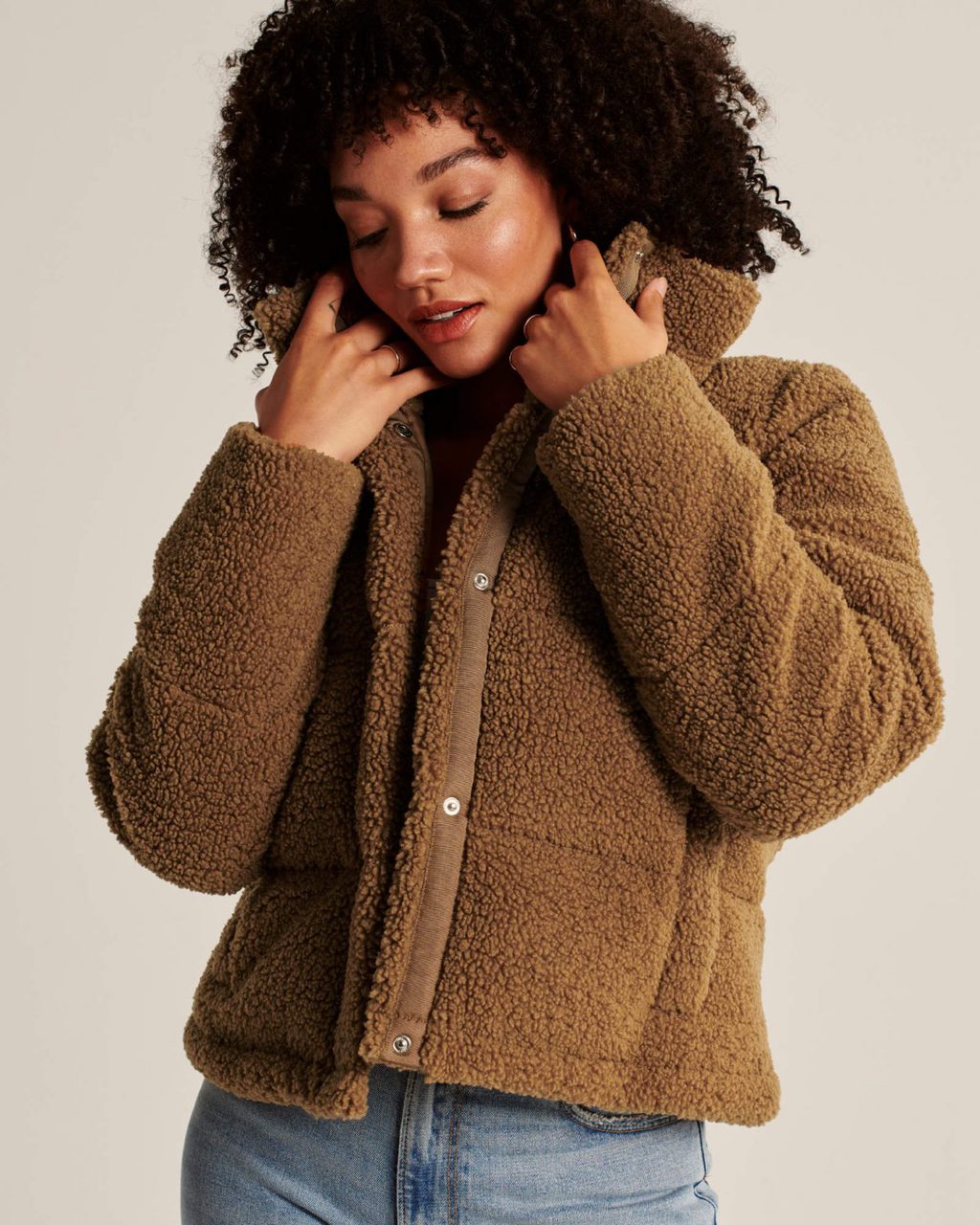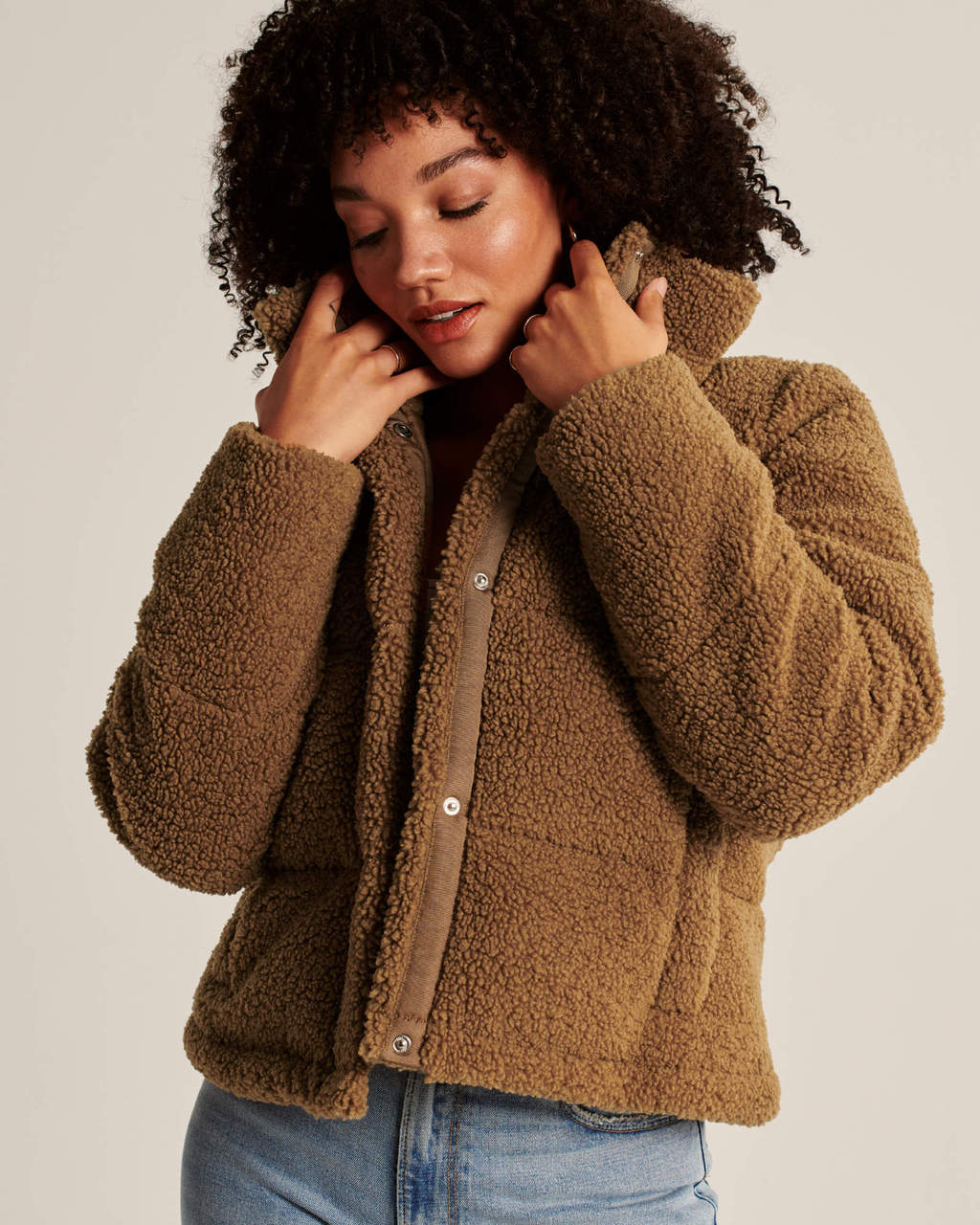 Ok, this is the priciest item of the round-up, but luckily, Abercrombie often runs sales!
I love puffer coats and sherpa jackets, so a combination of these two outerwear styles is a winner.
Since puffer coats are puffy, I appreciate ones with a shorter length (like this one) so that you don't look like a total marshmallow. The camel brown color is a neutral shade that pairs well with many other hues, making this a versatile piece you can get a lot of use out of.
10. Curve Love Ultra High Rise Ankle Straight Jeans
Leather is major this season; these "jeans" have been coated for a leather look. Since they are a part of Abercrombie's Curve Love collection, they boast a roomier fit in the hips and thighs and no waist gap (yes, please!).
In addition to a high rise, these also feature ankle-length raw hems, which are especially great for showing off a cute pair of booties.
11. Relaxed Crew Sweatshirt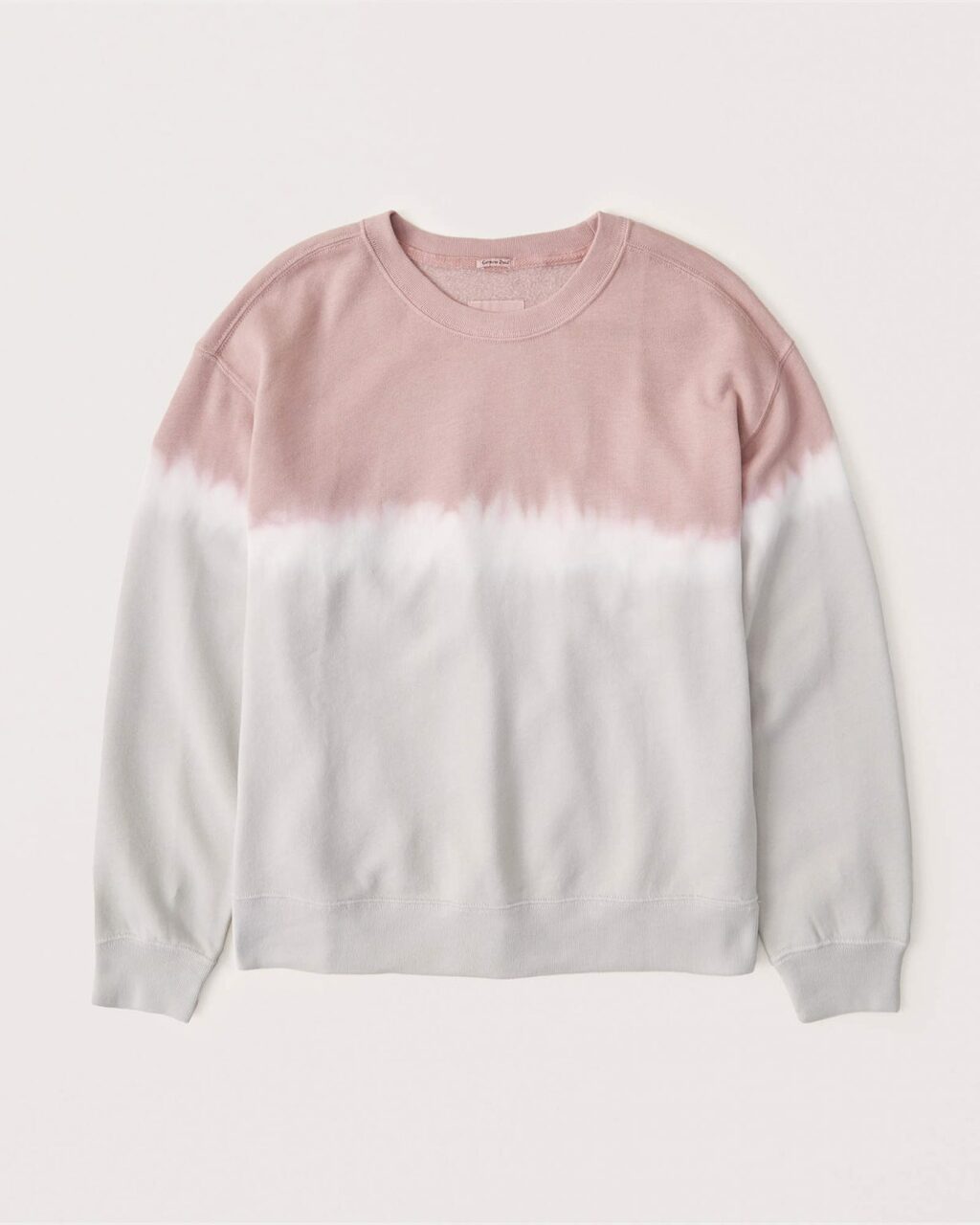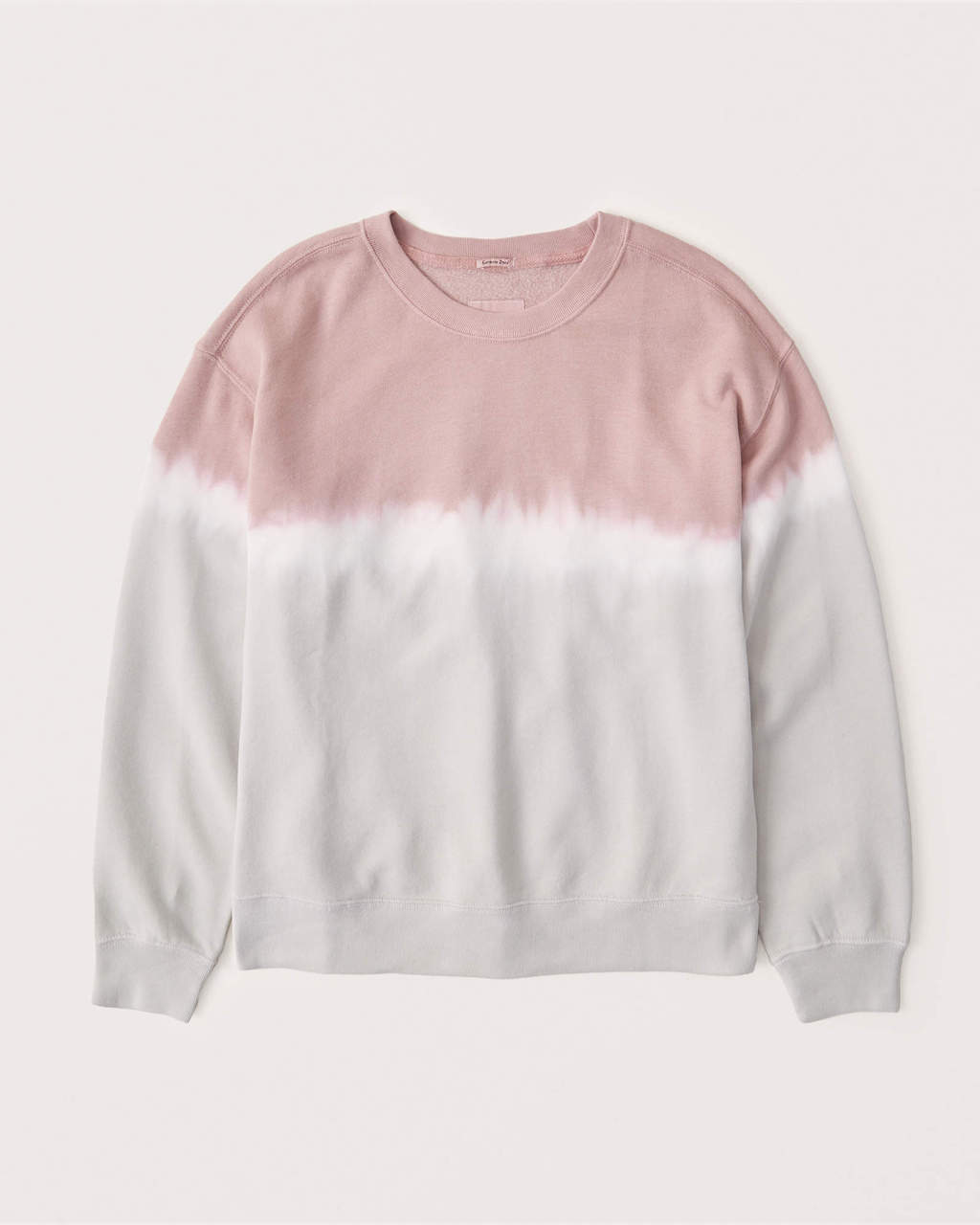 I had to throw some tie-dye in the mix! This relaxed crewneck has a mauve stripe dye effect that is unique to each sweatshirt due to the nature of the wash, so no two are alike.
It's made from Abercrombie's softAF fleece fabric, giving it a cozy, beachy vibe that works all year round.
What do you think of my Abercrombie & Fitch picks?
Would you wear these styles? Which item is your favorite? Leave a comment and let us know which other stores you'd like to see featured!
If you find our Abercrombie and fitch picks helpful, you'll adore these trendy posts we've lined up for you below! —