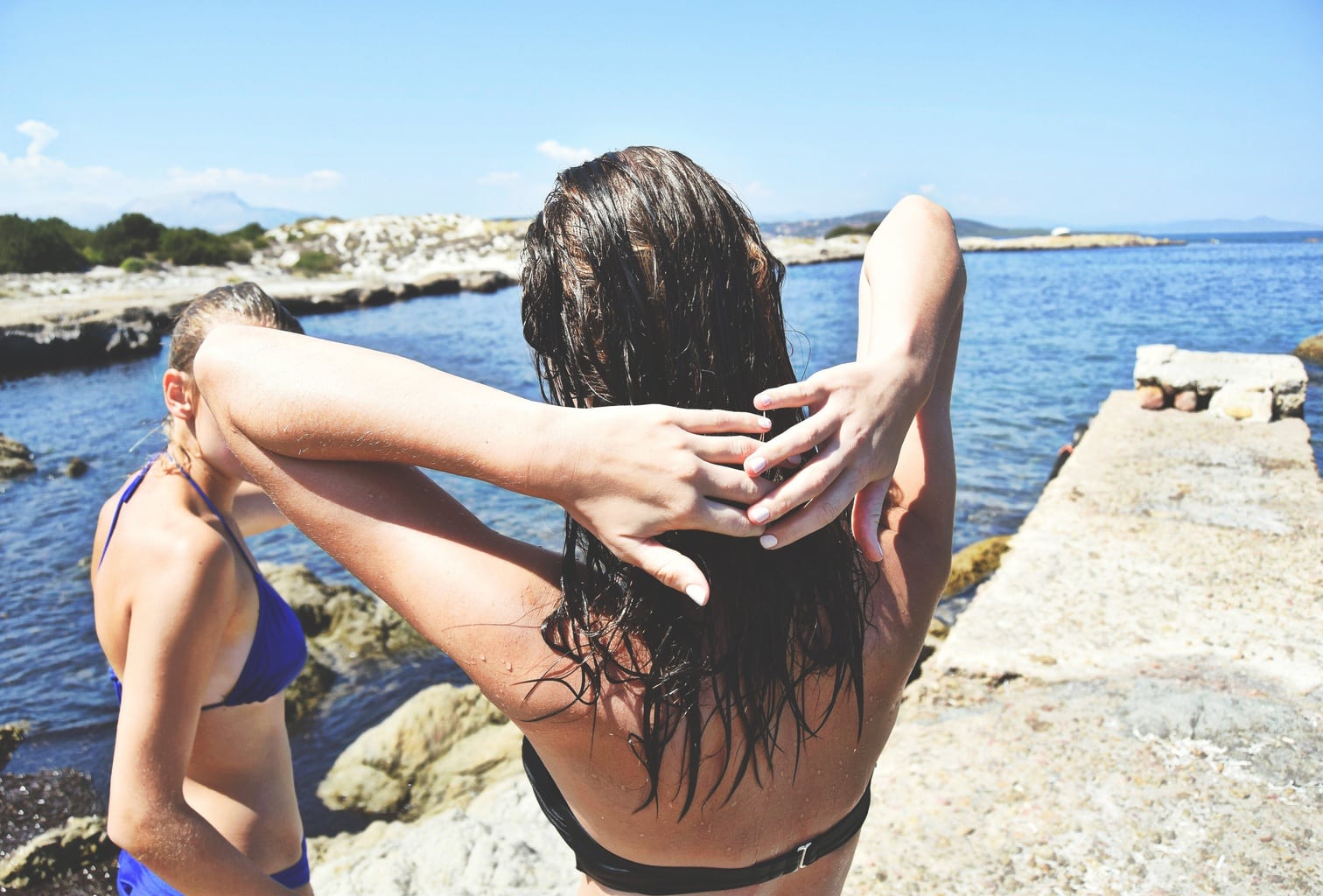 Now that summer's in full swing, I know where I'll be: at the beach, soaking up the sun and breathing in the rich aroma of salty ocean air. (Just another benefit of living in sunny Florida!)
Still, whether you live thirty minutes from the beach or not, there's always an opportunity to debut your latest summer essential — a sexy print bathing suit — on Instagram and in person.
What are you waiting for? If you want to stand out from the sea of basic, red Sunny Co swimsuits this year, here are your starter pieces:
Related reading: 5 Extremely Cute Bikini Outfits You'll Wear All Summer Long
Out From Under Printed High Neck One-Piece Swimsuit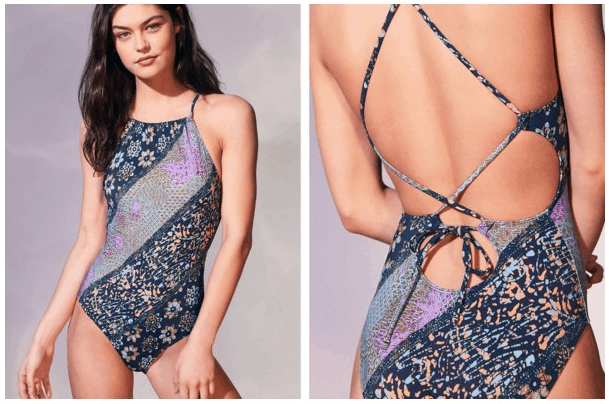 Starting out the list with a bang, this bathing suit from Urban Outfitters is boho chic and camera-ready. While it has a classic silhouette, the open back and circular cutout at the bottom are what make it unique and trendy this season. Also sharp: its eclectic mix of bold patterns, ranging from floral to splattered paint!
Aerie DIY Cha Cha Triangle Bikini Top + Bottom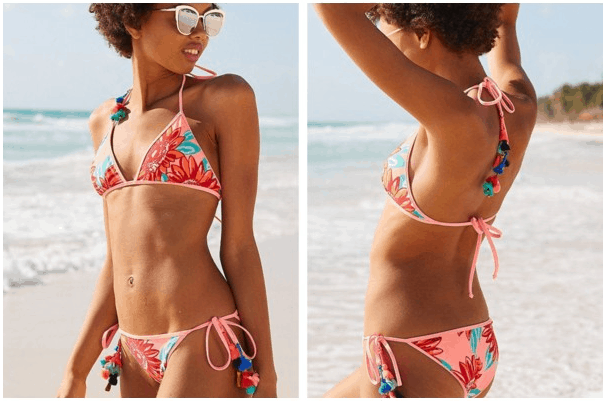 Isn't this American Eagle Outfitters bikini set the cutest? I can't get over how fun and flirty the DIY Aerie pom-pom tassels look on the model! Though the tassels are sold separately, this bathing suit is among the lowest priced of the bunch, which means that you can certainly afford the (tiny) splurge.
Floral Geo One-Piece Swimsuit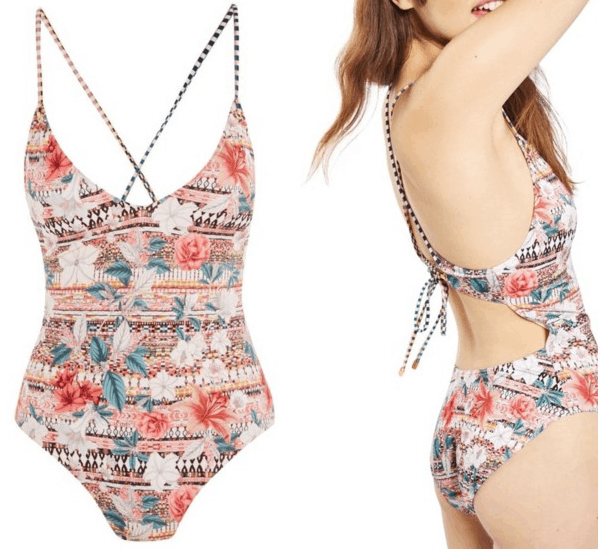 Floral, geometric, and open back, this Nordstrom one-piece is just darling. Plus, who doesn't love a swimsuit you can easily layer over? For a Very Glamorous beach look, just picture the top peeping out over high-waisted shorts, lace-up platform wedges, and a floppy straw hat. So à la mode.
Women's Reversible High-Neck Bikini Top + Bottom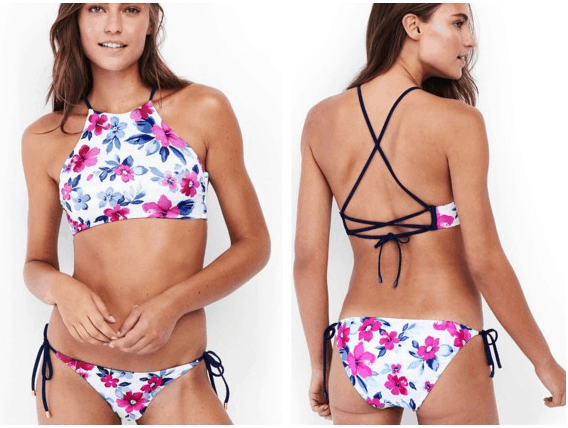 This bikini top and bottom from Lands' End, shown here in Tropical, is minimalist and adjustable — not to mention reversible! When you turn the swimsuit over, the resulting look is Navy Storm Stripe, a clean-cut print that looks exactly like it sounds. Basically, you're getting two playful bikinis for the price of one!
Ambrielle Tie Dye Halter Tankini w/ Macrame Center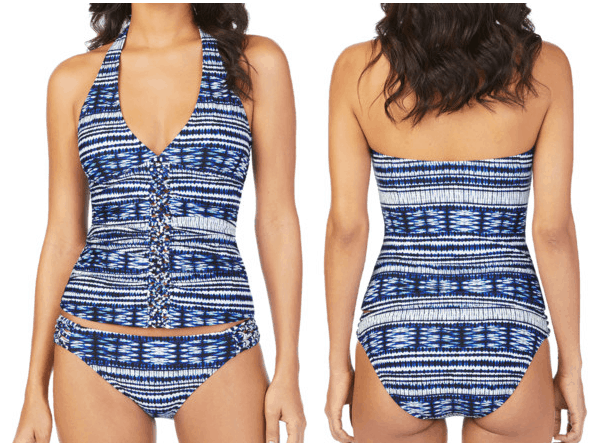 Tankinis: Yea or nay? With the experts at JCPenney in charge, I'm inclined to think yea! Thanks to the unexpected macrame center and plunging neckline, this swimsuit won't look out of place or matronly at the beach. Add a cheeky bottom to the mix, and you've got a hot look that's mesmerizing and just modest enough.
New! Plunge One-Piece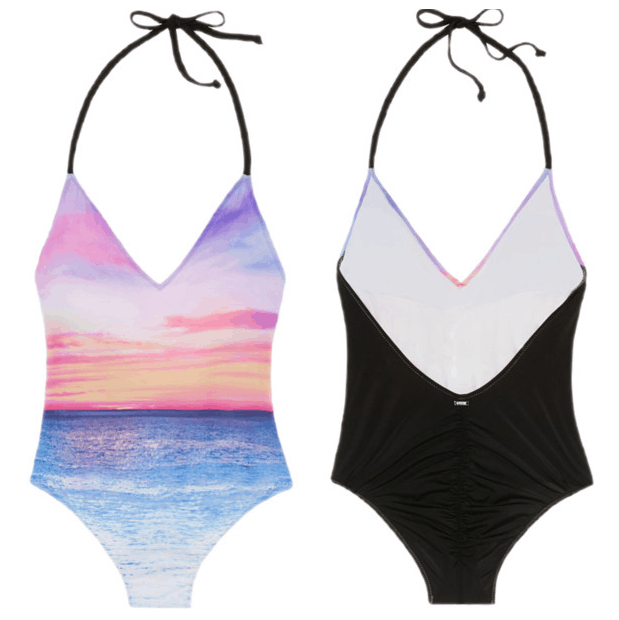 Printed in Sunset Print, this one-piece from Pink has a deep plunging back and a spectacular view. The bright graphics on the front will ensure that all eyes are on you, while the monotone back is simple enough to be classy, not juvenile. The deep V-neckline and high-cut bottom are also sure to complement your amazing figure!
Wrap-Front Halter Swimsuit for Women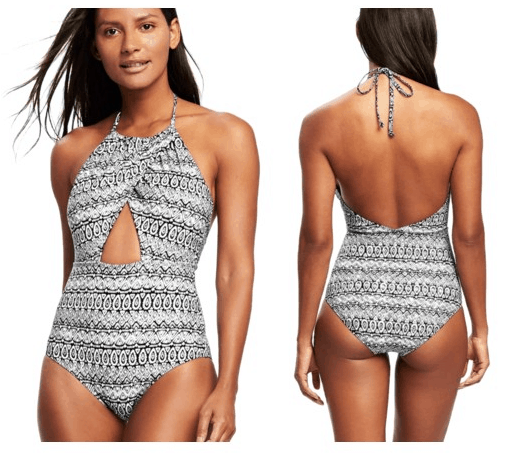 This fitted Old Navy swimsuit gives us a fresh spin on the one-piece staple. While it sticks to a simple two-color design, the product is anything but basic, especially with regard to the peek-a-boo opening at the front, which is sexy without being skimpy! I personally love the cutout back — unlike other bathing suits on this list, you won't have a problem with awkward back tanning (the front, on the other hand…).
Thoughts?
What are your plans for summer? Do you plan on going to the beach (or pool) a lot? If so, would you wear any of the bathing suits featured in this post? Why or why not?
Tell us what you think!