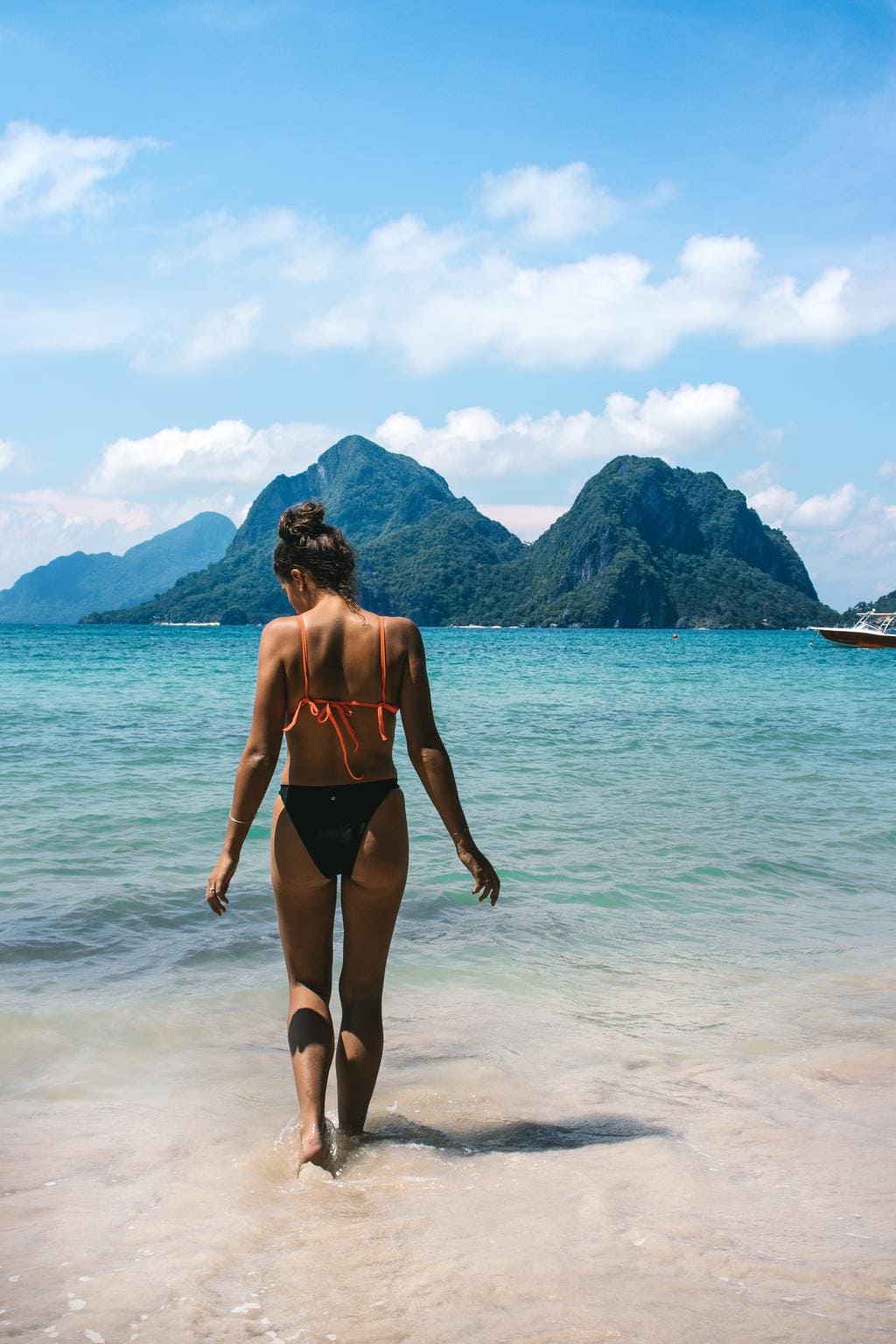 Ah, bathing suit season. The once-yearly event that prompts us to join a gym, eat our veggies, slather on the self-tanner, get bikini waxes, and worry endlessly about finding that perfect swimsuit. Aside from finals week, I can't think of any time of year that sparks more anxiety in college girls! Funny that finals week and swimsuit season are so close together…
But let's be honest: there's no magic formula that will instantly give you Jessica Biel's bikini bod (or Justin Timberlake for that matter). Fortunately, there is a way to magically look fabulous in your bathing suit no matter what body type you have.
Whether you're curvy and full-figured or stick-thin and boyish, top-heavy, bottom-heavy, or somewhere in between, this guide will help you find your most flattering bathing suit.
A bit about body shapes and "what to wear"
As I've mentioned in posts here before, I'm not in favor of dressing to "hide" any perceived "flaws". Every body is different and all bodies are beautiful – no exceptions! Therefore I'm not going to mention "problem areas" or "how to disguise yourself if your (insert body part here) is too fat". If you want someone to make you feel bad about yourself, look elsewhere!
What we're trying to achieve
Before I get into each individual body type, let me just explain what we're going for here. The single most important rule for swimsuit shopping is BALANCE. That's what we'll be trying to achieve for each figure.
What do I mean by balance? Simple – you want your bottom half and top half to balance out and for your body to look proportional. Humans love symmetry, so a balanced body is the most universally pleasing aesthetic for the eye. That's what we're going for.
Now that you get what we're going for, here are some tips to finding the best bathing suit for your body type.
The Four Basic Body Types
Hourglass
The hourglass figure is characterized by your bust being equal or very close in measurement to your hips. Women with hourglass figures also have small, very defined waists. Celebrities with your body shape: Scarlett Johansson, Selma Hayek, Jessica Alba, Kate Winslet
Bathing suit shopping tips for hourglass figures:
When you have even proportions and curves, you can get away with a variety of different bathing suit looks. The bikini was made to show off your sexy curves!
Look for halter tops, string bikinis with enough coverage for a larger chest, and anything that will give you extra support up top.
If you're a skinny hourglass figure, you can wear the classic string bikini with no problems. Those with larger chests should be careful of skimpy triangle tops, though, as they rarely offer enough support or coverage.
Don't do the mix-and-match thing! Wearing different colors on the top and bottom could make your body look disproportional. Stick to bikinis that match.
Triangular
Women with triangular body shapes tend to carry weight on the lower half of their body, normally around the hips and thighs. Triangular ladies usually have a hip measurement that is larger than their bust measurement and a small to average sized waist. Celebrities with your body shape: Kim Kardashian, Shakira, Rihanna, Eva Mendes
Bathing suit shopping tips for triangles:
If you're self-conscious about showing too much of your butt, try a bikini with boy shorts for a little extra coverage.
Having a triangular body shape usually means you also have a flat tummy, so don't be afraid to show your amazing abs off in a bikini.
Use color and pattern to balance your body out visually. Busy patterns draw attention, while dark, solid colors minimize attention. Try a patterned bikini top with a black bikini bottom for a cute mix and match look.
Always look for bikinis sold as separates, so you can get two different sizes for your top and bottom.
The strapless bandeau bikini top was made for you! Yours is one of the only body types that can pull it off. You can also go ultra low cut or skimpy with your top and not look vulgar or worry about showing too much.
If you want to boost a smaller chest, look for halter bikini tops or padded options. They'll give you a few extra inches where it counts.
Inverted Triangle
If you have a large chest, wide shoulders, small hips, and are generally more top-heavy than bottom-heavy, you likely have the inverted triangle body shape. Celebrities with your body shape: Victoria Beckham, Audrina Patridge, Jessica Simpson, Angelina Jolie
Tips for the inverted triangle body shape:
Don't go for a strapless top – it will only squish you down and won't provide enough support. Sagging is not exactly flattering!
Your best bet top-wise is something with an underwire or halter shape, thick straps, and thick enough fabric to keep you in place. Make sure your top has enough coverage, too – the last thing you want is to show off too much.
You can do the opposite of what triangle-shaped ladies wear when it comes to mixing & matching colors. Draw attention toward your bottom half with a brighter colored bikini bottom, and minimize your upper half with a dark colored or black bikini top. This will help create more of a balanced look.
Like the standard triangle shaped body type, you too need to look for bikinis that are sold as separates since you'll probably wear a bigger size up top than on the bottom.
You're one of the lucky few who can wear tiny string bikini bottoms without a problem. Take advantage!
Rectangular
Rectangular body shapes are characterized by strong, broad shoulders, proportional hips, and the lack of a highly defined waist. Celebrities with your body shape: Cameron Diaz, Hilary Duff, Kate Hudson, Kelly Ripa
Bathing suit shopping tips for rectangles:
If you want to add curves to a boxy frame, ruffles, ties, and girly bow details create volume and draw attention to your hips and bust.
A one-piece can work for you if you want to create more of a waistline. Monokinis and one-piece suits that belt at the waist will help create more curves.
Girly details and patterns are your friend. Go for florals, crochet detailing, or even lingerie-inspired bathing suits to visually balance out a more athletic frame.
If you're on the skinny side, look for tops with ruching and padding to add volume. You might also want to go for a side-tie bottom that will draw the eye to your hips.
Which swimwear styles are your favorites?
Let me know your thoughts in the comments. Which body type are you? What types of bathing suits do you usually find the most flattering? Leave your tips below!