Last weekend, we had a bout of unexpectedly amazing weather in Philly that got everyone way too excited for spring. It's like, once the sun comes out, suddenly nobody needs to do their homework. Practically the entire campus spent the day outdoors, camping out on every grassy spot available in shorts and flip flops — it was great.
On Monday, of course, it then proceeded to rain for an entire day.
Nevertheless, spring has arrived, and the season of puffer jackets and peacoats is officially behind us. That means it's time for spring jackets. Below are four of my favorite styles, along with outfit ideas for how I would wear them.
1. Cropped Trench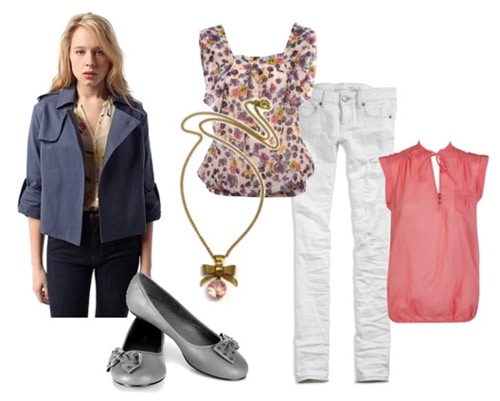 Jacket – Urban Outfitters, Floral Top – Miss Selfridge, Jeans – American Eagle, Necklace – Hannah Zakari, Shoes – Hot Topic
The trench coat is a great classic piece for fall and winter, and now you can get a cropped, casual edition for spring as well! I love the turned-up sleeves and boxy fit on this one — it's like your classic trench, but for a model-off-duty. Pair it with white denim and a romantic blouse to keep things light-hearted, and finish off with neutral flats to balance out the bolder colors.
2. Updated Hoodie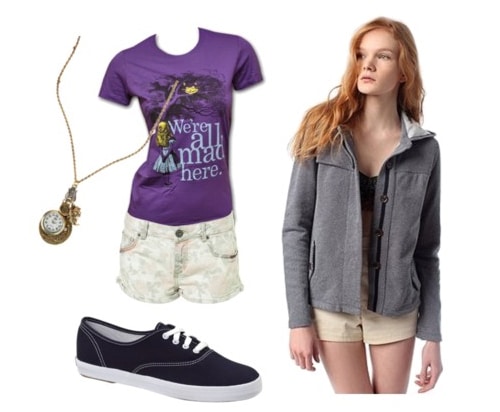 T-Shirt – Tees for All, Shorts – Topshop, Jacket – Urban Outfitters, Shoes – Keds, Necklace – Urban Outfitters
College campuses can be a sea of hoodies, but this one is not like all the others. It has structure and detailing, but without giving up the cozy comfort of a regular hoodie. The floral shorts and cool graphic tee are also standout versions of your favorite basics, perfect for rocking around campus. To finish this look off, add a fun accessory and your favorite walking sneakers for an enviable "so much cuteness, so little effort" look.
3. Safari-Inspired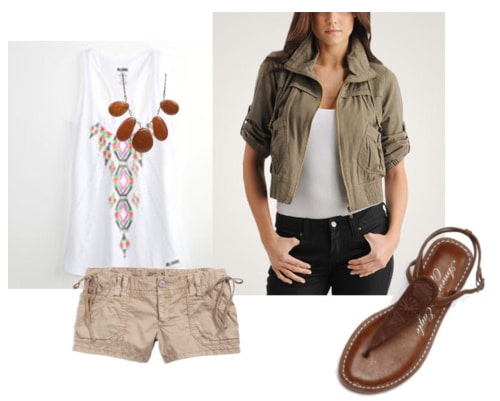 Tank Top – Pac Sun, Necklace – ASOS, Jacket – Forever 21, Shorts – American Eagle, Shoes – American Eagle
The tough, utilitarian look was all over runways this spring, and this jacket lets you emulate the vibe without going overboard. A cropped style keeps it understated, while the ruching detail adds a bit of feminine charm and softness. Stay with the same theme by wearing this jacket with khaki shorts, a simple tank top, and bold, tribal-looking accessories.
4. Denim Romance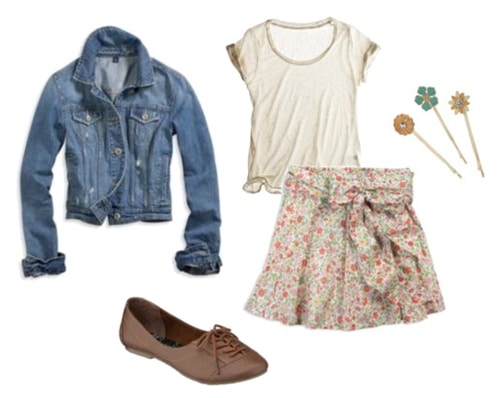 Jacket – American Eagle, T-Shirt – Calypso, Skirt – American Eagle, Hair Clips – Miss Selfridge, Shoes – Target
Denim is huge this season, and a classic medium-wash jacket will look both chic and conventionally sweet with all your favorite pieces. You can throw a denim jacket over any floral dress, but I think a white tissue tee and floral skirt would make it even more charming. Keep your other accessories understated for a fresh, natural look that will melt hearts.
What do you think?
What are you looking forward to the most about spring? Which one of these jackets was your favorite, or if you already own a spring jacket, what's your favorite way to wear it?
Personally, while I think the safari jacket and denim jackets are great looks, I would bet on the cropped trench as a more lasting investment piece. The hoodie is also super-cute too, and I could see myself wearing that for years just because it's so casual, and gray never goes out of style. What about you?