Going from the office to happy hour can be a fashion headache – what can you wear that's appropriate for both? In the past, I've solved this dilemma by carrying a massive tote filled with a change of clothes, but that's not the only option.
Luckily for those of us looking for an easier day-to-night transition, there's Banana Republic – and the man behind it, Creative Director Simon Kneen. Thanks to Kneen's eye for style, Banana's classy, tailored, office-ready separates are a breeze to dress up for night.
Want to know more about the 3rd designer in our "Who's That Designer?" series? (In case you missed them, see our past posts on Jenna Lyons for J. Crew and Doub Hanshaw for Free People.) Read on to learn 10 fun facts about Banana Republic's Simon Kneen, and to see an outfit inspired by Banana Republic – perfect for a day-to-night transition!
10 Fun Facts About Banana Republic's Simon Kneen: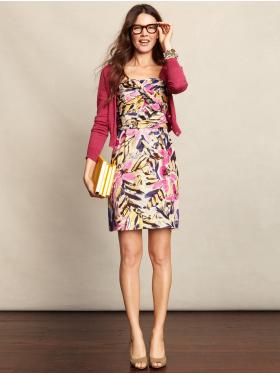 Look from Banana Republic's Favorite Outfits
Simon has over 25 years of experience in the fashion world – he has worked for well-known brands like Brooks Brothers, and even designed his own collection before he began at Banana Republic in January of 2008.
Banana Republic wasn't always the luxurious work-to-play brand it is today; when parent company Gap, Inc. acquired it in 1978, BR sold travel and safari-themed clothing!
Kneen's not just known for his gorgeous designs – he's famous for being nice, too! Kneen's assistant, Jennifer Maiorana, said Kneen is "the most charming, kind man, and he's also really funny and witty. He puts on this diva act, but it's so not who he is."
Kneen's day at the Banana Republic New York office is non-stop busy from morning till night – he often eats lunch during meetings. When he does have free time, he spends it sketching designs at his desk.
His biggest pet peeve? Flip Flops! His guilty pleasure? Handbags.
Simon's favorite vacation place isn't a vacation for him at all – he told Elle that his favorite vacay spot is "New York. Since I travel so much for work, I love any free time in this amazing city."
Speaking of New York, Simon has said his inspiration for Banana Republic designs comes from things he sees on the streets of the city. He also cites glamorous Old Hollywood actresses as influences.
Simon's influences could have sparked the idea for Banana Republic's upcoming Mad Men-inspired collection, due to be released August 11th. (Mad Men's 5th season was originally scheduled to air the same day – it has since been pushed back until 2012.) Kneen told the New York Times the collection was the result of a friendship with the show's costume designer, Janie Bryant.
He is a self-proclaimed shopaholic (aren't we all?), and says that his favorite designer (other than himself) is Yves Saint Laurent.
Simon's advice on what you should buy at Banana Republic? "A printed scarf…a scarf is always a great way to dress up an outfit. With the print, with the color, with the fabric. It also goes nice into fall."
Outfit Inspired by Banana Republic and Simon Kneen: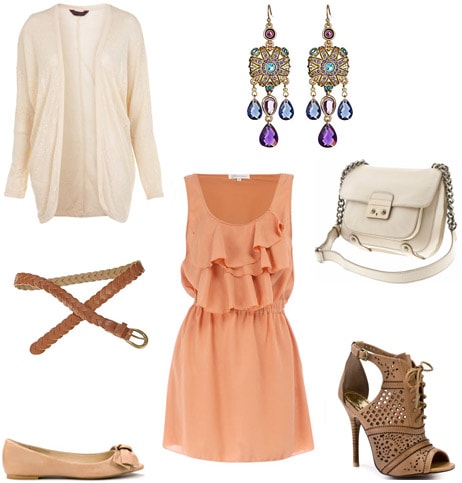 Product Information: Sweater – Miss Selfridge, Earrings – Max & Chloe, Bag – Banana Republic, Dress – Dorothy Perkins, Belt – Debenhams, Flats – Zara, Heels – Naughty Monkey
Going from work to play is easy with a few simple changes, inspired by Banana Republic's effortlessly chic style. Start with a pretty sleeveless dress and add a cardigan, belt and flats for some polish during the day. Then, after work, switch to heels and bare arms and spice things up with some flashy earrings.
What Do You Think of Banana Republic?
Are you thankful for Banana Republic's work-to-play dresses and tops? Do you think Simon Kneen is designing drool-worthy pieces? Tell us about it! Also, is there another brand you're dying to know more about? Leave us a comment telling us who you want to read about next.