This post may contain affiliate links, which means we may receive a commission if you purchase through our links. Please
read our full disclosure here
.
Doub Hanshaw in Free People's NYC showroom | Photo credit: Doub Hanshaw via Twitter
If you're like me, all you want to do this summer is throw on a breezy, crocheted top and floppy hat and head to the nearest music festival. Luckily for people like us, Doub Hanshaw, the creative director of Free People, works her magic to make that happen.
Doub is the woman behind Free People's vintage vibe and their unique pieces – and the 2nd designer in our "Who's That Designer?" series! (If you missed it, check out our previous post about J.Crew's Jenna Lyons!)
Keep reading to learn ten fun facts about Doub Hanshaw, and to see an outfit inspired by Free People's hippie-chic vibe.
10 Fun Facts about Free People's Doub Hanshaw:
Look from the Free People July Catalog
For those of you that don't know, Free People is owned by parent company Urban Outfitters, Inc. – who also owns Anthropologie. The brands were all created by Dick Hayne in the 1970s. While Free People used to be aimed at younger girls, in 2001 they revamped their image to appeal to women in their 20's.
Although she looks like a SoCal blonde beauty, Doub grew up in a converted barn in Virginia – a unique upbringing that led to a unique living space later on!
Doub lives in Philadelphia with her boyfriend, John Mahaffey. She finally moved to Philly, where Free People's offices are located, after 12 years of commuting from Manhattan.
John and Doub live in a 4,500 square foot remodeled auto-repair garage, making it a great space for Doub to host photo shoots for Free People and for Mahaffey, a lighting designer, to work.
Doub told Conrad Benner for Phrequency that her style is "American Garage meets industrial Bauhaus." (Bauhaus is a form of design based on functionalism and simplicity.)
Doub's sister writes for the Free People blog, which has awesome inspirational pictures and recipes and gives you a behind-the-scenes look at what goes into the Free People design process.
You can get an even better behind-the-scenes look at Doub's life by following her on Twitter at @sweetdoub!
Speaking of Doub's Twitter, shes posts tons of pictures of her recent purchases (like a floor length crocheted dress) and things that inspire her – like a Kate Moss by Mario Testino photo book. It's a fantastic source of inspiration.
Doub owns a white bull terrier named Jefferson, whom she and her boyfriend rescued. Jefferson has even posed in Free People catalog photo shoots!
She also has her own jewelry line, Made In Metal, which she designs with her friend Carrie. Most of the designs are rings, and she sells them by word-of-mouth.
Outfit Inspired by Free People and Doub Hanshaw: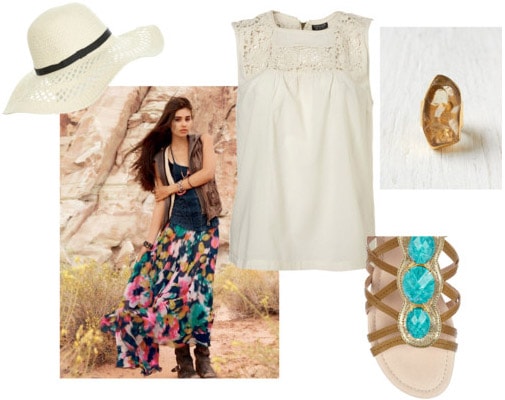 Product Information: Hat – Miss Selfridge, Skirt – Free People, Top – Topshop, Ring – Free People, Sandals – House of Harlow
Free People exudes a carefree, hippie-chic vibe that is perfect for summer, and Doub is all about dressing based on whatever inspires you. What better way to look the part than with a long, pretty floral skirt and crochet top? Accessorize the look with a funky ring, detailed gladiator sandals, and a '70s-inspired floppy hat.
What do you think of Doub Hanshaw and Free People?
Is Free People your go-to store for your summer style? Do you love the quirky style Doub Hanshaw has given Free People? Do you follow her Twitter? Tell us about it! And as always, leave us a comment and tell us who you'd like to see in the next installment of our series!