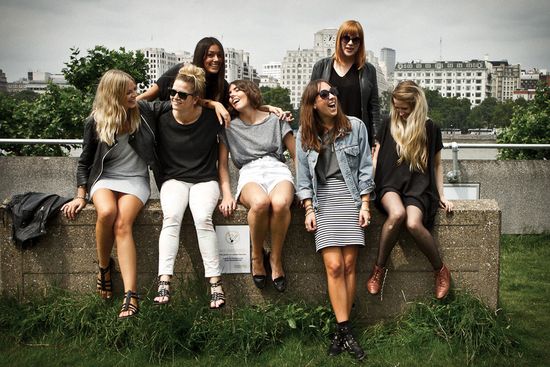 Topshop models goofing off on set | Photo Credit
The UK has had quite a year, haven't they? With the royal wedding and all, all eyes are on all things British.
But tear your eyes away from the daily updates on Pippa's style and Duchess Kate's baby watch for a moment, and you'll remember the (now global) phenomenon that is Topshop and their recently-appointed creative director Kate Phelan. After less than a year at the post, Kate is already drumming up the kind of excitement we haven't seen since the launch of Kate Moss' collaboration with the brand.
Want to learn more about Kate Phelan and Topshop? Keep reading for 10 fun facts about the creative director and an outfit inspired by Phelan and Topshop!
(Missed a part of our series? Grab your blanket and cocoa and brush up on J.Crew, Free People, H&M, J. Brand Jeans, Coach, Nike, Madewell, TOMS, Lacoste, Banana Republic, and Anthropologie.)
10 Fun Facts About Topshop Creative Director Kate Phelan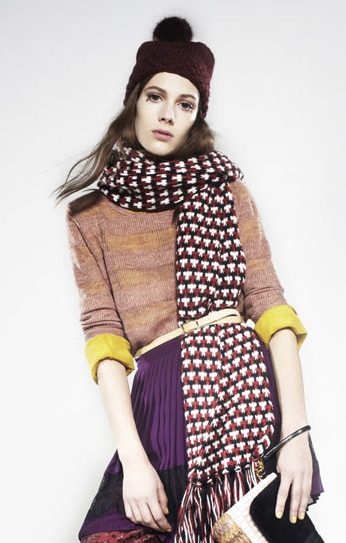 A cozy Topshop look | Photo Credit
Topshop has been around longer than you might think – it opened in 1964 as a part of the Peter Robinson department store, and became its own standalone store a little less than 10 years later. Today, there are more than 700 stores across the globe, and Topshop.com is updated 5 times a week with over 300 new styles.
Kate was born in Exeter (a city in the southern UK) in 1964. In 1983 she moved to London to enroll in Fashion Design classes at Central St. Martins College.
Kate came to Topshop with a pretty impressive resume in hand – she had worked at British Vogue off and on since 1987, and had actually dropped out of college after 3 years when she was first hired and decided she didn't want to go back.
Before she became Creative Director, Kate styled Topshop's advertising campaigns.
So what's the Topshop style all about? Phelan believes it's "creative layering" – the art of mixing high and low fashion together. "There is something quite London about the look," she said. "That creative layering, it's very street style and that's something London does well."
Phelan said she does not see Topshop as a place that dictates trends the way other European stores with a fast turnover do. "We're not about dictating what people should be wearing. Other stores do that, but we just provide the fashion-conscious customer with the right items. They can then go away and put their own individual look together," she said.
The process of designing and creating the clothes is, understandably, complicated. "I'm there to take the garment from the design room to the shop floor," Kate says. "Along the way there's plenty of brainstorming until we look at how it's presented in the store, shown in shop windows and presented in the imagery. "
Kate said the Spring 2012 collection was hugely inspired by the upcoming London Summer Olympics, "so there are lots of easy, luxurious sportswear pieces. It's going to be a more premium product with lots of light layering, silk trousers, and mesh knits in gentle pastels."
The latest buzz? Phelan is opening more massive stores around the globe – most recently, one in Canada and one in Melbourne, Australia. New collections are a priority, too: In February, Topshop will be collaborating with British designer Mary Katrantzou.
Kate's favorite pieces for a glamorous holiday season include long skirts, leggings, tights in metallic colors, embellished tees and fake fur to throw over your jeans or leggings. "Don't forget some chain- and crystal-mix jewelry and to flick on some super red lipstick," she said.
A Look Inspired by Kate Phelan and Topshop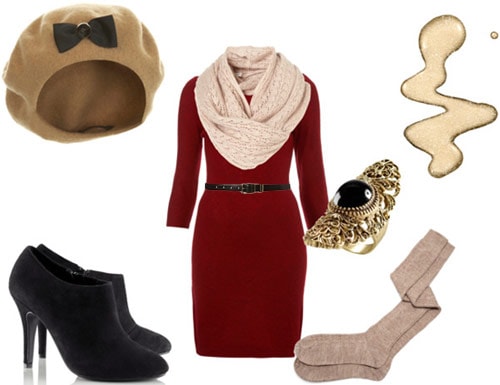 Beret, Scarf, Dress, Belt, Ring, Nail Polish, Socks, Booties
It's so easy to dress for New Years Eve – sequins and party dresses are everywhere this time of year. But to find something appropriate for Christmas dinner with the family is a different story! To look stylish but avoid giving your grandmother a shock with a sequined party dress, try a more conservative long sleeved dress in a deep holiday color. Long socks and a scarf keep things cozy, but booties, sparkly nail polish and jewelry spice things up. And if you're a hat person, why not top it all off with a cute beret?
What do you think of Topshop?
Do you covet the brand's unique pieces? Or would you rather shop at one of the other fast-track-fashion stores that come from Europe? Tell us about it! Have we skipped over a store you're dying to hear about? Leave us a comment and we'll cover it in our next post!