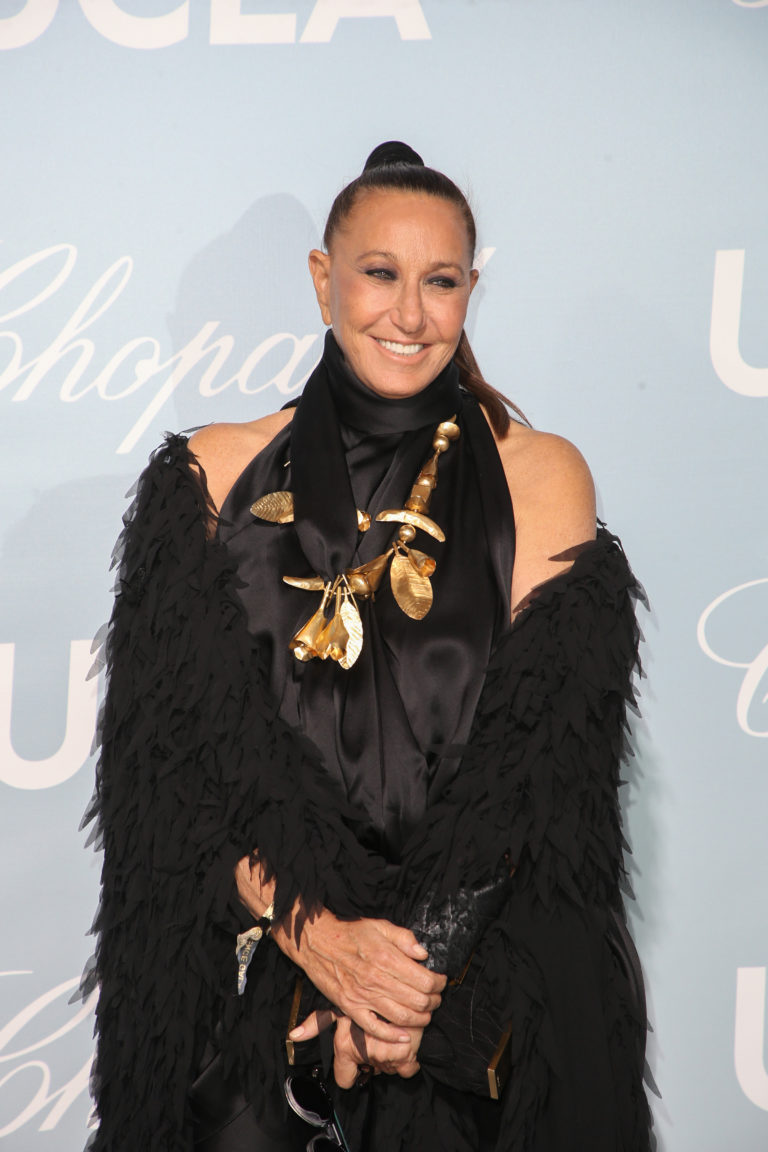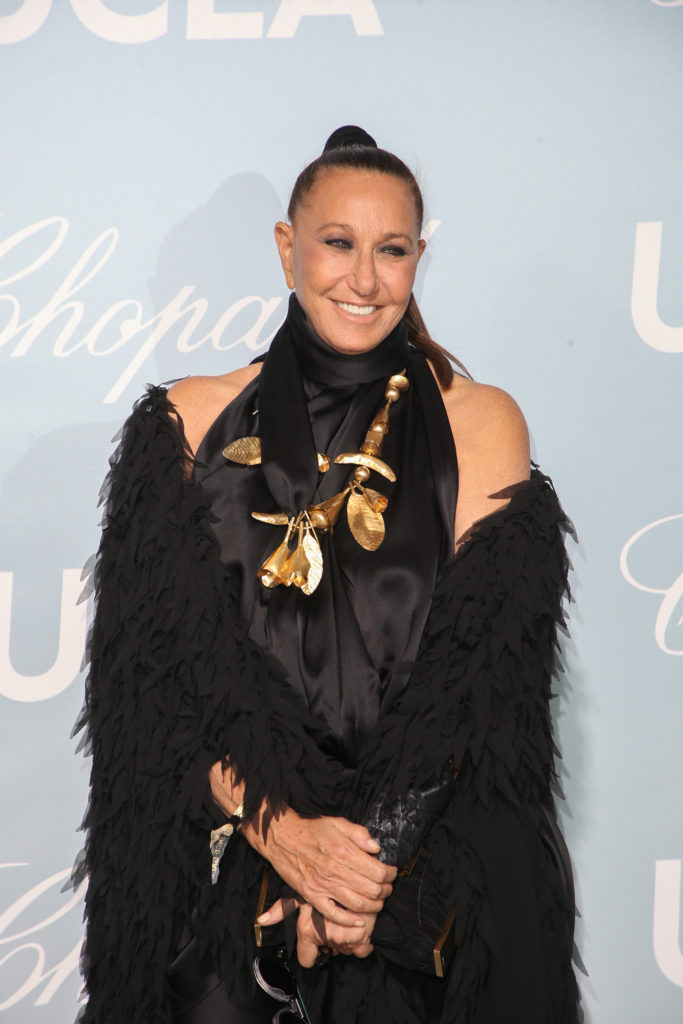 You might recognize her first by the company name DKNY, but Donna Karan is a fantastic designer worth knowing on her own.
She's also the first designer featured thus far in our Know Your Fashion Designers series that was born and bred in the United States! We've already covered some Italian, Belgian and French designers, so if you need to catch up, click the links! In the meantime, get ready to learn more about America's own fashion powerhouse, Donna Karan.
Many of you have been asking about name pronunciation for fashion designers and guess what: For those of you convinced that every fashion designer name has a weird pronunciation or "fashiony flair," not so with Donna Karan! If you, like me, have pronounced Karan as "Ka-RAHN" in the past, her name actually sounds like "Karen"! Now when you read the rest of this article out loud to your friends, you can say Donna Karan's name with accuracy and confidence.
Read on to learn more about Donna Karan, her life, and her fabulous fashion skills!
10 Facts about Donna Karan:
1. Donna Ivy Faske was born in Queens, New York in 1949. She grew up on Long Island with her mother, who was a model, and her stepfather, who was a haberdasher (someone who sells and deals with sewing accessories, commonly for men's fashion).
2. She went to Parson's School of Design and first entered the fashion business by landing a designing gig at Anne Klein. Donna soon worked her way up to becoming the head of Anne Klein's design team.
3. She married Mark Karan in the early 1970s and had a daughter with him named Gabrielle. However, Mark and Donna divorced in 1978; she remarried in 1983 to Stephen Weiss.
4. In 1985, Donna Karan went solo, leaving Anne Klein and building her own company. Her "Essentials" line soon grew in popularity, causing her original 7 Essential pieces to grow – they number over 200 today. The original Essentials line included a bodysuit, a wrap skirt, a chiffon blouse, a longer jacket, leggings, a blazer and a dress.
5. In 1988, the more affordable line, DKNY, was introduced, which was meant to reflect the modern New York lifestyle.
6. Donna Karan claims that when she designs clothes, she designs for women like herself, not for top models. People say that before clothes are accepted for production, that they must first flatter Donna Karan.
7. She has a fascination with Eastern mediation and philosophy, which is sometimes reflected in her designs.
8. Donna Karan is a Libra; she believes in astrology and claims that she can't make decisions very quickly.
9. Her book "Modern Souls" was published in 1998 for the 10th anniversary of DKNY.
10. Donna Karan had 20 years invested in the fashion industry (and seven grandchildren!) by 2007.
Outfit Inspired by Donna Karan: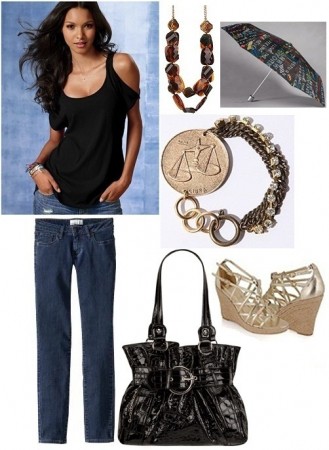 Product Information:off-the-shoulder tee, necklace, umbrella, bracelet, denim leggings, bag, sandals
If you want to channel Donna Karan's style, be ready to show off your shoulders! This fashion designer believes that one of the most attractive attributes of a woman's body are her shoulders, so I started this outfit off with a casual but sexy t-shirt that Donna Karan would surely approve of. I also added a pair of dark wash jeans, since Donna loves to wear dark colors.
Next, it was time for accessories. If you ever look up photos of Donna Karan online, you'll find she frequently wears large statement necklaces, like the one I included here. As a nod to her zodiac sign and her interest in the Eastern philosophy, I added this antique-looking bracelet, which comes in other zodiac signs as well! The bag and the sandals are college budget-friendly renditions of what is currently featured on the Donna Karan and DKNY websites. Finally, the umbrella is a DKNY product that is affordable, at just $15, and comes in three awesome patterns!
Extra for Experts:
Ready to expand your fashion designer knowledge? Pick up these reads for your quick study breaks and keep them as fabulous coffee table books!
Thoughts on Donna Karan?
Are there any other fun facts about Donna Karan you think are worth sharing? With April showers coming, are you considering getting the DKNY umbrella in the black and white newspaper-esque pattern like me? Please share your thoughts and which designer – no matter what nationality – should be featured next!