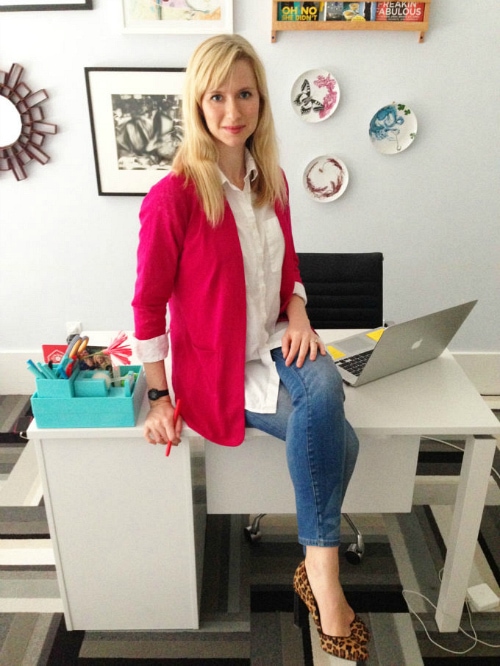 Remember 6th grade, watching What Not To Wear and eating popcorn in your pajamas? Oh wait… you still do that. We'll always have a soft spot for Clinton Kelly in our hearts, and now we can keep up with him even though WNTW is over: through ClintonKelly.com.
CF got to talk with Ayn-Monique Klahre, executive editor at ClintonKelly.com, loving wife, and fabulous mother of two. She's living proof that you really can do it all.
The Interview:
ML: What's your title at CK?
AK: I'm the executive editor at ClintonKelly.com, a lifestyle website helmed by TV personality Clinton Kelly. It's in Tribeca (downtown NYC).
ML: What are some of your duties for the website?
AK: We're a small operation, so it's a bit of everything: Putting together the editorial calendar, producing the stories, managing photo shoots, writing copy, working our social media, loading the content onto the site. Anything that needs to get done is fair game, whether it's high-concept stuff like looking at our analytics or grunt work like packing boxes for a shoot.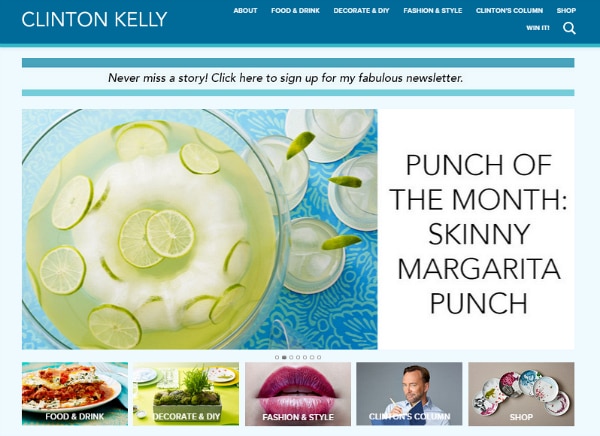 ML: Do you have a favorite part of your job?
AK: I love that it's a little bit of everything. If I need a break from one task, there's something totally different waiting to get done. It's also my first digital media job after many years in traditional magazine publishing, and I love how nimble we can be— if we come up with a great, timely idea, we could get a story written and posted within hours instead of churning through the months-long print cycle.
ML: What's the best part about working with Clinton?
AK: Clinton is very tuned in to what his fans want and the cool thing about digital media is that you can have a real dialogue with your readership. You immediately know whether a story is inspiring them or solving their problems, and it's rewarding when you get it just right.
He also dreams big and is constantly coming up with new ideas, so as a consequence our team is always challenged to learn new skills. I go home to my husband and I'm like, "Honey, I learned how to make a GIF today!"
ML: That's so fun! It must be a lot of straining brainstorming. Where do you get your inspiration for everything?
AK: Everywhere. I go to a restaurant and order a meal and think, "I could make that, but I'd do beef instead of pork and put it in a slow cooker." I go into a retail store and think, "why would I spend $60 on this if I could craft it instead?" I see a stylish girl on the subway and instead of thinking "She's cute," think "That's a good idea, to put that sequined shirt under a jean jacket. Maybe we should do a story on sequins one day." Once you get into content-creation mode it's impossible to stop.
ML: What did you study in college? Something creative?
AK: I went to Princeton. I majored in Politics with a certificate in Political Theory— meaning I read a lot of Greek philosophers and wrote lots of papers. But all that research and writing set me up well for an editorial career. Whether you're doing market work or interviewing people, your goal is to become an expert on whatever you're working on, then present it in a digestible way.
ML: Did you have any important jobs or internships that opened the door of your current position at CK?
AK: Clinton has a column in Woman's Day, where I worked for many years, so the team recommended me when he was looking for someone to launch his website.
But every job teaches you skills you end up using later (even the ones you hate at the time). Prior to working here, I was lifestyle director at Good Housekeeping, which positioned me to oversee the broad content we produce. Early in my career I interned at InStyle, which gave me fashion and beauty reporting chops. Before that, I worked in PR representing retail product lines and boutique hospitality brands, which taught me about targeting a product or service to a particular consumer. It's all related.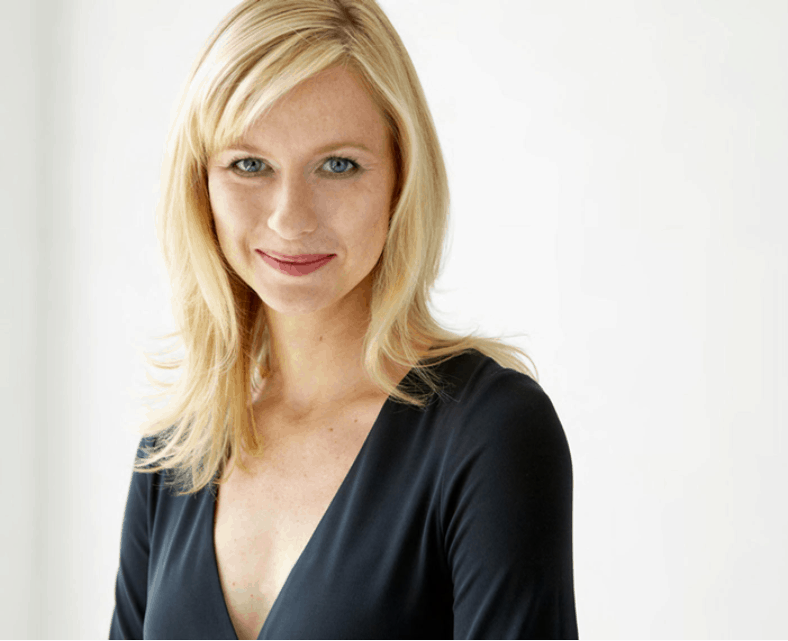 ML: And you work so hard on all of this content while having a family? Tell us a little bit about them.
AK: I live in Brooklyn Heights with my husband and two daughters (2½ and 6 months). My husband works in digital media, on the sales side, so we can talk about the industry from different perspectives.
My older daughter is at a fun age where she's interested in everything— arts and crafts, ballet, cooking, singing, jumping on the bed, running around like a monkey making funny faces. The younger one is sweet and smiley and does all sorts of adorable baby things, like cooing and laughing and chewing on her toes.
Our neighborhood is amazing for families; we live near tons of parks and you can show up to a 5-star restaurant with a bursting-at-the-seams stroller and a kid who only eats buttered bread and they're totally accommodating.
ML: How would you describe your style? It must be pretty comfortable with all of the mommy responsibilities.
AK: I would say my style is evolving. Through my 20s I tended to wear prettier, preppier outfits, but now that I'm in my 30s I do more neutrals and streamlined pieces. I love a good heel for work (I keep a leopard-print pair in my desk that seem to go with everything) but on the weekend I'm in my Brooklyn Mom uniform: Vans, skinny jeans and an oversized button-front shirt.
ML: Do you have any advice for college students who are aspiring to have a job that's similar to yours?
AK: In general: Say yes, work hard, and be nice to people. Accept the first offer you get, because you're not accomplishing anything holding out for your dream job and there's so much to learn in the meantime.
Take on whatever your boss asks of you—if you do the menial tasks happily, she'll go to you first for the cooler gigs, and if you accept assignments you're afraid to do, you might discover that they're not so hard after all.
And even if you're frustrated or overworked or think someone is totally wrong, be nice to everyone you work with, always. Having good relationships with your colleagues is the core of professionalism.
Three of Ayn-Monique's fashion must-haves:
1. Anokhi scarves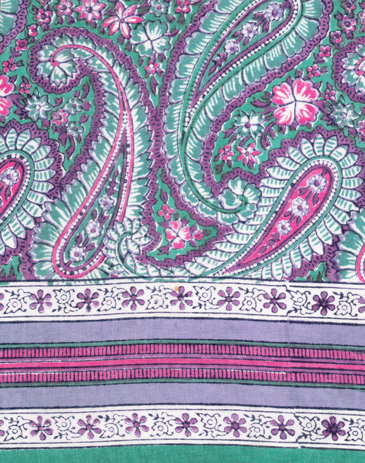 AK: I especially love their sarongs, which I wear as a scarf instead: Super lightweight cotton, gorgeous block print designs, the loveliest colors. I am always cold so I have one with me at all times. I have at least 10 of them, it's sort of a problem.
2. Revlon Photoready Cream Blush in "Coral Reef"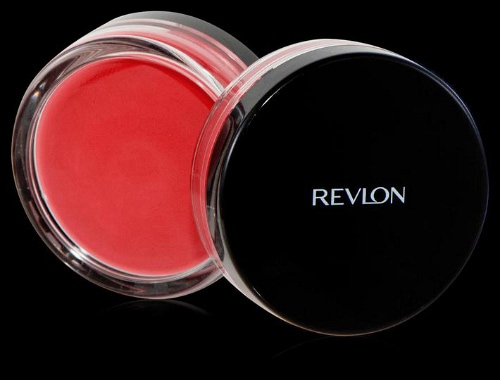 AK: I am a girl who believes in pink cheeks, and this one is perfect— bright and sheer at the same time.
3. Madewell denim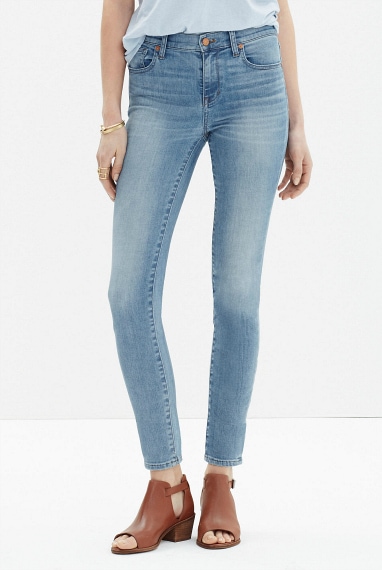 Madewell High Riser Skinny Crop Jeans
AK: These jeans never fail me! I just got these and I'm waiting on those flares to stock back up.
What do you think?
Does Ayn-Monique's do-it-all attitude inspire you? Are you a Clinton Kelly fan? Will you check out ClintonKelly.com? Remember to post your comments and questions below!