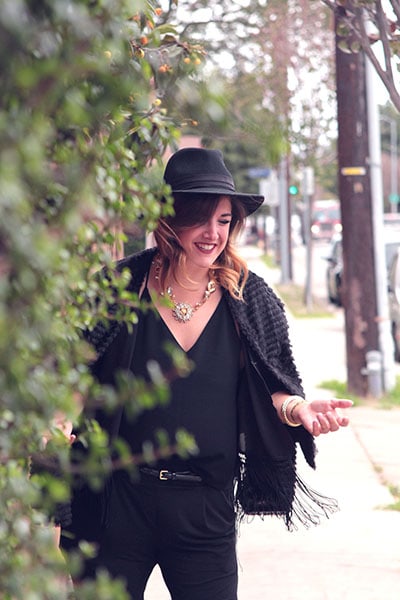 College Fashion is back with another small-town-gone-pro inspiration story! We talk with Kaylen Jelinske about her job with Nordstrom, her favorite brands, her style tips, and what it takes to have a job like her. Scroll down to check out our interview:
About Kaylen
College Fashion: What do you do for a living?
Kaylen Jelinske: I am a freelance stylist for Nordstrom Direct, which also gives me the freedom to style photoshoots and fashion shows on the side.
CF: How would you describe your style?
KJ: I would describe my style as moody and unpredictable. Every morning when I wake up, what I put on just depends on what kind of vibe I'm feeling for that day. One day I'll go super grunge, the next day I'll go bohemian-chic.
CF: What's your favorite part about your job?
KJ: I love that every day is different. I get to work with some of the most creative people and it's amazing to be able to collaborate and be a part of the fashion industry.
CF: Where do you draw style inspiration?
KJ: Social media. I follow designers, bloggers, fashion magazines, and even celebrities. It's important to keep up with trends in this industry, so any type of fashion outlet is key.
CF: What are some of your favorite brands?
KJ: Rag and Bone, Theory, and All Saints are some of my favorite brands. I've been getting into online shopping a lot more recently. Revolve Clothing is amazing, too. And of course I shop at Nordstrom!
CF: Do you have any fashion "guilty pleasures?"
KJ: I don't know if this is necessarily a guilty pleasure, but my go-to look is all black. I love the idea of having a blank canvas you can dress up with accessories and a pop of color like a clutch or lipstick.
CF: Ah, all black with a strong lip — a woman after my own heart. So where did you study?
KJ: I went to undergraduate at Drake University double majoring in graphic design and magazine journalism. After Drake, I attended the Fashion Institute of Design and Merchandise in Los Angeles where I received a degree in Visual Communications with an emphasis in styling.
CF: We have more in common than I thought! That's my school and my double major. So you definitely know what it's like to be a college fashion girl on a budget. Do you have any advice for our readers who are on a budget?
KJ: Always bargain shop! Make it a goal to never purchase something at pull price. Nordstrom Rack and TJ Maxx are great stores for that. You may have to dig, but it's worth it.
CF: Do you have any advice for college students who are aspiring to have a job that's similar to yours?
KJ: Network as much as possible and put yourself out there. Word of mouth is very powerful in this industry.
How to dress like Kaylen
1. Know your body
KJ: It's important in order to feel good in the clothes that you're wearing.
2. Try new things
KJ: Pick out something at a store that you wouldn't normally choose, and try it on. It's always good to keep an open mind when it comes to fashion and shopping in general.
3. Never neglect accessories
KJ: Even a simple hat, scarf, or statement necklace can change an outfit for the better!
Outfits inspired by Kaylen
1. For your internship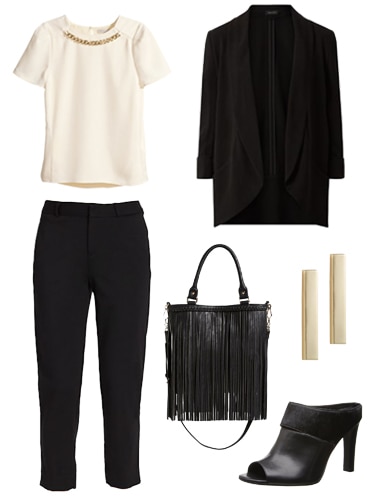 Product Information – Top: H&M, Blazer: New Look, Pants: Ellen Tracy, Mules: Calvin Klein, Earrings: French Connection, Bag: Nordstrom
2. For a day at the mall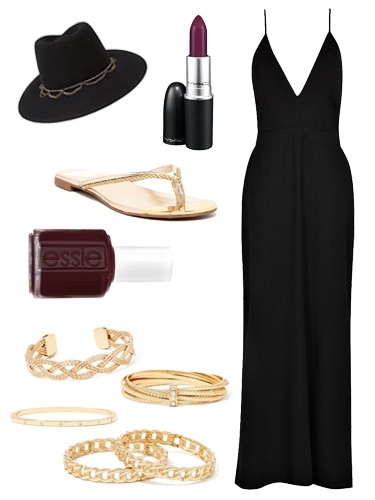 Product Information – Dress: Boohoo, Hat: Forever 21, Sandals: Dolce Vita, Lipstick: MAC, Nail Polish: Essie, Bracelets: Charming Charlie
What do you think?
Does Kaylen's style inspire you? Is her advice helpful to you? Would you ever consider working in the fashion industry? Remember to post your comments and questions below!