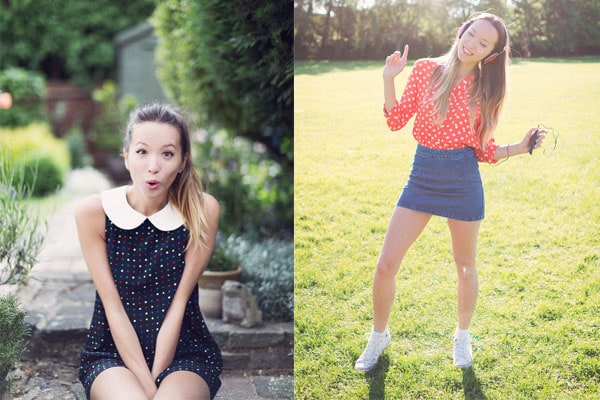 Photo Credit: Natasha Footman
We're back to the UK this week to chat with one of our favorite bloggers, Girl in the Lens's Natasha Footman! (Seriously, if only we could actually travel around the world to conduct these interviews…)
Natasha combines preppy British basics with standout wardrobe pieces (a khaki jumper, anyone?) on her adorable blog, which was chosen to rep the UK in Forever 21's Global Queen Bee Style-Off this summer. (Sound familiar? She competed against Adventures In Fashion's Vickie!)
Photogs, step aside: the blog's called Girl in the Lens for a reason, and it's because the photography is pretty incredible. The cutest part? All of the pictures are shot by her boyfriend, Callum. Natasha's multi-talented, too — her young adult novel, The Elites, was released earlier this year!
Read on to find out how to get a High Street look without breaking the bank, what it's like to work in social media (Natasha's full-time job!), and what's up next for Girl in the Lens:
The Interview:
College Fashion: Tell us a little bit about yourself.
Natasha Footman: I'm a half Chinese, half English girl who loves books, travel, fashion, food, and just making the most of being alive in this beautiful world! Outside of blogging, I'm also a writer, and my debut novel The Elites has just launched in bookstores across the world! Cultivating a healthy and happy lifestyle is really important to me, as is working hard on projects I love.
CF: How would you define your style?
NF: At 23, my style is still evolving, so if I had to use one word to describe it, it would be "uncommitted." I am a very emotive dresser, so I tend to wear different styles according to how I'm feeling on that day. Sometimes, I'll just wear fancy heels, a skirt, and a blouse, when the very next day, I'll be in sneakers, jeans, and a baseball cap.
My style always tends to have a bit of polish, however, and I'm big on lots of accessories. I guess you can describe it as always clean, casual, and preppy.
CF: What inspired you to start a style blog? What motivates you?
NF: I set up Girl in the Lens with my boyfriend (he does all the photography and design, and will have a bigger part to play in it once we relaunch as a lifestyle blog) when I was working at a social media agency in London. Blogging is a great way to immerse yourself in the world of social media, and it allowed me to better understand how to handle clients' accounts when I knew what it was like being on the other end.
We've kept the blog going because it's a creative outlet for both of us, though we've got to the point where outfit photo shoots are feeling a bit stale, so we're shaking things up soon to incorporate more variety of posts!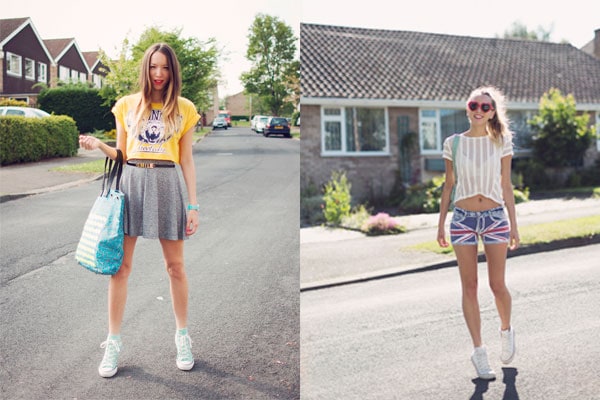 Photo Credit: Natasha Footman
CF: Did you go to college? If so, what did you study? What was your college experience like?
NF: I did—I went to the University of Cambridge and studied Geography, of all things! I've always been really academic and I enjoy learning, and Geography is such a fantastic subject. It broadens your mind, opens you up to the world, and teaches you to see it in a new way. I had a great time at uni. I worked hard, but also made time for extra-curricular things such as being on the committee for the university's photography society and editing a creative writing anthology, which is where I further explored my interests in fashion, photography, and writing.
CF: Where do you like to shop?
NF:I'm a high street girl—mainly because of my budget! I do allow myself the occasional designer splurge for a key item I know I'll have for many years, though. My favorite stores are Topshop for basics and casual wear, Zara for shoes, Urban Outfitters for quirky accessories, Gilly Hicks for undies and sportswear, and ASOS for discovering new brands.
CF: What advice do you have for being stylish on a college budget?
NF: Focus on building a wardrobe. Don't get sidetracked by wanting a piece because it's gorgeous in itself (though of course if you really love it, go for it!), but I think about how it'll fit in with the rest of your pieces and whether you have anything like it already.
Also, think about versatility. A cute little strappy cami like the ones Topshop have done this season can be worn in the daytime with jeans or in the evening with leather trousers or a miniskirt. This way, you'll hopefully invest in pieces that'll take your money further.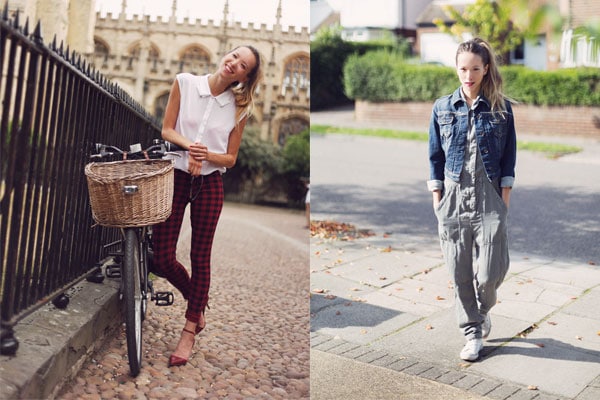 Photo Credit: Natasha Footman
CF: What are your favorite pieces in your wardrobe?
NF: My Zara ankle-straps—they look good with anything and are just the right heel height. My vintage leather miniskirt—equally wearable for day or night looks. A dark orange/red leather jacket I got recently from Mango—it looks super cool thrown on over jeans and a tee. And a little hummingbird necklace from London-based designer Cinderela B—I wear it almost every day, and it has a lot of sentimental value.
CF: What advice do you have for new bloggers or college students starting a blog?
NF: Blogging is the sort of thing that you'll get out as much as you put in. So work hard at it, don't be discouraged by how long it takes to get lots of views or recognition, and just stay true to your aesthetic and the reason you blog.
Once you start working with brands and PRs, it can feel easy to feel like you need to say yes to everything, but be selective and only take on things that are truly relevant to your blog and style. And treat blogging as professionally as possible. You never know what it could lead to!
CF: What's writing a blog really like? Could you describe a typical day?
NF: I don't blog full time—I also work as a freelance social media consultant and author, the latter of which is my main profession and takes up the most time. It really depends on if I've got blog events that day such as press days or drinks with a brand, but most of the time I'll see to my emails in the morning for an hour, then write up a post, then keep engaged with my readers through social networks such as Twitter and Pinterest for the rest of the day.
The problem with blogging is that it's a job that never stops. I'm still answering emails in bed last thing at night! It's become more of a lifestyle for me.
Your thoughts?
Do you follow Natasha's blog? Does her story inspire you? Who do you want to hear from next? Let me know in the comments section!