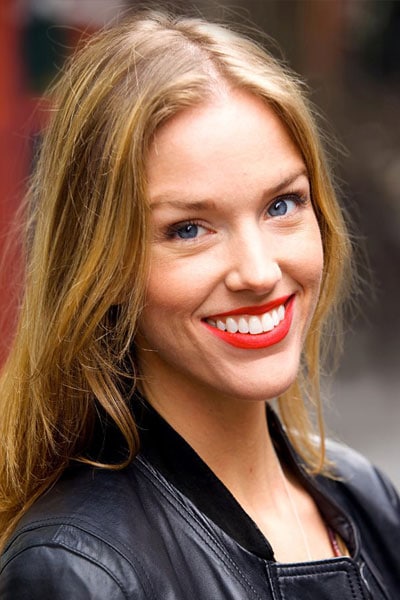 Photo Courtesy of Janet Sahm
It finally happened – there's a magazine with no Photoshop whatsoever! Verily is committed to showcasing a woman's natural beauty, and we're totally obsessed. Plus, the magazine's images are just as beautiful as the idea behind it.
Here, Co-Founder and Style Editor Janet Sahm gives us the deets on how her internship changed her life, what it's like to work at a start-up magazine, and why the mag's "No Photoshop Policy" means so much to her:
The Interview:
College Fashion: Did you go to college? If so, where did you go and what did you study? What was your college experience like?
Janet Sahm: I went to Fordham University and was an English Major. As a Midwest girl moving to New York City for the first time, it was quite an adjustment. What drew me to the city was its energy, creativity, and the fact that no one looked twice at what you wore – which was so freeing to have fun with self expression through fashion – not something common in Indiana! Growing up I always had a bit of a kooky style; a clash of tomboy and girly, mix and matching vintage.
But to tell you the truth, college was somewhat of a hard time for me. I didn't have much direction on what I wanted to do with my life, what I should major in, and I had a difficult time finding good friends, especially in a big city. Even my style reflected that sense of confusion and "wanting to belong." So, I fell into somewhat of the status quo when it came to my closet.
CF: What was your sense of style like in college? How would you say it's changed?
JS: I went to Catholic school my whole life, so by the time I hit college; getting dressed for class everyday was a whole new world! I played it safe with typical T-shirts and jeans, which really was a stifling of my old sense of quirky tastes.
CF: Did you have any internships or jobs in college? What were they like?
JS: I interned at Elle Magazine in the Fashion News Department for a little over a year and wrote some for Elle.com. Ironically, I actually got the opportunity because I was writing a paper for a journalism class criticizing magazines and the skewed way they portray women. I had a family member who knew the Fashion News Director, and grabbed the nerve to interview her, criticize women's magazines, and then follow up with "are you taking on interns?" And, they actually took me on board!
My time at Elle was eye opening – think, "The Devil Wears Prada" kind of environment, but a lot less glamorous.
CF: How did you get your start working in the fashion industry?
JS: As my time at Elle came to a close and graduation was around the corner, I went through a major re-conversion in my life, which set me on a completely different path. I began to live in a way that was consistent with the desires of my heart and my faith. I then left the fashion industry altogether and didn't want to be a part of it. I spent the next year working as an assistant at an Internet company to pay for rent in New York City, and while I was rediscovering my own worth, beauty, and inherent dignity, the seeds were being planted to start something like Verily Magazine.
My difficult time at Elle was enough of a catalyst to want to start something completely new and different in the magazine space – a publication that was truly good from the bottom up and created content that respected women – that celebrates the best of who they are by featuring fashion that is worthy of the woman, relationship articles that go beyond sex tips, and strong cultural and lifestyle journalism. I wanted to create content and visuals that reflected the inherent beauty of women and showed how to lead a fulfilling, integrated life.
CF: What's your favorite part of your job?
JS:I love being able to affect women in a very real, personal way. Verily Magazine has become a trusted voice and sign of hope for so many women who are hungry for something authentic in their lives. One of my favorite spreads in each of our print issues is the "Runway to Realway" feature in which we take runway trends and show how to style them on everyday, real women. It sums up what I hope to achieve with Verily's style content; to feature fashion that is both inspirational and attainable, to bring the fashion industry down to earth.
The day of shooting is such a blast as many of these women have never had their make-up and hair done, and they are able to feel beautiful in their own skin. It's amazing how much these women shine. After one photo shoot was over, a woman who modeled for us ran up to me and said, "I've never felt more beautiful than I do right now, and that's what Verily is all about."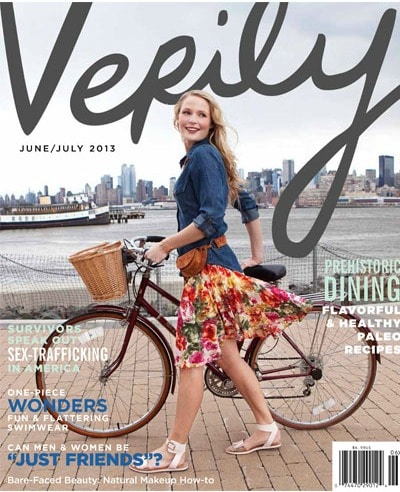 Photo Courtesy of Janet Sahm
CF:What's your least favorite part of your job?
JS: Working at a start-up, I'm constantly being humbled, and it can be a little scary taking on something you've never done before – which happens almost every day! One of the hardest parts for me is combating the creative freelancers I work with – whether photographers or stylists – who have a hard time working with 'plus-size' models. There's such a negative connotation and a sense that "they just don't look as good in clothes." I really have to work on showing diversity in all respects throughout Verily, and could certainly improve, but it is a mission that I truly believe in!
CF: What's been a favorite/standout moment in your career? Is there a project you're particularly proud of?
JS: We're now carried in Barnes and Noble across the country, which is such a surreal accomplishment for us! I'm also incredibly thankful to have had The Huffington Post feature our "No Photoshop Policy," in which we vow never to alter the face structure or body shape of any of our models and real women throughout the magazine. It was the most shared article on the Huffington post a few weeks ago, and lead us to be featured on CBS The Couch in New York recently as well. The word is getting out and people are ready for more authentic media.
CF: What's a typical day like for you?
JS: Trying not to be buried alive by emails! I balance both the online content for verilymag.com and the entire fashion and beauty content for Verily's print issues, along with wearing a lot of different hats, which come from working at a start-up with a lean team. My day totally depends on whether or not we're in "issue production mode."
When we're putting together a print issue, I'm coordinating and producing anywhere from 6-10 photo shoots at a time, soliciting and editing content, working with PR companies and reps, following up on the administrative side of the business, and overseeing our online content, among other things.
CF: What's your favorite piece in your closet?
JS: Oh, that's a tough questions…it changes with my moods and seasons! Right now it's a $20 dollar crushed velvet, champagne hued vintage midi skirt I scored in the East Village. I can't wait to bring out for the holiday season!
CF: What advice would you give a College Fashion reader that wants your job?
JS: Discover why it is you love fashion, what it is that draws you to beauty, and use that passion for the good of others. By knowing who you are, having a mission, and staying true to your values, you really can set the world on fire.
Your thoughts?
Does Janet's story inspire you? Have you read Verily yet? Who do you want to hear from next? Let me know in the comments section!