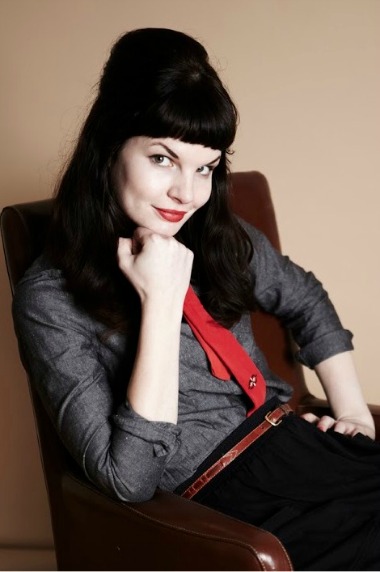 Photo Credit: ModCloth
I have a style confession to make: Lately, I'm obsessed with vintage clothing. Blame it on rereading '40s editions of fashion magazines, blame it on Taylor Swift, blame it on the fact that an A-line is universally flattering: Whatever the cause, I'm convinced the vintage-inspired look isn't going anywhere this year.
If you, too, are looking to retro-fy your wardrobe, look no further than ModCloth: the site (a fave here at CF) offers indie, vintage, and vintage-inspired pieces fit for every budget, with adorable stories to match each product.
Here, ModCloth's Fashion Writing Manager Molly Kirwan talks about how she brings each product to life, that time Mindy Kaling tweeted at ModCloth, and the dogs at the e-tailor's Pittsburgh office!
The Interview:
College Fashion: Where did you go to college? What did you study? What was your college experience like?
Molly Kirwan: I was an English major and history minor at Hamline University in Saint Paul, Minnesota. Though my school was fairly small, it had a wonderful English department. I quickly identified a few brilliant faculty members and took every possible class they taught, which led me to focus my studies on 20th century American literature and film.
CF: What was your sense of style like in college? How would you say it's changed?
MK: My undergraduate sense of style was a bit all over the place. I was somewhat of a rebel in those days, and would often dress in punky pieces, like patch-covered leather jackets, twill mini skirts, and chunky boots. But it was during that time that I began my obsession with '50s and '60s fashion, and I soon filled my closet with mod shifts and vintage fit-and-flare frocks.
Since then, I've really grown and refined my own sense of retro flair. Now, my wardrobe is a colorful mix of authentic vintage pieces and new professional staples, such as chambray work shirts and crisp, solid-hued pencil skirts.
CF: Did you have any internships or jobs in college? What were they like?
MK: During my junior year of college, I interned at a Minneapolis-based literary magazine, which kept me busy penning press releases, running local events, and copy editing content. Throughout college, I also worked about 30 hours a week as a barista at a local coffee shop. It was a great way to support myself while meeting new people, and it also allowed me plenty of time for studying during slower shifts!
CF: How did you get your start working in the fashion industry?
MK: After I graduated from Hamline, I started to freelance as a fashion and beauty writer for a few shopping blogs while continuing to sling coffee at the cafe. It wasn't long before I realized that writing about style trends and clothes was all I wanted to do, so I moved out to San Francisco in search of a full-time gig. Within a few months, I had landed a position as the print copywriter for a men's retailer, and put in three years there before scoring my dream job writing for ModCloth.
CF: What's your favorite part of your job?
MK: As ModCloth's Fashion Writing Manager, I oversee a team of writers responsible for crafting cute names and detailed stories describing each product we sell. A lot of my job is spent editing these descriptions, and I can hardly convey the amount of delight I get from watching these adorable garments come to life through our writers' words. Each piece is lovingly given an occasion to attend or a setting in which to be worn, and it's so inspiring to picture the adventures these clothes will have after our customers order them.
CF: What's your least favorite part of your job?
MK: This may sound crazy, but the toughest part is that we carry so many cute clothes! ModCloth launches hundreds of new items per week, so it can be challenging to ensure that each and every item gets the creative, well-written product story it deserves.
CF: How did you know that ModCloth was the perfect brand for you?
MK: ModCloth was actually one of my first e-tail shopping experiences. Since the first time I shopped the site, I was hooked! I had been a devoted customer for a few years before I saw that ModCloth was hiring for a position on its Fashion Writing team, and I just about went through the roof. I have to admit that my cover letter was actually more of a love letter, but I knew that this was the company for me. It wasn't just a brand I believed in, but one I lived, day in and day out.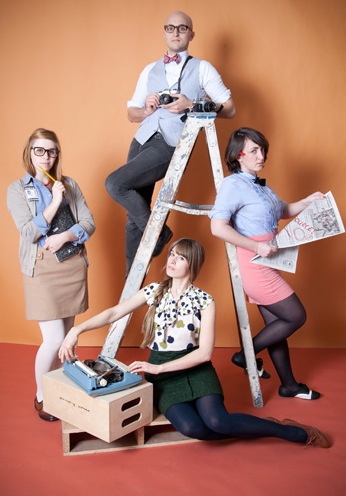 The ModCloth fashion writing team | Photo Credit: ModCloth
CF: What's been a standout/favorite moment from your career?
MK: There are two highlights of my time at ModCloth that come to mind. The first one was when my team led a Fashion Writing workshop at a public school here in Pittsburgh, Pennsylvania. Our Co-Founder and Chief Creative Officer Susan Gregg Koger was a fashion-obsessed student at Carnegie Mellon University (based in Pittsburgh), so it felt particularly fitting for us to hold our style writing seminar here, in the city where it all began. It was such an amazing experience to watch as this group of talented teens translated lessons on branding and marketing into their own fashion blogs.
The second standout moment was when my team named a blouse "The Minty Project Top" in Mindy Kaling's honor, and she tweeted at ModCloth, saying she loved it!
CF: What's a typical day like for you?
MK: My average day is spent bouncing back and forth between planning for upcoming seasons by thinking of ways to keep our copy creative and innovative, and managing our current product load. I spend a lot of time with our new product, organizing it, prioritizing it, brainstorming product names for it, and so on.
There's also a large amount of my day dedicated to editing the product descriptions my team writes. And lastly, there is a somewhat considerable chunk of time devoted solely to petting the many adorable dogs in the ModCloth offices.
CF: What's your favorite fashion trend right now?
MK: I've been going gaga for the tough, motorcycle-esque details that I've been seeing on so many garments right now. Faux leather patches on skirts and leggings, studs on shirts and accessories, and black booties with plenty of hardware —I can't get enough of it!
CF: What's your favorite piece in your closet?
MK: I have a 1940s wiggle dress that I'll never, ever get rid of. It's this amazing, iridescent jade-green hue and has such a powerful silhouette. I wore it to my first-ever fashion industry job interview and stuck-out in the sea of pant-suit-wearing applicants. Though I felt a tad self-conscious about it at the time, I walked out with a job offer and have never doubted my sense of style since!
CF: What do you do when you're not working—do you have any unique hobbies or interests?
MK: My evenings and days off are either spent working away on a draft of my young-adult novel, or antique and thrift shopping. I'm also frequently found at the local plant nursery or craft store, getting materials for my latest terrarium creations.
CF: What advice would you give to a College Fashion reader that wants your job?
MK: My best advice for someone who wants to break into any area of fashion is simple — don't let dejection or exhaustion dilute your passion. If you love doing something, it will come through in your work and eventually others will take notice; you just need to have the patience and determination to not let a few "no's" slow you down.
Your Thoughts?
Does Molly's story inspire you? Do you shop at ModCloth? Which industry insider do you want to hear from next? Let me know in the comments section!