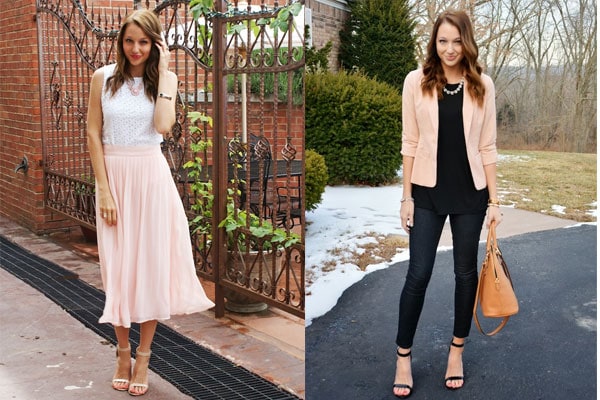 Photos courtesy of Jacy Tilton
I can't get enough of Jacy Tilton's easy, breezy outfits – or her adorable blog, Love, Lenore! The recent University of Missouri grad is just as sweet as her style.
This week, Jacy dishes about staying stylish on an entry-level salary, gives her best tips for getting blog traffic through social media, and spills her favorite Instagram accounts for style inspiration.
The Interview:
College Fashion: Tell us a little bit about yourself.
Jacy Tilton: Hello! My name is Jacy Tilton and I'm the blogger behind www.lovelenore.com. I'm 22 and graduated from college last year, and now work at an advertising agency in my hometown of Springfield, Missouri.
Besides my obsession with fashion, I love social media, staying fit, Netflix, tea, reading magazines, and hanging out with my fiancé and basset hound mix, Lulu, on the weekends. I'm marrying my college sweetheart, Trey, this summer, so I'm right in the midst of wedding planning too!
CF: How would you define your style?
JT: My style has changed a lot over the years, but I would describe my current and more permanent style-mindset as trendy and chic on a budget. With my transition from college to the working world, my style has become much more sophisticated and mature, and I love the challenge of putting together chic, trendy looks on a small budget.
CF: How did you find your style?
JT: I fell in love with fashion in high school, but my obsession with runway collections and Vogue didn't carry over to my personal style for awhile. In college I started following trends and figuring out what looked best on me, and I've gotten better at refining that as time has gone on!
I've learned that style is a constant evolution. I used to dress more on the Bohemian side, but in the last year my tastes have really transitioned to sophisticated-chic. Blogging has been the biggest factor though. It's helped to see all of my clothes documented in photos, because I can look back and see what worked and what didn't work.
CF: What inspired you to start a style blog? What motivates you?
JT: When I started my blog two years ago, I'd always loved writing and styling outfits, but I really didn't know if anyone would want to read my blog and didn't know how to get started. A close friend, who happens to be a photographer, gave me the push I needed by taking my first outfit photos and designing my first logo.
Today, I'm motivated to blog because I feel like I can relate to a lot of real women! When I first started blogging, I was on a tight college student budget and hardly ever got to buy new clothes, but that pushed me to be really creative with reworking what I had.
Now that I work full time, I definitely have a little more to spend, but with saving up for our wedding and honeymoon, and buying a house soon, I'm still on a very "real-world" shopping budget. Ultimately, though, I'm inspired and motivated to blog because it's a creative outlet for me. It allows me to channel two things I love – fashion and writing – into my own platform, where I can have fun with it and grow throughout the process.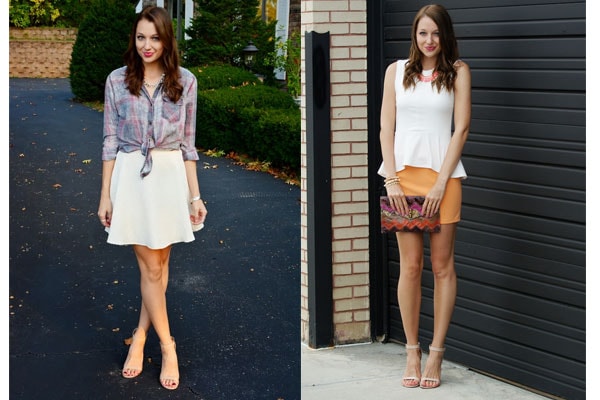 Photos courtesy of Jacy Tilton
CF: Did you go to college? If so, where did you go to school and what did you study? What was your college experience like?
JT: I graduated from the University of Missouri – Columbia last May with a degree in Journalism – Strategic Communication, and a minor in Business. Mizzou was an incredible experience for me. It took a big leap of faith in the beginning because I barely knew anyone there, and while the transition was difficult at times, I ended up experiencing so much growth from it.
The journalism program at Mizzou is quite challenging, but it pushed me to balance a lot early on – a skill that I've definitely carried into the workforce. Throughout my college years I did as many internships as I could to build up my resume and experience, and this ultimately helped me land a job right out of college.
Besides working hard at my classes, internships and part-time jobs, I had so much fun, too! I enjoyed going to football and basketball games, I met my now-fiancé during my sophomore year of college, and made some wonderful lifelong friends along the way, as well.
CF: Where do you like to shop?
JT: I do most of my shopping online because I don't have very much time to go shopping, and because the mall in my city isn't anything special. My favorite places to shop are H&M (because I love it all), ASOS (for their adorable dresses and free shipping), Forever 21 (for cheap trend-of-the-moment items), Gap, Target, Old Navy and local boutiques.
CF: What advice do you have for being stylish on a college budget?
JT: My advice would be to really plan out what clothing you spend your money on. Impulse buying is not your friend on a college budget! Look for items that fit well and can be worn at least 2-3 different ways, so that you're really stretching your money and your closet!
CF: What are your favorite pieces in your wardrobe?
JT: I have some favorites that are basics, and some favorites that are more fun! My favorite everyday items are my chambray button-down, suede booties, skinny ankle-length dress pants, gold watch, leopard flats, and my cognac satchel. Some fun favorites are my skater skirts, statement necklaces, strappy heeled sandals, and a fun clutch or cross-body bag to add a pop of color.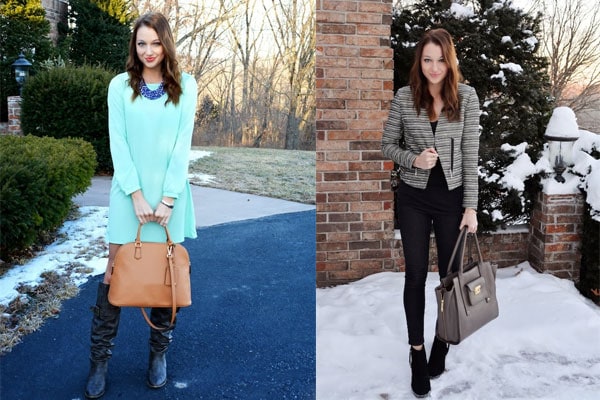 Photos courtesy of Jacy Tilton
CF: Who/what inspires you?
JT: I get most of my outfit inspiration from other bloggers! Rachel Parcell of the blog Pink Peonies, is my absolute favorite blogger because all of her outfits are flawlessly put-together and she posts a good mix of casual and dressy looks. I get a lot of inspiration off of Instagram too, which is so fun, and some favorite accounts are @theteacherdiva and @cmcoving. My biggest celebrity style inspirations are Blake Lively, Kate Bosworth, and Rosie Huntington-Whitely.
CF: What advice for any new bloggers or college students starting a blog?
JT: My first piece of advice would be to have a vision and direction for your blog before you start. Put a lot of thought into your blog name, and make sure it's easy for people to remember and type! Even if you can't post every day or every other day, try to at least post consistently. When someone new visits your blog, it will be hard to keep them on your page or make them a follower if they see there are big or inconsistent gaps between posts.
If you're starting a blog in college, you will likely need to be good at time management. Use those 10 free minutes before class or the hour that you're watching TV at night to work on your blog. Be active on social media, and identify which platforms you're strongest at (my strongest are Instagram and Pinterest). And finally, I recommend networking with other bloggers! Commenting on blogs and showing interest in other peoples' content will bring more traffic to your blog and will build friendships with other bloggers.
CF: What's writing a blog really like? Could you describe a typical day?
JT: Blogging is really not as glamorous for me as it probably is for a lot of other bloggers. I work from 8-5, so in the winter months I don't have a lot of daylight to work with and shoot my outfit photos with a tripod before work. Fortunately, after daylight saving time switches back, I'll be able to shoot photos in the evenings again. Finding someone to take your photos can be a struggle too! I've had a lot of gracious friends and family members take my photos, but it's hard to get regular help, especially as you start posting more.
I typically edit photos and put my posts together in the evenings after work. On evenings and weekends when I have a little extra time, I love working on multiple posts and putting extra effort into my work, but sometimes putting together a post is difficult to fit in when real-life gets in the way!
Besides all of these challenges, I still absolutely love blogging two years later. It's become a creative outlet for me, where I can share my style, thoughts and insights, and earning a brand partnership or a big feature provides great affirmation, too! I also love that there's such a strong blogging community out there. In the past two years I've made so many blogging friends, which makes it all even more fun!
Your thoughts?
Does Jacy's style inspire you? What are your favorite fashion blogs? Tell me in the comments section!