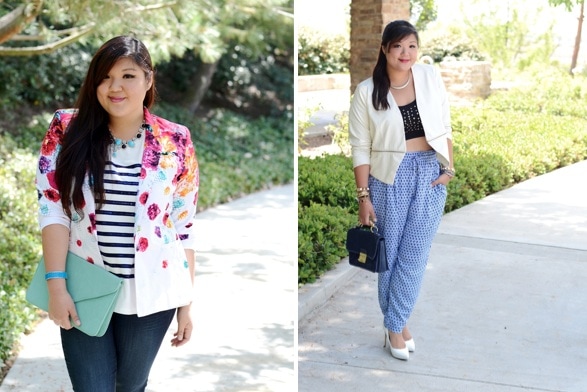 Photo Credits: Allison Teng
Self-proclaimed curvy girl Allison Teng has been a major inspiration for me ever since I can remember. She makes glamorous looks that are effortlessly California cool—and pulls all of them off with confidence that I hope to channel in my own everyday style. No matter your size, I guarantee Curvy Girl Chic will be your next blog obsession!
Here, Allison talks about why she started her blog, how to be stylish on a college budget, and shares her best styling tips!
The Interview:
College Fashion: Tell us a little bit about yourself.
Allison Teng: I'm Allison and I blog about plus size fashion and personal style over at my blog, CurvyGirlChic.com! I'm a born-and-raised Southern Californian, but I got my Bachelors' Degree in Business Management from Boston University. (Go Terriers! :P) I still firmly believe the West Coast is the best coast though! 😉
CF: How would you define your style?
AT: Growing up in SoCal definitely had a big impact on my personal style. I gravitate toward flowy, beachy items like maxi dresses and sandals, and denim cutoffs are definitely a summer staple for me. However, the 4 years I spent in Boston (and, let's face it, half my weekends were spent shopping in NYC), also influenced the way I dress—I love dark colors, leather, and punky details like studs and exposed zippers. My style is definitely a mix of those two!
CF: How did you find your style?
AT: I'm not sure, but I've been an avid shopper for most of my life. I can't really remember a time when I didn't care about clothes! My mom used to take me and my sister to Nordstrom all the time, though back then, I used to hide in the clothing racks and play with the embellishments on the clothes. I guess having an early start and spending a lot of time in stores helped me develop an opinion on what I liked and what I didn't!
CF: What inspired you to start a style blog? What motivates you?
AT: After I graduated college, I had started a totally boring 8-to-5 job and was in need of a creative outlet! I was also just beginning to read style blogs but had a hard time finding bloggers whose body types I could relate to. Blogs like Fashion Toast were amazing for inspiration, but let's be honest—I could never get away with not wearing a bra. Can you imagine the back pain? That's pretty much why I started Curvy Girl Chic. I just wanted a place where I could share my style and shopping finds, and connect with other girls in my situation!
I never expected it to have such an impact on people—to this day, I'm happily surprised whenever readers email me to tell me I've helped them be more confident in their bodies or that they look up to me. It's humbling and really keeps me going!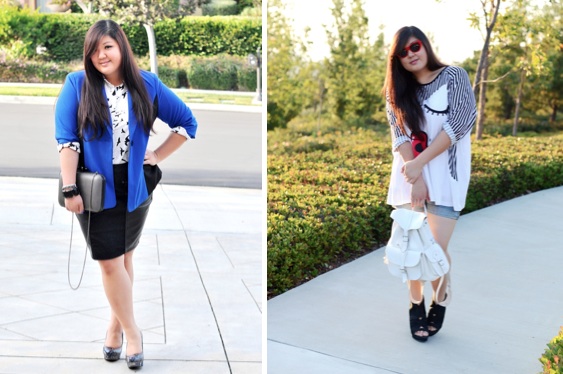 Photo Credits: Allison Teng
CF: Did you go to college? If so, what was your college experience like?
AT: I did! I went to Boston University, where I triple concentrated in Business Law, Organizational Behavior, and Entrepreneurship. I also minored in Hospitality, so I was busy. REALLY busy. But that's not to say that I didn't go to my fair share of parties and dress really ridiculously on Halloween! I loved it. It was an amazing way to meet lifelong friends and learn some really important life lessons. That degree I walked out with didn't suck, either.
CF: Where do you like to shop?
AT: I'm constantly updating my wardrobe with fast-fashion pieces that I know I'll only wear for a year or two, so I shop at places like Forever 21, ASOS, and H&M. Those three all have plus sizes, too! ASOS is definitely a favorite of mine, though—they pump out on-trend pieces daily, and the free shipping both ways is awesome. For higher quality pieces, I usually hit up Nordstrom, Saks, Bloomingdales, and other department stores where I can feel and try on what I'm buying before I invest. For basics and work clothes, LOFT and Gap are great, too!
CF: What advice do you have for being stylish on a college budget?
AT: Think about cost-per-wear! If you're buying a suit or a trench coat, something classic that you know you'll wear forever, spend a little more on it and get a quality piece. If you're thinking about that neon crop top with tribal print that you'll probably only wear twice? Maybe don't spend a ton on it. If you're rehauling your closet, I would suggest building from the ground up—important stuff first! Invest in classics like a black blazer, a professional suit, the perfect trench coat, and those dark wash jeans that ALWAYS look good on. Then add in fun items from there (like that neon crop top).
CF: What are your favorite pieces in your wardrobe?
AT: Hands down, my absolute favorite item is my black leather motorcycle jacket. It goes with everything, from a t-shirt and jeans to a frilly dress. I'm never getting rid of it! My classic trench is also a favorite, along with a classic black Tadashi Shoji dress that I wear anytime I'm not quite sure what to wear for a dressy event. It has never failed me!
Items definitely worth mentioning are my Rachel Pally dresses (most comfortable dresses ever and so worth the investment, especially if you can find them on sale), dark wash skinny jeans, and denim cutoffs. They're definitely staples in my wardrobe!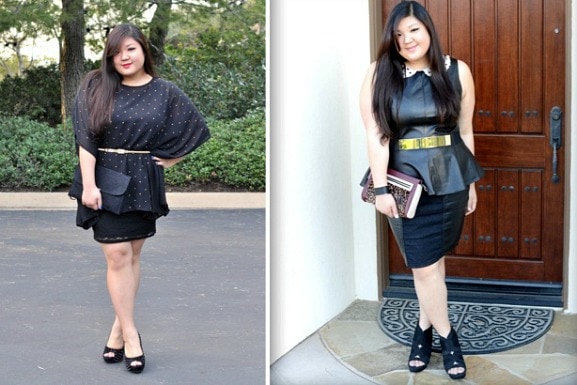 Photo Credit: Allison Teng
CF: Who/what inspires you?
AT: My sister is a huge inspiration for me. She's the type of person who definitely marches to the beat of her own drum, and she always finds the cutest clothes!
I also love perusing street style blogs and seeing all the different ways people wear trends. I love how differently two people can wear the exact same skirt!
CF: What advice do you have for new bloggers or college students starting a blog?
AT: Just do it! Write about what you're passionate about, and make sure that your voice shines through. You'll get out of your blog what you put in. It takes time, but if you love what you're doing, it's so worth it!
CF: What's writing a blog really like? Could you describe a typical day?
AT: It's insanely time consuming! I know a lot of blogs make it seem like it's all endorsed travel and free clothes/bags/shoes, but it's also a TON of work. Creating and editing original content takes time, so writing a blog is definitely easier if you suffer from insomnia! All joking aside, it's definitely a commitment.
For me, I work all day in my corporate job, then go home and edit photos or write posts well into the night. Answering emails, working on blog collaborations, and managing my social media networks are all on top of that! It's gotten pretty crazy/frustrating/tiring at times, but in the end, it's been such a rewarding experience and I wouldn't trade it for anything!
CF: Do you have any types for styling curvy girls?
AT: Don't be afraid to try new things! So many media outlets are constantly making "rules" for how plus size or curvy women should dress, and they're usually all crap. Wear stripes if you want to. Bright colors are TOTALLY. OKAY. You don't HAVE to cinch that oversized shirt with a belt to define your waist! If you love wearing black a-line dresses with a defined waist, do it. (I have a few myself!) But don't just wear it because someone else told you to. Wear what you love, and that's that!
Your thoughts?
Does Allison's style inspire you? Do you have a fashion blog of your own? Which industry insider do you want to hear from next? Let me know in the comments section!