The 21st annual Screen Actors Guild Awards were held yesterday, and that means it's time to talk red carpet fashion. Keep reading to take a look at some of the most memorable looks of the night.
Top 5 Best-Dressed
In no particular order, here are my picks for best dressed at the 2015 SAG Awards:
Keira Knightley in Erdem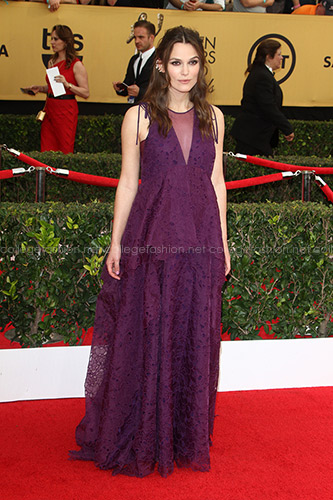 Click to enlarge.
Though Keira Knightley's Golden Globes dress didn't make my best-dressed list, this Erdem gown was a winner in my book. The jewel-toned purple and layered lace looked stunning on Keira, and I especially liked the deep v-neck with a mesh overlay. A half-up 'do and jeweled ear cuff completed the look.
Emma Stone in Christian Dior Haute Couture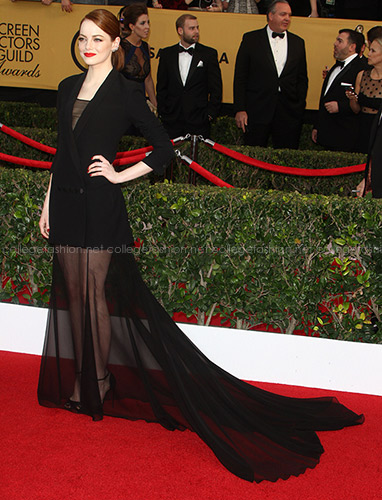 Click to enlarge.
Emma Stone ditched the traditional gown in favor of this tuxedo-blazer-and-sheer-skirt combo, and she pulled it off flawlessly. This Dior Couture ensemble is so unique and just downright cool. From the low ponytail to the bright red lip to the edgy ear cuffs, the rest of the styling was on-point, as well
Julianne Moore in Givenchy Couture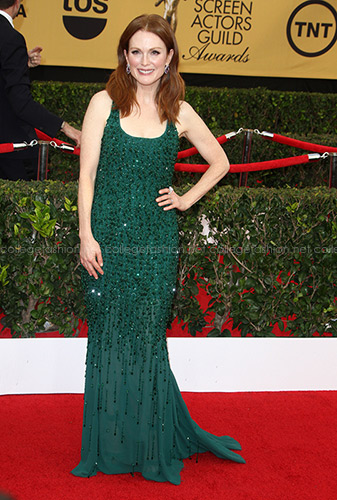 Click to enlarge.
Julianne Moore stunned in a custom Givenchy gown on the red carpet last night. The rich emerald green looked perfect against Julianne's coloring, plus the beautiful beading added plenty of visual interest. My favorite part of this look? The way she paired the green dress with purple earrings. Very Ariel-esque!
Sarah Hyland in Custom Vera Wang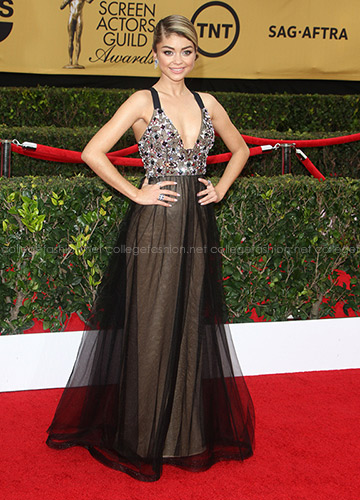 Click to enlarge.
Modern Family's Sarah Hyland was lucky enough to score a custom-made Vera Wang dress, and it looked so, so good. The black-and-taupe gown has a fun and youthful vibe, thanks to the jeweled bodice, Y-shaped back, and tulle overlay skirt. An elegant updo and Lorraine Schwartz jewelry added the finishing touches to her SAG Awards look.

Rosamund Pike in Dior Haute Couture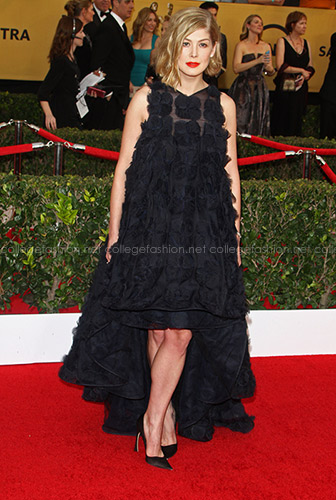 Click to enlarge.
I know a lot of fashion commentators were on the fence when it came to Rosamund Pike's Dior Couture gown, but I for one loved it. Yes, the shape is pretty voluminous, but I think Rosamund pulls it off well. The floral appliques added lots of textural interest, plus the high-low hemline shows just the right amount of skin. The Gone Girl actress completed this look with a red lips and tousled hair.
Other Notable Ensembles
Although we don't have the space to chat about every single red carpet gown, we did want to discuss four more noteworthy looks from last night's event.
Lupita N'yongo in Elie Saab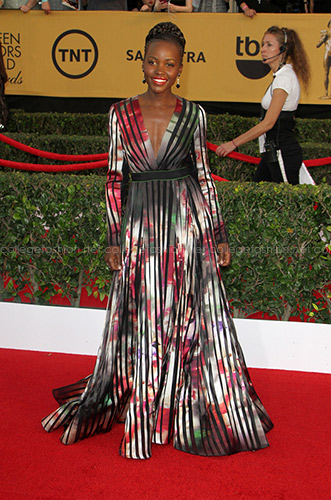 Click to enlarge.
There's no doubt about it: Lupita N'yongo went all out fashion-wise on the SAG Awards red carpet. She killed it in this long-sleeved Elie Saab gown that featured a plunging neckline. The mix of stripes and an abstract floral print was stunning, and the full skirt created a dramatic silhouette. Lupita's hair and makeup always look flawless, and last night's braided updo looked positively regal.
Felicity Jones in Balenciaga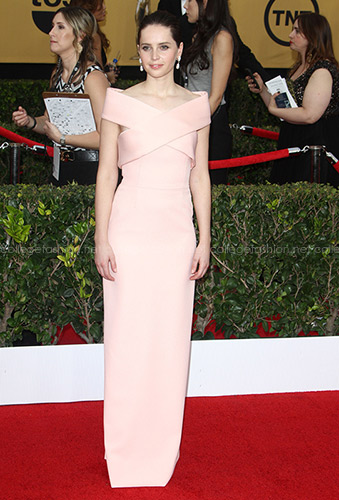 Click to enlarge.
Felicity Jones opted for a chic Balenciaga gown in an elegant pale pink hue. The portrait neckline, crisscross dress has such a sophisticated vibe, and it turns out this look was a popular one last night: Game of Thrones' Emilia Clarke also wore a dress with a crisscrossed bodice. Felicity's knotted updo wasn't my fave, but her statement earrings added the perfect dose of sparkle.
Uzo Aduba in Angel Sanchez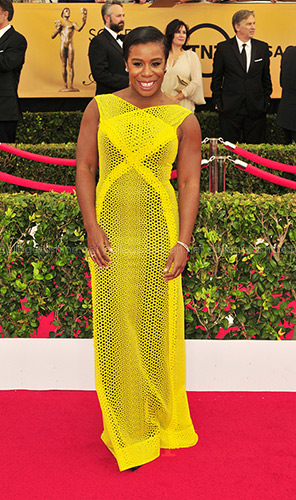 Click to enlarge.
With two SAG Award wins under her belt, it was definitely Uzo Aduba's night, and the Orange is the New Black star stood out in a brightly-colored dress. This Angel Sanchez gown had black lining, which created some interesting contrast and made the macramé texture on top a focal point. The bright yellow hue looked gorgeous on Uzo, and she wisely accessorized with understated jewels.
Reese Witherspoon in Custom Armani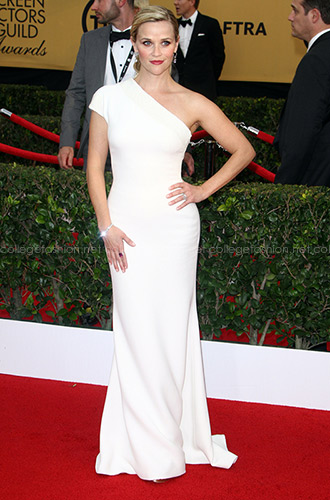 Click to enlarge.
Reese Witherspoon rocked a minimalist look on the red carpet. Her white, one-shouldered Armani gown was custom made, and you can tell. It's impeccably tailored to her body! A deep red lip and side-parted ponytail added to the low-key yet glam vibe of the dress.
Least Favorite Look
You know we can't love everything we see on the red carpet. Here's one look I didn't care for at the 2015 SAG Awards.
Lorelei Linklater in Honor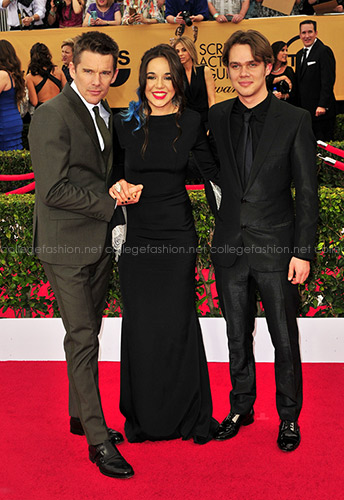 Click to enlarge.
Although I admire the fashion risk, Boyhood actress Lorelei Linklater ended up wearing my least favorite dress of the night. (We couldn't secure rights to a great photo – click here for a better view of the dress.) Between the giant bell sleeves, heavy fabric, and high neck, this Honor gown was too costume-y for my taste. However, I absolutely adored Lorelei's beauty look. That blue ponytail is beyond amazing!
Your thoughts?
Now that you know what we think, tell us your opinion. Did you watch the SAG Awards last night? Who wins your pick for best-dressed? Any looks you didn't like? Be sure to leave a comment and let us know what you think!
* All photos courtesy of Pacific Coast News *