The 2015 award show season has arrived, and we're kicking off our red carpet coverage with a recap of the fashion at last night's 2015 Golden Globe Awards. Read on to see the most noteworthy ensembles from last night:
Top 5 Best-Dressed
In no particular order, here are my picks for best dressed at the 2015 Golden Globes:
Jessica Chastain in Atelier Versace
Click to enlarge.
Jessica Chastain stunned in this bronze gown from Atelier Versace. The plunging neckline on this halter-neck dress offers a modern take on a classic silhouette, plus the metallic hue looks amazing against her coloring. Veronica Lake waves, smokey eye makeup, and Piaget jewelry completed Jessica's ode to Old Hollywood.
Lupita Nyong'o in Giambattista Valli Couture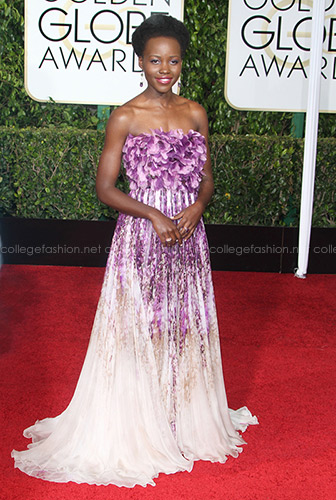 Click to enlarge.
Ever since last year's Golden Globes, Lupita Nyong'o has been one of my red carpet favorites, and last night was no exception. Lupita looked vibrant in this standout couture gown. The gradient of purple and white is beautiful, and the petal-adorned bodice adds plenty of whimsy. She complemented the dress with a purple and ice blue eyeshadow look.
Naomi Watts in Gucci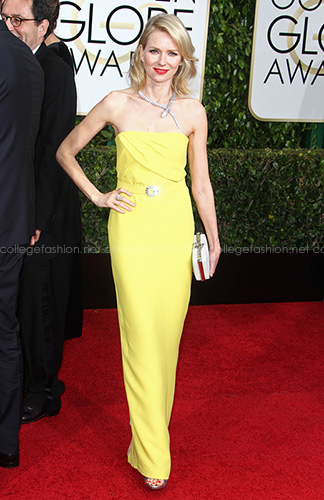 Click to enlarge.
Noami Watts stood out from the crowd in this gorgeous canary yellow column gown. Her stapless Gucci dress featured a draped bodice and a diamond buckle detail around the waistline. I adore how she opted for a bold red lip, and although I'm not fond of snakes, I'd gladly get up-close-and-personal with that Bulgari snake necklace. So fierce!
Emily Blunt in Custom Michael Kors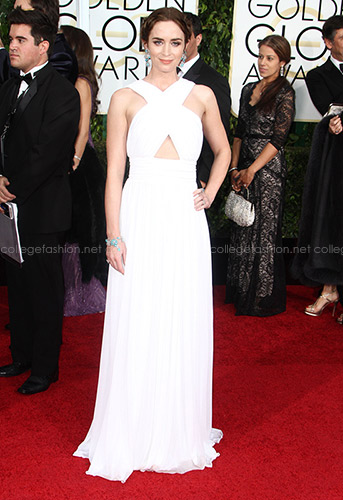 Click to enlarge.
Emily Blunt killed it last night in this lovely Grecian-style gown. Though the dress has a classic appeal, the criss-cross top and cutout gives Emily's custom Michael Kors gown a modern edge. The addition of turquoise Lorraine Schwartz jewelery and a glam braided updo made her one of my best dressed picks.
Emma Stone in Lanvin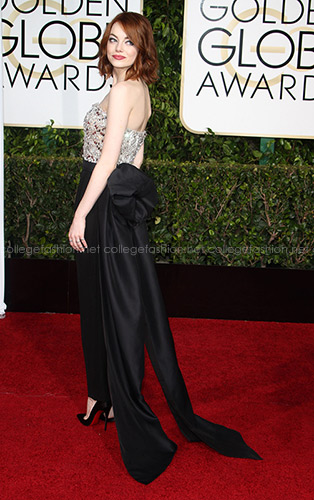 Click to enlarge.
Emma Stone looked effortlessly chic and on-trend in this Lanvin jumpsuit. Between the embellished silver top, menswear-look bottom, and oversize bow sash, this jumpsuit is cool and quirky, just like Emma. Her low-key bob and matte lip added the perfect finishing touches to her ensemble.
Other Notable Ensembles
Whether you loved 'em, loathed 'em, or fall somewhere in-between, here are four more looks that made a splash on the Golden Globes red carpet.
Rosamund Pike in Vera Wang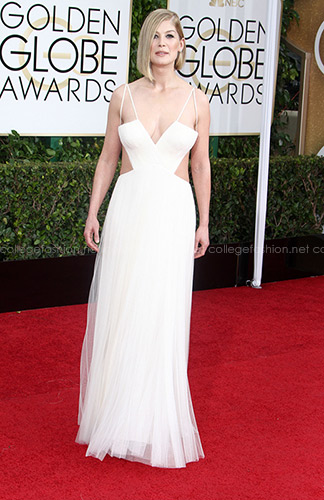 Click to enlarge.
Gone Girl's Rosamund Pike opted for a custom-made Vera Wang gown for the Globes. With cutouts and an exposed back, this white dress showed plenty of skin, which was juxtaposed by the ethereal tulle skirt. Though the fit wasn't perfect, we do have to give Rosamund major kudos for stepping out in such a daring gown.
Lorde in Narciso Rodriguez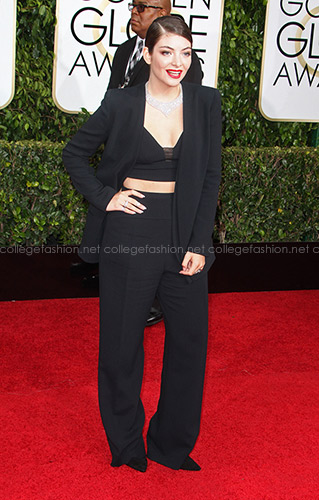 Click to enlarge.
If there's one girl you can count on to shake up the red carpet, it's Lorde. She decided to forgo the typical gown and instead rocked a pantsuit and crop top. Her sleek and trendy look was accentuated with a red lip and low ponytail, as well as a Neil Lane statement necklace and rings.
One gripe: I wish her pants had been hemmed a bit so they weren't dragging on the ground. (Although after taking a look at the original Narciso Rodriguez design, it seems like the too-long look was intentional!)
Jennifer Lopez in Zuhair Murad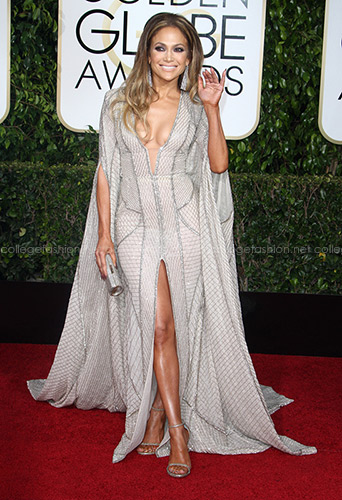 Click to enlarge.
One thing's for sure: Jennifer Lopez knows how to bring drama to the red carpet. This caped Zuhair Murad gown is nothing short of glamorous, and J. Lo played up that vibe with voluminous hair, a smokey eye, and diamond earrings.
I thought this gown was fabulous, but I saw that other fashion commenters didn't like how her, as Jeremy Renner referred to them, "globes" were so prominently on display. Were you loving this dress or was it not your style?
Amal Alamuddin Clooney in Christian Dior Haute Couture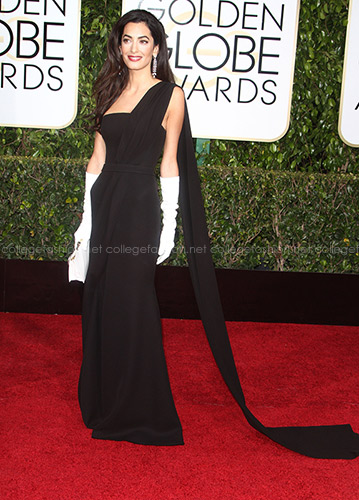 Click to enlarge.
Fashion commentators everywhere were waiting for Amal Clooney to step onto the red carpet yesterday, and she didn't disappoint in this classy and elegant Dior gown. This one-shouldered black dress is timeless and her flowy locks looked effortless, but her white gloves were the most eye-catching part of the ensemble.
Many people applauded her choice to wear elbow-length gloves to the event, while others weren't so keen on the idea. What do you think: are white gloves a red carpet "do" or "don't"?
Least Favorite Look
You know we can't love every single red carpet gown. Here's one look I didn't care for at last night's event.
Keira Knightley in Custom Chanel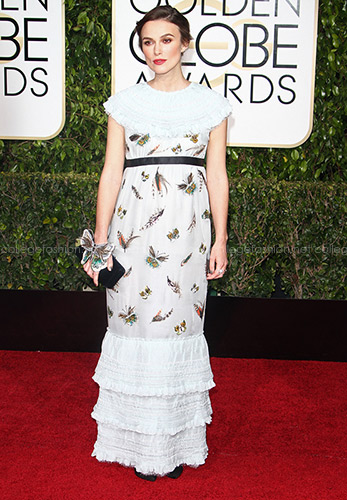 Click to enlarge.
Though Keira Knightley's butterfly clutch is amazing (I want one!) her look ended up being my least favorite of the night. The flora and fauna appliqués on this Chanel gown are so unique, but I can't get past the ruffled bodice and tiered skirt. Without the ruffled detailing this dress may have been a hit, but right now it just reminds me of an American Girl doll nightgown.
Your thoughts?
Now that you know what we think, tell us your opinion. Did you watch the Golden Globes last night? Who wins your pick for best-dressed? Any looks you didn't like? Be sure to leave a comment and let us know what you think!
*All photos: Pacific Coast News*