The 20th annual Screen Actors Guild Awards were held on Saturday night, which means that we have a bunch of fantastic fashion to discuss. Let's get right to it: scroll down to see some of the most memorable red carpet looks from this event.
Top 5 Best-Dressed
Here are my picks for best dressed at the 2014 SAG awards, in no particular order:
Lupita Nyong'o in Gucci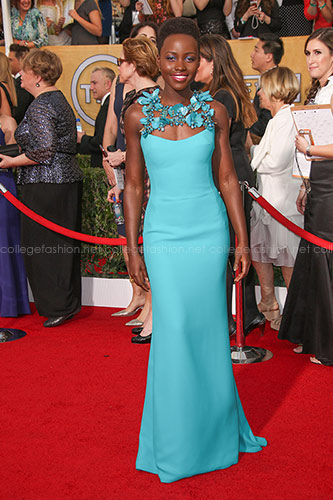 Click image to enlarge.
After rocking the heck out of that amazing caped ensemble at The Globes, SAG Award winner Lupita Nyong'o knocked it out of the fashion ballpark again in this stunning Gucci column gown. Not only does the turquoise hue look gorgeous on her, but the flowers around the neckline are absolutely exquisite. Lupita wisely accessorized this fashion-forward frock with gold accessories and a matching gold mani.
Michelle Dockery in J. Mendel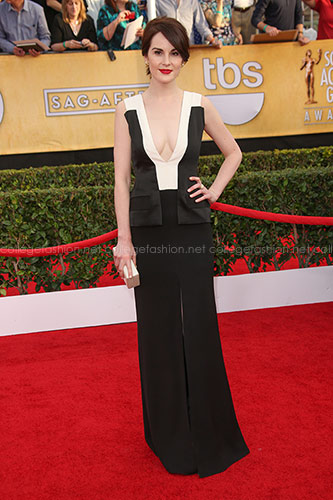 Click image to enlarge.
On the red carpet, Michelle Dockery said she chose her J. Mendel gown because it reminded her of a tuxedo, which is exactly why I love it. The combination of a classic black-and-white palette and vest-like peplum with a plunging neckline and thigh-high slit is a sultry take on the menswear-inspired trend. The Downton Abbey star completed her look with a no-fuss low ponytail and a bold red lip.
Jennifer Lawrence in Christian Dior Couture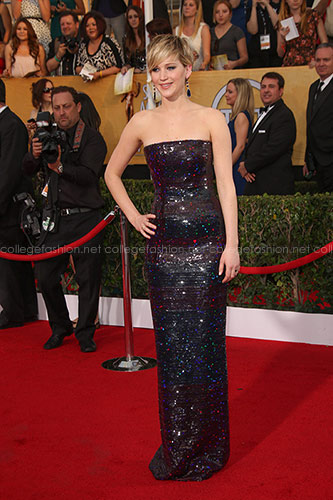 Click image to enlarge.
Last week's Little Mermaid-esque Dior may have had mixed reviews, but Jennifer Lawrence's Dior gown of choice for the SAGs was one of my faves. While shape of this column gown is no-frills, it's the sequins that really made it stand out. The multi-colored sequins added dimension to her look, giving it an almost iridescent quality. Once again, J. Law's earring game was on-point with a pair of elegant tiered gemstones paired with a gold ear cuff.
Amy Adams in Antonio Berardi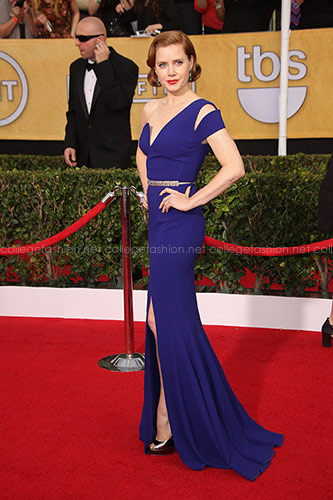 Click image to enlarge.
Amy Adams definitely knows how lovely she looks in jewel tones. Last week, she was decked out in a crimson and ruby red gown, and for the SAG Awards, Amy stunned in this royal blue Antonio Berardi gown. The sculptural neckline lent a modern touch to the classic silhouette, while the crystal detailing around the waist added just the right amount of sparkle. Amy channeled Old Hollywood with a retro updo, then went modern with a coral-hued lip.
Natalie Dormer in Marios Schwab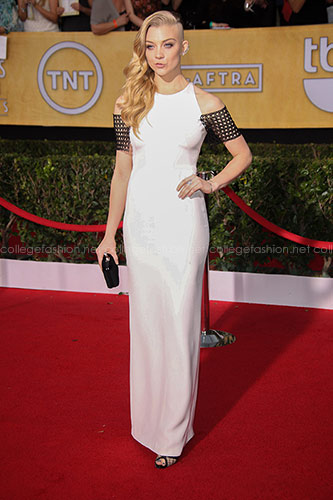 Click image to enlarge.
Game of Thrones actress Natalie Dormer debuted a daring new 'do (for her upcoming role as Cressida in The Hunger Games: Mockingjay) at this weekend's event, which she rocked with an equally as edgy gown. Much like her half-shaved head, this Marios Schwab gown is both glamorous and badass – the white gown has a sophisticated and demure vibe, which is offset by cool, net-like black sleeves. As far as accessories went, Natalie adorned her left ear with a super-trendy ear cuff.
Other Notable Ensembles
While we don't have the space to chat about all of the looks from this year's event, we did want to discuss four more notable ensembles that made a buzz on the red carpet.
Sofia Vergara in Donna Karan Atelier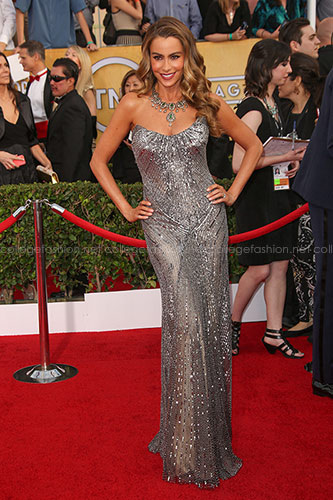 Click image to enlarge.
The always-sultry Sofia Vergara showed off her bombshell best in this glitzy Donna Karan Atelier gown. While there's no doubt that this silver beaded gown looked amazing with her curves, many weren't sold on her choice to pair the standout gown with a jeweled statement necklace. What do you think: was the necklace unnecessary or did it add to her glammed-up look?
Julia Roberts in Valentino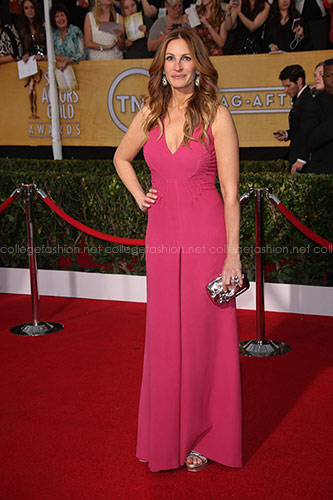 Click image to enlarge.
When Julia Roberts first arrived on the red carpet, it looked like she was wearing the typical full-length gown. Come to find out, this pink Valentino creation was actually a jumpsuit! Julia paired her sneaky-chic jumpsuit with the effortlessly glam combination of loose waves and a pair of chandelier earrings. This was one of those love-it-or-hate it types of looks, and though I'll admit the fit wasn't perfect, I'm leaning towards the 'love' side… what about you?
Cate Blanchett in Givenchy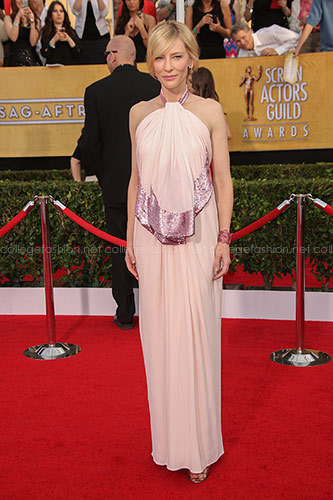 Click image to enlarge.
Cate Blanchett is known for rocking out-of-the-box fashion, and this Givenchy gown was no exception. The feminine blush pink gown had an easygoing vibe, which was accented by pink sequins around the neck and waistline. This is another one of those dresses that had mixed reviews; many fashion commentators adored this soft yet fashion-forward gown, while others disliked the handkerchief-like bodice.
Kerry Washington in Custom Prada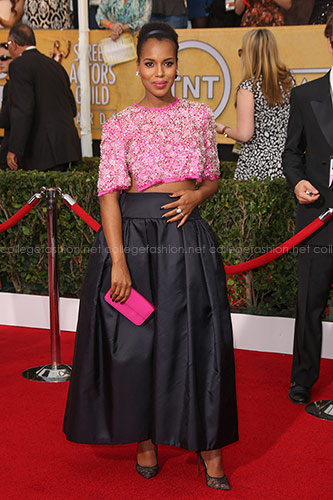 Click image to enlarge.
Expectant mom Kerry Washington took a fashion risk by donning a crop top and skirt ensemble to this year's SAG Awards. Her custom Prada made the combination of black and pink look fresh and modern, and Kerry complemented her fashion-forward get-up with a matching pink clutch and a classic ballerina bun. Again, this was a hit-or-miss type of getup. Many thought the proportion was off, but others commended Kerry for her fearless sense of style.
Least Favorite Look
Unfortunately, not everything is a fashion hit. Here's one look I simply didn't care for at this year's SAG Awards.
Sarah Paulson in Rochas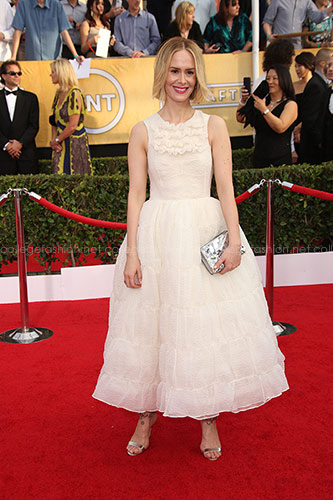 Click image to enlarge.
American Horror Story: Coven star Sarah Paulson donned my least favorite look of the night. Though it has a quirky-cute vibe, this ruffled little number from Rochas actually reminded me of a petticoat rather than a red carpet gown. In addition, an ankle-length dress is always hard to pull off, and in this case, it's cutting Sarah off awkwardly. Do you agree with my least fave pick or were you a fan of Sarah's gown?
Your thoughts?
Now that you know what we think, tell us your opinion. Did you watch the SAG Awards over the weekend? What did you think of the red carpet fashion? Who wins your pick for best-dressed? Any looks you didn't like? Be sure to leave a comment below and let us what you think!
*All photos: PRPhotos.com*