We're kicking off our 2014 award show season coverage by recapping the fashion found at last night's Golden Globe Awards. Scroll down to check out our favorite and least favorite red carpet looks:
Top 5 Best-Dressed
Here are my picks for best dressed at the 2014 Golden Globes, in no particular order:
Cate Blanchett in Armani Privé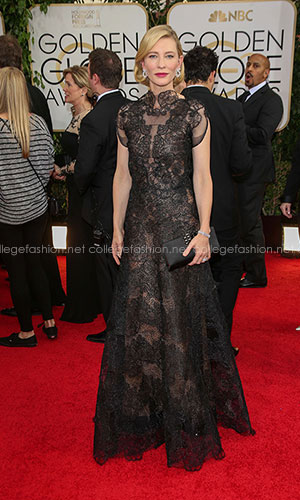 Click images to enlarge.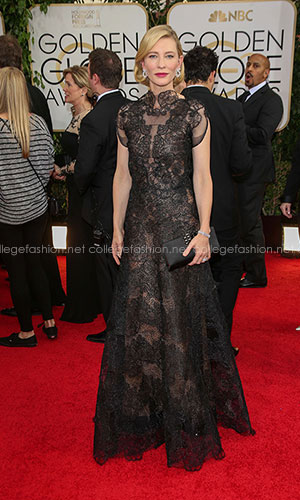 The always stunning Cate Blanchett opted for a black lace and tulle gown showed off her fashion prowess. The plunging back looks sultry but not-over-the-top, while the front has a darkly glamorous vibe. This ornate gown may not be everyone's cup of tea, but we're loving this look!
Lupita Nyong'o in Ralph Lauren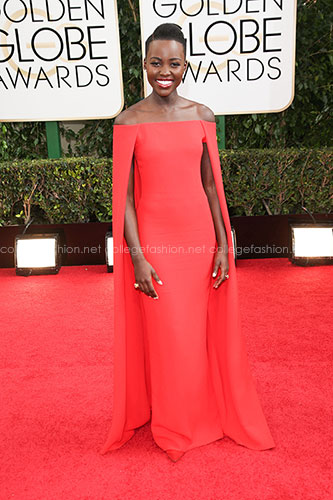 Click image to enlarge.
12 Years a Slave actress Lupita Nyong'o absolutely killed it last night in Ralph Lauren. While the bright red hue was enough to make this gown stand out, it was the off-shoulder cape that really brought it to the next level. The overall look was dramatic and regal, so it makes sense that Lupita opted to accessorize with understated yet glam jewels. It's worth noting that Golden Globe winner Amy Adams showed up in a two-tone Valentino gown that also had a matching cape, but ultimately walked the red carpet without it.
Emilia Clarke in Custom Proenza Schouler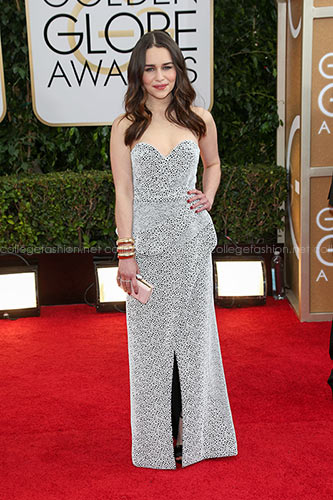 Click image to enlarge.
Game of Thrones actress Emilia Clarke was lucky enough to snag a custom-made Proenza Schouler gown for her trip down the red carpet. The print of this black-and-white dress is eye-catching, but we really like the sculptural detail around the waistline, as well as the peek-a-boo slit, which showed off her ankle-strap pumps. This ultra-stylish look was an all-around winner for us.
Naomi Watts in Tom Ford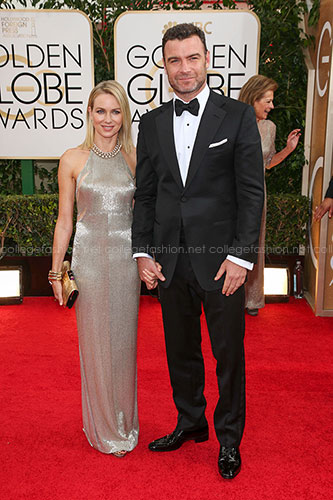 Click image to enlarge.
Naomi Watts proved that you can never have too much sparkle in this glam Tom Ford gown. The beaded halter neck featured unique side cut-outs, which showed just the right amount of skin. Naomi paired this metallic gown with gold accessories, and we think the metallic-on-metallic look works wonderfully.
Emma Watson in Christian Dior Couture
Click images to enlarge.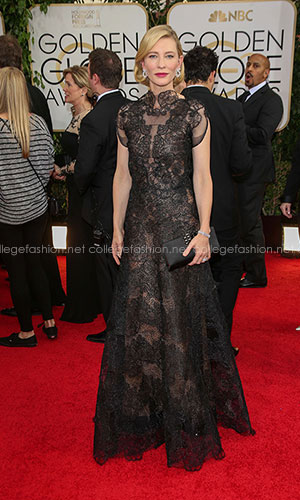 When I first saw Emma Watson on the red carpet last night, I thought her gown of choice was pretty albeit a bit safe. That is, until she turned around and I saw that this Christian Dior Couture look was anything but safe! Emma wore a dress/pants hybrid that was a definite fashion risk, but I think she pulled it off perfectly. Her navy suede heels added a cool contrast of color, while subtle hair and makeup didn't take attention away from the one-of-a-kind ensemble.
Other Notable Ensembles
Although we don't have the space to write about every single dress from last night, here are four more noteworthy red carpet looks. Whether you liked them or not, one thing's for certain: each one made quite the statement last night!
Kerry Washington in Custom Balenciaga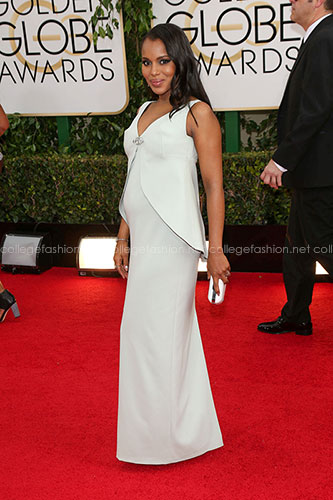 Click image to enlarge.
Mom-to-be Kerry Washington went with a chic and sophisticated custom Balenciaga for this year's Globes. This pale green gown featured a peplum-like detailing and embellished brooch, which exuded understated elegance. Kerry left her hair loose, and accessorized with a stark white clutch and shoes. Are you liking Kerry's maternity style as much as we are?
Sofia Vergara in Zac Posen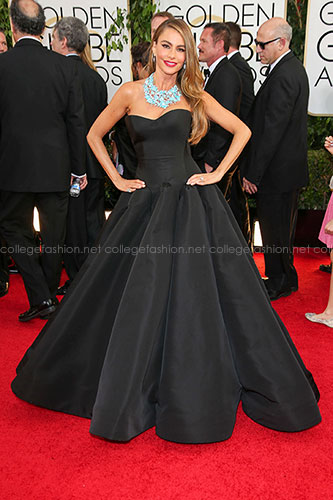 Click image to enlarge.
Modern Family's Sofía Vergara wowed last night in this strapless Zac Posen gown. Sofia usually opts for fitted mermaid-style dresses, so it was refreshing to see her a voluminous ballgown. However, the real star of this look was the turquoise-hued Lorraine Schwartz necklace – your eyes go right to it! Fashion commentators had mixed opinions on this one: some loved her bold statement necklace, while others thought it didn't "go" with the black gown. What did you think of Sofía's bold accessory?
Zooey Deschanel in Oscar de la Renta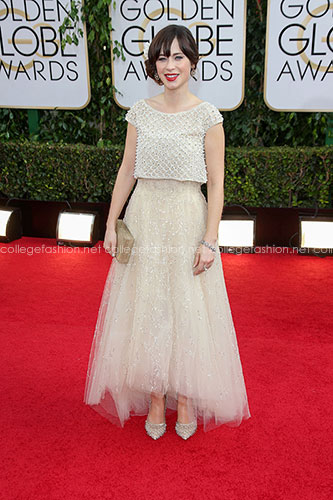 Click image to enlarge.
New Girl's Zooey Deschanel walked the red carpet it one of those "love it or hate it" types of gowns. From the flower in her hair to the embellished pumps, many thought this look was too matchy-matchy, while others adored the crop top and tulle skirt combo. Whatever your opinion, we do have to admit that this quirky, vintage-like look fits Zooey's style aesthetic to a "T".
Jennifer Lawrence in Dior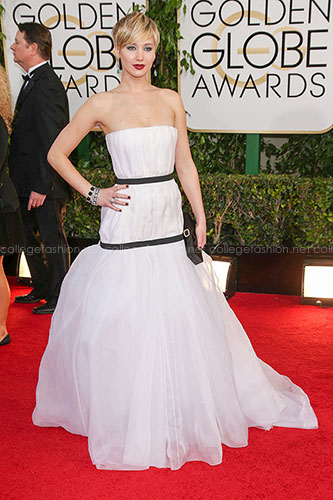 Click image to enlarge.
Dior spokesmodel (and everyone's imaginary BFF) Jennifer Lawrence opted for a strapless white gown from the deign house that featured black ribbons along the waist and hips. Although this dress had mixed reviews, we love how J. Law complemented her newly-cropped 'do with gorgeous jeweled drop earrings and a red lip. And, of course, the dress has already become a meme.
Least Favorite Look
You know we can't love 'em all. Here's one look that I wasn't a fan of at last night's event.
Zoe Saldana in Prabal Gurung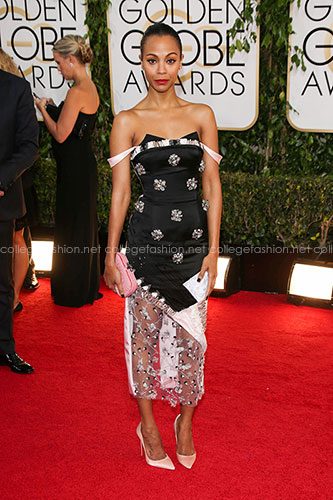 Click image to enlarge.
I really wanted to like Zoe's look, especially after she said on the red carpet that Prabal Gurung designed this dress with her in mind, but ultimately found it to be "too much." The embellishments on the bodice look lovely, but between the mish-mash of fabrics on the bottom and the ribbon-like shoulder straps, it reminded me of a craft project gone awry.
Your thoughts?
Now that you know what we think, tell us your opinion. Did you watch the Golden Globes last night? What did you think of the red carpet fashion? Who wins your pick for best-dressed? Any looks you didn't like? Be sure to leave a comment below and let us what you think!
* All photos: PRPhotos.com