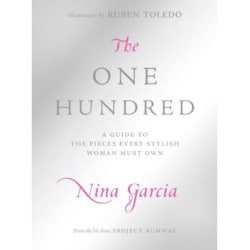 I recently got a chance to check out former Elle fashion editor Nina Garcia's new book, The One Hundred: A Guide to the Pieces Every Stylish Woman Must Own.
If you read CF regularly, you know that I don't review books very often, so the fact that I'm reviewing this one means I loved it!
Here's what the book is about: Nina Garcia, former fashion editor for Elle magazine, and Project Runway personality, lists her one hundred most important items – the 100 things that every woman should have in her closet. (It's kind of like my Wardrobe Essentials For College Girls article, except with more designer pieces.)
If you love to follow fashion trends, but also want a wardrobe that's going to stand the test of time, Nina's book is a must-read. It's also a great read for those of us who want to build a high-end, fashionable wardrobe, but don't know which pieces are the best investments.
Read on to learn more about the book, plus see my top 10 favorite One Hundred pieces.
Pro's
One of my favorite things about The One Hundred is that Nina makes it clear it's HER list – she's not telling you what you must buy, she's listing the items she recommends. The book encourages you to develop your own style, and even make your own One Hundred list. I agree with that idea 100% – you shouldn't follow the book to a T.
Another great thing about the book is that with every item, Nina recommends ways to wear it, the brands she loves, and where to buy them. This makes everything easy to understand, and also makes shopping for the items a cinch.
What's great about this book as opposed to other "fashion must haves" books is that The One Hundred is realistic. The list mixes classics like the Trench (#86), and Jeans (#42), with fun stuff like Bangles (#6), and Cowboy Boots (#24). Nina doesn't expect you to have only five pieces in your wardrobe, and knows that real women don't wear little black dresses and strands of pearls every day! It's such a nice change from your average style book.
Con's
Of course, as with any book, there are some things I didn't like about The One Hundred.
First off, Nina includes entire sections dedicated to fur and exotic-skin bags, two things that as an animal lover I'm completely against. With all the technological advances in fabric-making, there's just no reason to kill a chinchilla, mink, or ostrich in order to look fabulous. To her credit, Nina does mention that faux-fur can be just as fabulous as real, but it's more of an afterthought than anything else.
I also didn't agree with some of her other choices: Brooch (#13), One-Piece Swimsuit (#61), and Striped Sailor Shirt (#83) seemed more like filler than fashion essentials, while Blackberry (#9) and iPod (#41) were odd additions that just didn't fit with the rest of the book.
Overall, I really enjoyed the book aside from these few problems.
My 10 Favorite "One Hundred" Items:
Here are the top ten items from The One Hundred that I was really happy to see in the book.
Ballet Flat (#5) – Because, really, who except Victoria Beckham wears heels all day every day? Flats are stylish AND practical, something we all can get down with.
Black Opaque Tights (#10) – They're hot for fall, ever so classic, and they can instantly transform a mini skirt from trashy to classy. Plus, they keep your legs warm.
Converse (#22) – I love them to death, but never would have expected Nina Garcia to endorse those fabulously classic shoes!
Havaianas (#37) – If you read this blog regularly, you know all about my love for these flip flops. They're the most comfortable shoes on Earth, no lie.
Old Concert T-Shirt (#60) – Nina prefaces this one with "Under no circumstances should anyone wear a shirt from a band they do not listen to. Very, very uncool." So very true.
Plain White Tee (#67) – Because you can't make a fashion must-have list without one.
Push-Up Bra (#70) – If you don't own one of these, you don't know what you're missing. Truly a must-have in every woman's closet, no matter what her cup size is.
Spanx (#80) – The best kept secret of skinny-minnie Hollywood starlets on red carpets everywhere. They really do make you look a size smaller!
Wayfarers (#95) – An iconic pair of movie star sunglasses – if they're good enough for Audrey Hepburn, they're good enough for you.
Zippered Hoodie (#100) – That's right, a Project Runway judge is endorsing zip hoodies! You've got to love her for that.
My Overall Rating
At the end of the day, I give The One Hundred a 4/5. While it's not a perfect book, it's one of the better fashion and style books out there right now. Because it covers so many aspects of a woman's wardrobe, I would recommend it to everyone from the style-clueless to the seasoned fashionista. Even those of us who eat, sleep, and breathe fashion can benefit from Nina's style knowhow.
If you want to check the book out yourself, The One Hundred: A Guide to the Pieces Every Stylish Woman Must Own is available at Amazon.com for $13.97.