Part three of our series on Working in Fashion (see our past posts on a financial analyst at a handbag company and what it's like to do social media at Free People) stars Genevieve Ott, an Assistant Designer at Anthropologie! As an undergraduate, she majored in Film & Media Studies at Johns Hopkins University, graduating in 2017. She then earned a Master of Arts in Graphic Design at the Maryland Institute College of Art before joining the Home Artist Collaborations team at Anthropologie.
*Disclaimer: Responses have been edited for clarity and length.
Interview with Gen
Did you have any fashion or decor experience prior to interviewing for this position? If so, what was it?
I always knew I wanted to do something creative, but as is the case with many creative positions, it was a winding road to get here! When I was little I wanted to be a fashion designer, and I grew up marathoning Project Runway. I interned for a wedding planner while in college, which gave me a really hands-on experience working with vendors, styling, and curating pieces. From there, I became really obsessed with interior design. I'm fascinated by the ways in which people curate items in order to create a space that feels personal and comfortable.
Did you feel like college prepared you for working at Anthropologie? If so, what experiences were most helpful?
Yes and no! I had a lot of creative opportunities at Hopkins that allowed me to really explore my creativity. From an internship with admissions where I did a lot of graphic design and social media work to amazing, encouraging professors in the Film & Media Studies department who challenged the way I think about visual media, I grew and grew as a creator and thinker. I also had a few leadership positions with my sorority, Alpha Phi, that allowed me to plan events, develop apparel, and make social media graphics. I used this as an avenue to get my hands dirty with fun creative projects, and learned a lot!
That being said, I didn't feel like I got the really intensive experience in design that I needed, so I went to MICA to get my Master of Arts in Graphic Design. There, I was really able to hone in on my interests—creating beautiful, tactile products—and develop them in a more practical sense.
How did you find this particular job?
Once I realized that I wanted to be a home designer—and be on the East Coast— that narrowed things considerably! I've always been an avid consumer of the URBN family of brands (Anthropologie, Urban Outfitters, Free People, Terrain, BHLDN), and I realized that they offered opportunities in exactly what I dreamed of doing. URBN visited MICA for portfolio reviews, where I was able to share my work and learn what they were looking for in candidates. From there, I actually applied to an internship in home design since there weren't any full-time jobs at the time. Funnily enough, the recruiter contacted me from that application, saying I was a perfect fit for a full-time job that hadn't yet been posted! It was a great combination of good timing and hard work.
Do you happen to remember what you wore for your interview? 🙂
I do! I actually hunted and hunted for the perfect look. They insisted that it was a casual and laid-back environment (most of my interviewers were in jeans! and I typically wear a cute romper with sneakers to work), but knowing that I'm a designer, I wanted to present myself well visually! I ordered a floral jumpsuit in a great terracotta-pink color from ASOS along with some nude tassel block heels. I'm only 5'0″, so I like to wear a heel when I'm meeting new people—helps mitigate the initial shock of how short I am!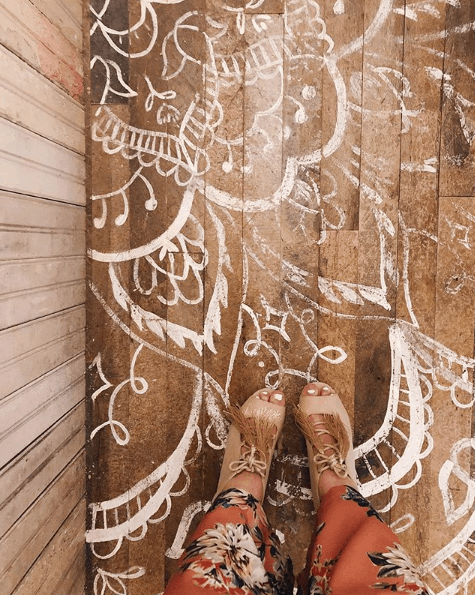 What's a typical day at work like for you?
My title is Assistant Designer — Home Artist Collaborations at Anthropologie. I work for the home department, on a special team called Artist Collaborations. A big part of the Anthropologie experience is finding gorgeous, special pieces and curating our collection. Our team partners with external artists in order to develop special home products. I then take their artwork and manipulate it in order to develop it into a product. This may look like recoloring artwork or re-engineering a layout, and then I apply it to the product and work with Production to have it made. I'm specifically in charge of designing products for table linens, gadgets (think tea kettles and spoon rests), stationery, hardware, and wallpaper.
A great part of working at Anthropologie is that my tasks change a lot day-by-day. Generally, though, I spend most of my day at my computer, designing! This may look like drawing a new shape for a vase, recoloring an artist's watercolor, or engineering a layout for a journal. After I create the initial design, I have to flesh it out—pick materials, develop measurements, work with buying to make sure it's a viable product, and turn it over to production to be prototyped. It's very, very fast paced! I typically send out around 10 products per week. We also work far in advance—I'm currently designing products for Fall 2019! Often, we have meetings with other departments to ensure that we're all aligned on a product's direction. There's so much decision making that goes into a product: from making sure that it's possible for it to be manufactured to making sure it's not too expensive to making sure that the colors are on-trend for the season.
How does your part-time job as a Graphic Design Entrepreneur play a role in your life?
Pretty much none anymore! I used to be a really active freelancer, which was more of a necessity than anything as I paid my way through grad school. I've worked with amazing clients, but it feels nice to be focusing on my Anthropologie work now. Juggling many different clients (and handling your own business side—not just designing things!) can be really taxing.
Did anything surprise you about working in designing? If so, how has the experience differed from your expectations?
Not too much! Honestly, MICA prepared me super well as a graphic design professional. I am surprised by how much freedom I have—which is a good thing! Sometimes I'll ask "hey, what material is this pouch supposed to be in?" and my team will be like "whatever you like!" Obviously, there are still parameters on what I make, but I have a lot of opportunity to truly design things. I feel so thankful that my expertise as a designer is respected and utilized!
What advice would you give to students looking to work in the fashion/lifestyle industry after graduation?
If you're a designer, make, make, make. Your portfolio is everything! Find projects that you love and that show your point of view as a designer. That being said, really think long and hard about working for free "to build your portfolio." If you don't love the project, and it doesn't align with your goals, it won't even end up in your portfolio! Value your time, point of view, and expertise. I also think it's important to get your hands on many different creative projects. Diversify yourself—be great in a bunch of creative pursuits, and you're that much more valuable. It'll show in your work if, for example, you're also an amazing copywriter.
Any decorating tips for girls living in the dorms or in small apartments?
I'm a #balleronabudget, so I'm always trying to figure out ways to recreate things I've seen without spending a million dollars. A big win in my book was DIY-ing tasseled curtains: I bought plain, sheer white curtains from Target, bought trim from Michael's, and stitched them myself. Comparable curtains go for around $60/panel! I made four for $20.
My first suggestion is to make Craigslist your new best friend. People sell incredible, unique pieces on there for pennies! Rugs are also a fabulous way to transform a room. They visually take up a lot of space and can make a huge impact. Also, DIY your art if you can. Buying a huge canvas and making a fun painting with splatter paint or abstract brushstrokes will cost you under $50, and it won't be a cheesy, mass-produced thing. Format a fun quote in a font you love, and have it printed large and framed. A fun tip I've learned at Anthropologie is to buy a dish towel with a fun print (typically under $20) and frame it. Instant wall art! Also: there's nothing spray paint can't fix! If you find an ugly lamp at Goodwill, a coat of gold spray paint will instantly make it look luxe. Be creative and don't be afraid to re-purpose or re-imagine things.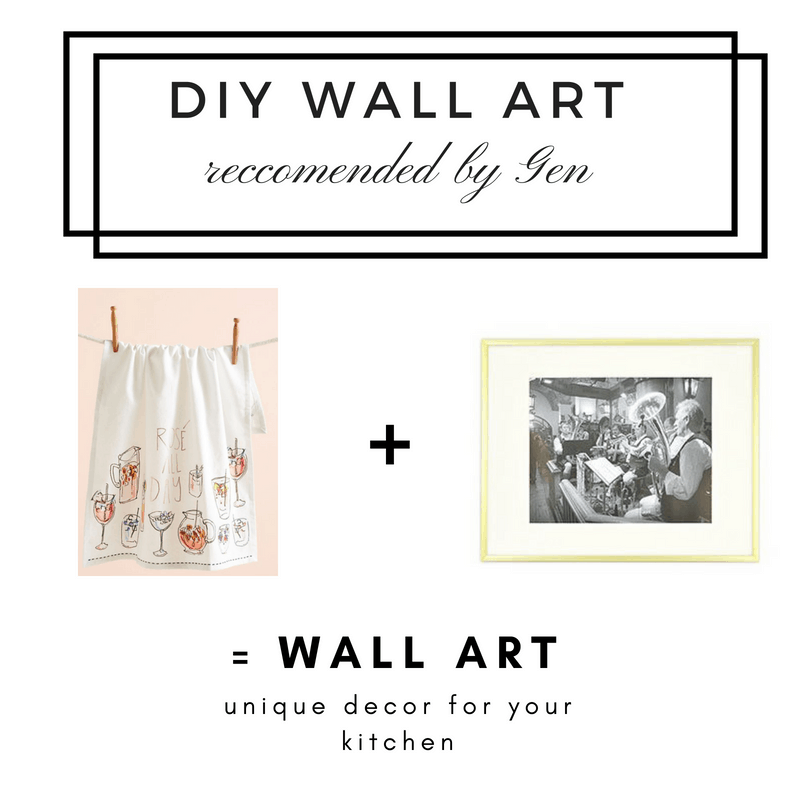 Products: Dish towel – Anthropologie, frame – Amazon
What are some perks of working at Anthropologie?
There. Are. So. Many. First: dogs in the office. Dogs are encouraged here—there are three in my pod of six desks alone. Second: great employee discount! Third: access to sample sales. Fourth: discounts at other Philadelphia businesses that partner with URBN. Fifth: constantly being surrounded by creativity and savvy people.
What do you think about Anthropologie's new wellness section?
Wellness is a huge push in retail in general. More and more, women are wanting to find time to unplug, relax, and reconnect with themselves. I'm loving that "wellness" is a category that is beginning to expand past things like vitamins… Anthropologie is looking at wellness in a more holistic sense, offering things like incense, skin care, aromatherapy, tarot cards, and yoga mats.
Favorite pieces from Anthropologie?
I love that Anthropologie offers a petites line. I'm also obsessed with Anthropologie's throw pillows (so many tassels!), planters (novelty fun for your plants? yes please), and wallpaper. It's still surreal that I get to help make some of these things.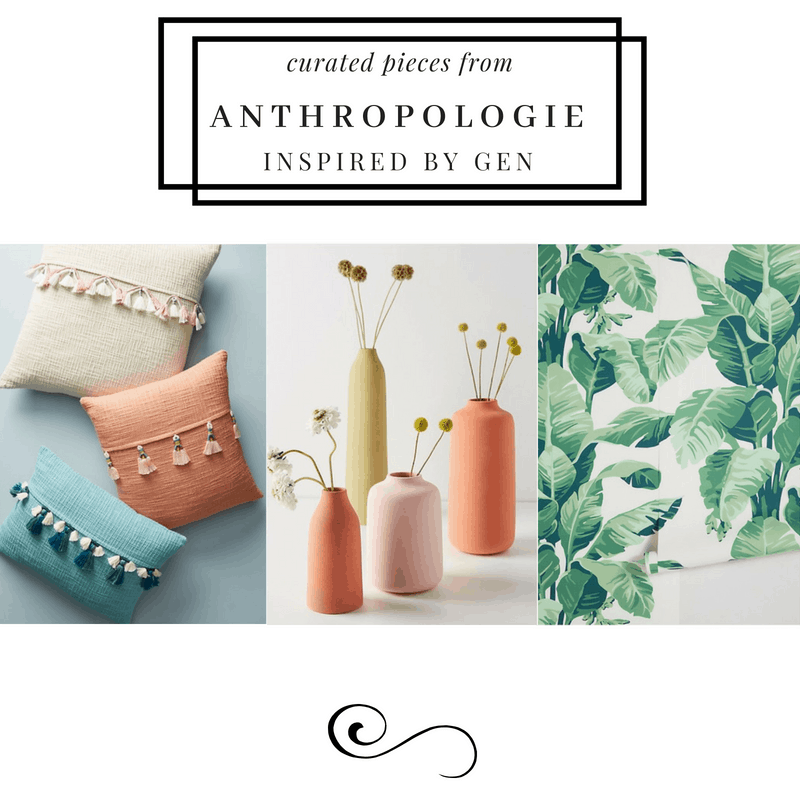 Products: Tassel Pillows – Anthropologie, Colorado Vase – Anthropologie, Pacifico Palm Wallpaper – Anthropologie
What did you think of our interview with Gen? Have any more questions for her about Anthropologie, graphic design, or home design? Want more of her DIY tips for making your dorm or apartment look as amazing as hers? Leave a comment down below!
Thank you so much to Gen for taking the time to interview with CF! Check out her amazing graphic design work at genevieveott.com and her insta @genevieveott for more of her bubbly personality.