Part two of our Working in Fashion series features Anna Wesche, a Social Media Assistant for Free People! During her undergrad, she majored in Writing Seminars and Film & Media Studies at Johns Hopkins University. After graduating in spring of 2018, she joined the Creative Marketing team at Free People.
*Disclaimer: Responses have been edited for clarity and length.
Interview with Anna
Did you have any fashion experience prior to interviewing for this position? If so, what was it?
Yes, I had a bit of experience prior to my interview. I was a marketing intern for the AUDRA fashion label, and worked on social media and email marketing campaigns. That was summer of 2017, and then I stayed with her (remotely) while I was in school from September to March-ish. I went to two New York Fashion Weeks with her which were amazing experiences. Audra, the founder of AUDRA, is a mentor for me in a way. She really helped me out with connections and looking over my resumé. We still keep in touch and usually try to grab a coffee together if we're in the same city.
Did you feel like college prepared you for working in social media at Free People? If so, what experiences were most helpful?
I think college just kind of teaches you how to work, like you have to deal with deadlines, pressure, and expectations. It also teaches you how to handle disappointment. I think one of the things that is hard for people our age to remember is that you're not special, and that sounds harsh, but there are 800 people just as qualified as you vying for the same position. You don't get a job because you're special, you get it because you work your ass off and you know your stuff. I'm not sure if anything particular has been especially beneficial besides my writing. There's so much writing that goes into social media/creative marketing. It's hard to find a way to say something perfectly and really easy to say it horribly wrong.
How did you find this particular job?
I had applied to a few other jobs at URBN, a network of companies made up of Urban Outfitters, Free People, Anthropologie, and the Vetri family, just kind of in passing – applying for jobs is a nightmare sometimes. I guess my resumé was in their system because a recruiter reached out to me. I had a preliminary phone interview with her, then I skyped with the Creative Marketing team and presented this project of sorts, and then I came to Philadelphia and met with them in person. They put me up in a hotel for a night which was super fun, and I was like "whoa, is this what it's like to be an adult?"
Do you happen to remember what you wore for your interview?
I do! It was an Everlane box-cut white cotton tee (they have amazing t-shirts) and the floral pants from this Reformation set. And I was wearing these flat form white Tevas from Free People that I'm obsessed with (wanted to suck up a little bit – that pair was featured in their Man Repeller editorial). They told me to dress super casual, and I'm glad I wore what I did!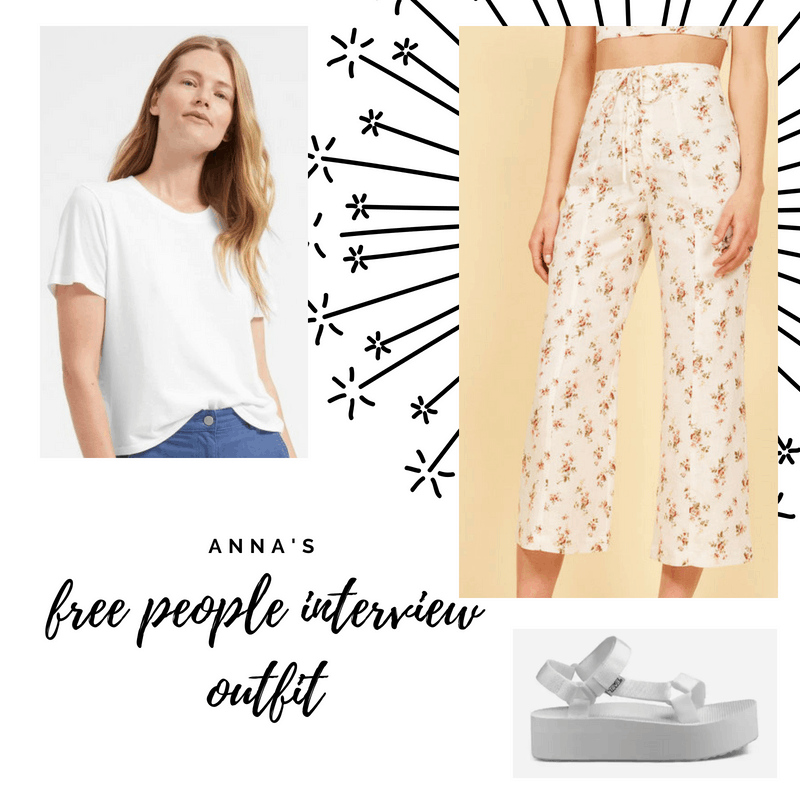 Products: Everlane Box-Cut Tee – Everlane, Creed Two Piece – Reformation, Flatform Universal Sandal – Teva
What's a typical day at work like for you?
Usually, I drop my stuff off in the Free People building, and then head to Building 543 with a team member. Building 543 has a coffee shop and food court set-up that is AMAZING. Iced almond milk latte is my drink! Back in the office you can find me at the community table in my pod; it's six-seven desks in a 'pod' and then a big table in the middle we meet at – there are tons of pods in the whole building. I schedule out posts for all of our social media channels there. Then, I sit with my manager, and we strategize Instagram stories and captions for posts, usually changing them about a million times. After, I have a variety of meetings on product pushes with the Beauty Team, Video Team, or Brand Marketing. Sometimes I have to run over to the studio and grab samples for a story we are doing, or we just strategize for big campaigns. A lot of times we're just tossing ideas back and forth for hours – it's hard to be creative sometimes! I typically leave around 5:30 pm and head to the (free!) gym for employees.
Did anything surprise you about working in fashion?
I don't know if anything really surprised me, but other people are usually surprised by the amount of strategy that goes into fashion. Things are constantly changing, and no day is the same as the previous one, which I love. You might see an Instagram post and think "oh it only got 10k likes and this one got 20k," but the post with 10k likes sold $3000 worth of product and the 20k post only sold $500. So there are months worth of behind-the scenes things that are the true measure of success and the payoff from strategizing.
What advice would you give to students looking to work in the fashion industry after graduation?
My advice would be take any and all experience opportunities that are presented to you. My time with AUDRA was completely unpaid, and that scares some people (my parents were like "WHY ARE YOU DOING THIS FOR FREE"), but I knew it was an investment in my future and I think it is a big reason why I have this job now. Also, reach out to EVERYONE. That random person in your sorority that graduated 5 years before you? Reach out to her on LinkedIn. The worst that can happen is she won't answer you. Same with applying to things. Fashion is a hard place to get your foot in the door, but once you do it's amazing.
Any social media tips for girls who want to up their insta game?
Don't pose too much! Honestly, when we filter through our tagged photos the overly-posed ones are sometimes cringe-y. Be natural and have fun with your insta – the amount of followers you have or the amount of likes you get doesn't really dictate whether your profile is "good" or "bad." I have seen BEAUTIFUL IG feeds with maybe 500 followers, and cheesy ones with 10k followers. I used to pose a ton but then I was like this is dumb and now I just do my thing. A natural-looking pic of you where MAYBE your left leg looks a little big or your hair is a little messy or you have salsa on your chin and you're trying to lick it off with your tongue is much more fun then something overly posed, at least in my opinion.
What are some perks of working at Free People?
Lots of perks. We get an insane employee discount, which is dangerous because I live down the street from their Philly store, and we also get discounts at the other URBN brands. Dogs are welcome in the offices, and the gym is a nice plus and one more thing I don't have to pay for. There is also a monthly market they hold in 543 where vendors from the city come in and we can shop throughout the day (think vintage stores, homemade candles, art, house plants, etc.), and we get discounts on other things like yoga classes and a few restaurants in Philly.
Any fall trends we should start stocking up on now?
I mentioned this, but definitely cords. And flares. Those are going to be big I think. Basically the '70s are back and I'm loving it.
Best pieces to splurge on from Free People?
FP has a really good pants-game going on right now. Our jeans are ALWAYS good, and right now we are pushing cords and so forth. I have my eye on this pair (Lucy Hale just wore them!). Also we definitely have a reputation as being a "boho" brand, but I don't think that's really accurate anymore. I'm not boho at all and I find plenty of things to wear. For example we have great bodysuits (I just bought one yesterday) that are worth the investment because they aren't going to fall apart after four washes. Also shoes. Ugh, I love our shoes.
What's the best investment piece (clothing, accessory, etc.) that you ever bought?
Best investment piece… I have these pants from an Austrian brand called Schella Kahn and they're amazing. They're black trousers with a front seam and they're made of this almost dry-fit like material and they go with anything. They are incredibly comfortable, but also professional, and I will have them forever. I'd rather have those pants then a bunch of trendy knock-off band tees. If you're going to invest in something, it's gotta be a classic. And I guess I didn't really invest in this, but I have a jean jacket of my mom's from the '80s from Eddie Bauer and it is my heart and soul – also something I will have forever. It's thick denim and super well made.
Top Investment Pieces Inspired by Anna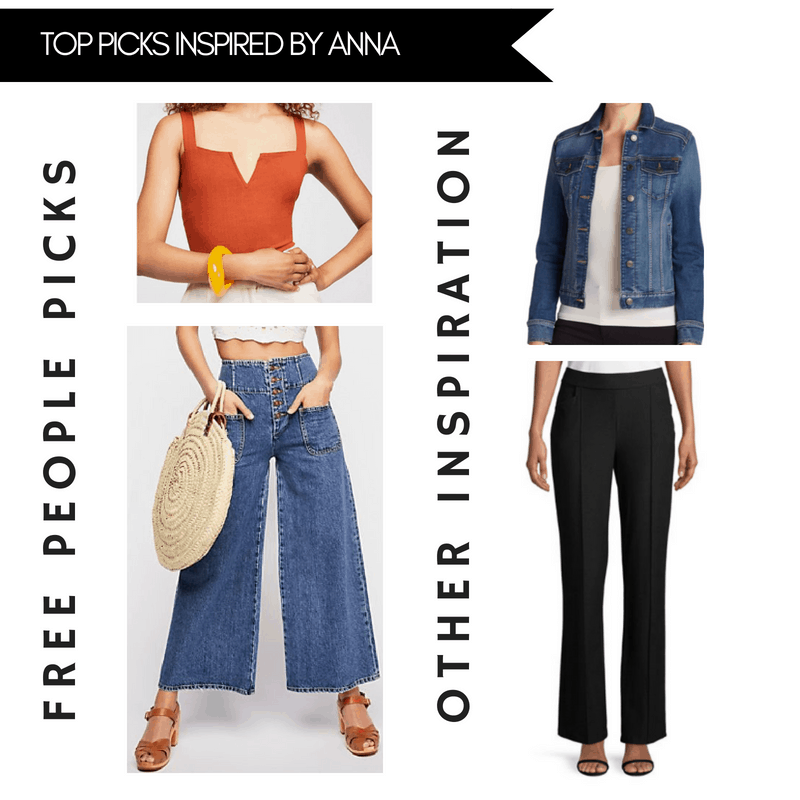 Products: Bodysuit – Free People, Wide Crop Jean – Free People, Jean Jacket – Eddie Bauer, Trousers – Neiman Marcus
What did you think of our interview with Anna? Do you still have any questions for her about Free People, fashion, or her work experience? Think she's a personality and want to let her know how great she is? Leave a comment down below!
Huge thank you to Anna for taking the time to interview with us! If you can't get enough of her like us check out her blog at ithinkimextra.com and her insta @annamargery.