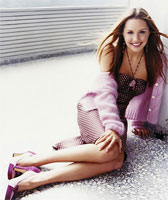 We first heard back in May about Amanda Bynes' new clothing line, Dear, for Steve & Barry's. At the time, the entire idea of Amanda having a clothing line seemed strange coming from someone who isn't known as a fashion icon.
Now it's August and the line is launching today in all S&B's stores with some buzz surrounding it. Believe it or not, "Dear" is actually not bad.
The line consists of lots of trendy but casual wear – denim, hoodies, thermals and tanks. I can see lots of high school students wearing her stuff!
Check out the line for yourself by clicking on the thumbnail pictures below.




What do you think of "Dear?" Would you wear Amanda's line? Leave a comment or send me an email! I'd love to know your opinions.
Where To Buy Dear By Amanda Bynes: