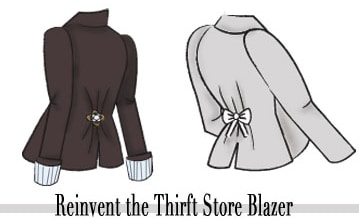 How many times have you found the perfect blazer at a thrift store, only to find that it just doesn't fit right? While the oversized boyfriend jacket is in right now, the fits of jackets have changed since the 60's to 80's – making it tough to rock thrift store blazers without doing some modifications.
Don't worry, though – it's easier than you think to make that too-wide vintage blazer fit like it was made for you! Here are a few simple solutions to give your blazer a tailored look without breaking out the sewing machine (or breaking the bank).
Option 1: Pin the Back
What you'll need:
Your blazer
A pretty pin or brooch you want to show off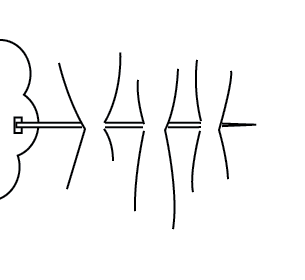 This is a super easy way to take in your blazer. And it's only one step! Just grab your favorite pin (sparkly statement pieces work best), gather the center back of the jacket onto the pin (see the finished product below), then clip. That's all there is to it!
Option 2: Use Ribbon
What you'll need:
Your blazer
Two 24″ pieces (or longer, if you want a larger bow) of wide ribbon
A needle and thread
Optional: Fray Check or clear nail polish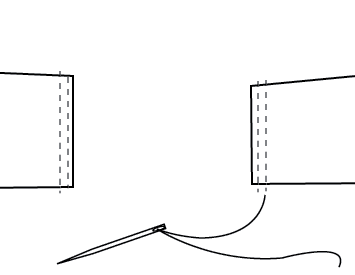 If you want a pretty, feminine look, this is a great option that will create a bow at the back of your jacket. To do this, take two pieces of ribbon (use Fray Check or clear nail polish to stop the edges from fraying) and sew them down a few inches from the center back of the jacket as shown above. Use thread that matches the color of your jacket for best results. Then tie into a pretty bow.
Finished Products: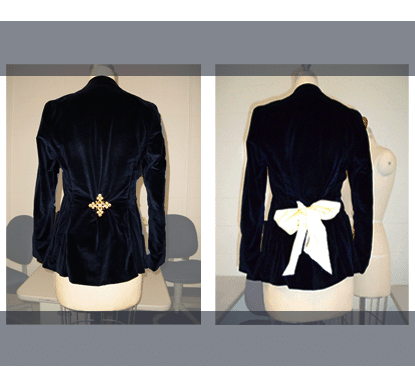 As you can see, both of these options take the extra fabric and bunch it up for a cute, perfectly fitted look. Leave the jacket open to expose more of your top, and revel in the compliments you'll receive on your fabulous new piece.
What do you think?
Is this a cheap and chic solution you'll be trying out? How do you make vintage blazers work for you? Do you have any other tutorials you'd like to share? Let us know in the comments!