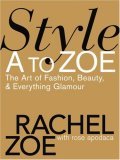 While trying (unsuccessfully) to do my homework at Barnes & Noble this weekend, I found myself instead buying celebrity stylist Rachel Zoe's new book on fashion and style.
Style A to Zoe: The Art of Fashion, Beauty, & Everything Glamour is a book about fashion from the perspective of one of Hollywood's most sought-after stylists. The style manual includes tips on everything from accessorizing your outfit and dressing for your days off to packing for vacations and decorating your home.
As Rachel Zoe has styled everyone from Nicole Richie to Jennifer Garner, she knows what she's talking about when it comes to dressing well. One of my favorite parts of the book is where Rachel describes her top 10 wardrobe must-haves, which include nude pumps, a little-black dress and an oversize tote bag.
Rachel also offers some great suggestions for developing your own personal style. She advises drawing your outfit inspiration from the past, looking to "style icons" to create new looks. However, she notes that there is a difference between being inspired by these style icons and outright copying their outfits, which in her opinion "never works." Rachel's personal icons include Edie Sedgwick, Brigitte Bardot and, of course, Audrey Hepburn.
One of my only gripes with Style A to Zoe is that Rachel spends too much time talking about her life and not enough time giving us fashion tips. I could have also done without the many hundreds of candid photos and illustrations of her.
Overall, Style A to Zoe is a fabulous fashion manual for those who want to know the basics of dressing well. I would recommend this book to anyone who appreciates classic and original style, or who just wants to know more about how the celebrities get dressed every day.
Click here to buy Style A to Zoe right now for $16.49.