With the rise of the internet and fashion blogging, today, many of us are more inspired by what we see on the pages of a blog than by fashion magazines. We are inspired by real girls, with real bodies, who look like us, and who create looks we can all emulate.
In this series, I've been interviewing some of my favorite fashion bloggers and finding inspiration in their styles. In case you missed them, see our past interviews with Maria of Lulu Letty, Elizabeth of Delightfully Tacky, and Georgina of Cupcake's Clothes.
This week, our featured blogger is the stylish Tieka of Selective Potential.
About Tieka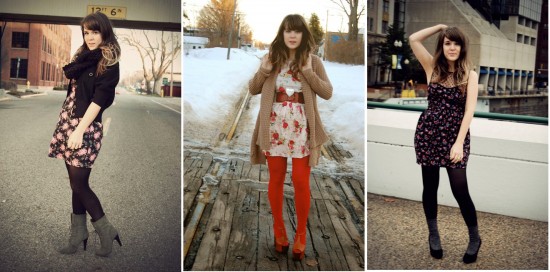 Tieka has long been one of my favorite style bloggers – and judging by her blog's success, it seems I'm not alone! What I love about Tieka is that she seems like the kind of girl you could call up and have a fun, gossipy conversation with – she really is just a regular girl! I also love reading about her life and her adventures with her husband, Brett. If you want a blog with more than just pictures, Tieka's is the one to head to – it's a whole slice of her life.
But I'd be remiss not to talk about the main reason I love Tieka's blog – she has incredible style! Tieka's sense of fashion is fantastic because it's so cute without being too complicated. Her clever use of layering and color means her outfits are always fun and exciting. She is also a huge fan of florals, which I love!
Our Interview with Tieka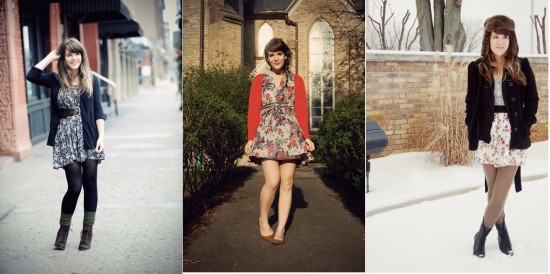 1. Tell us a little bit about yourself (who you are/what you do/where you're from, etc.).
"Well, first my name is Tieka! I run the personal style blog, Selective Potential! I currently reside along the shoreline of Lake Michigan along with my husband, Brett and our two cats. I also work full-time as a graphic designer for a communications company. Phew!"
2. How would you define your style?
"I would definitely say my style is very much inspired by my surroundings and the seasons. If you look at my closet or any outfit photo of mine, you can easily tell which season I'm dressing for. I'm very feminine and I love florals, but I love mixing them with grungy aspects like lace-up boots or patterned tights."
3. How did you find your style?
"Interesting story – I had lost 35 pounds and really had no style, so I honestly Googled 'how do I get a personal style', and went from there. I was always the girl in jeans and a v-neck and hoodie or something along those lines. But once I lost the weight, it was like something triggered in me! I found an article on fashion blogging and, slowly but surely, being a part of this community has evolved my style into what it is today!"
4. What inspired you to start a style blog? What motivates you?
"The reason I started my blog was to push myself to develop more of a personal style. My biggest inspiration was discovering other fashion blogs by real, down-to-earth girls that I adored, such as Delightfully Tacky, The Clothes Horse, and Orchid Grey. I have the motivation to continue on each day with my blog because I have fun with it. Honestly, having fun is the best motivator to do something."
5. Did you go to college? What was your college experience like?
"I went to a small private art college for graphic design and digital media. It was the best experience ever. I knew I wasn't cut out for a larger university, so going to a smaller art college that was more focused on hands-on design was right for me. So many kids in my classes loved the same music, had the same style, and were all very laid-back.. it was just a fun setting to be in, surrounded by creative people! It was inspiring!"
6. Where do you like to shop?
"My favorite place to splurge is at Urban Outfitters. I swear, I can't walk into that store without buying something. I also really love ModCloth for their amazing girly, floral + fun-patterned dresses and chunky Jeffrey Campbell shoes."
7. What advice do you have for students looking to be stylish on a college budget?
"Thrifting and 'fast fashion' stores saved me in college. I couldn't have lived without our local Goodwill or Forever 21. If there was a trend I wanted to try, but didn't want to spend a whole lot of money on it, I would just pick something up at F21 and try it out. Plus, sifting through the racks at Goodwill is fun. I love to take old lady skirts and hike them up as dresses with a cute belt. And for thrifting inspiration, definitely check out the blog Flashes of Style."
8. What are the pieces you couldn't live without?
"Currently, I can't live without my Jeffrey Campbell lace-up boots, any type of sleeved floral dress and my giant chunky popcorn cardigan from UO. Those are my staples right now."
9. What advice do you have for new bloggers or people considering starting a blog?
"As cliche as it sounds, be yourself! Most of the girls who try to be their favorite blogger or try to rip someone else off never make it… and never really have fun because they aren't themselves! Take what makes you unique and showcase it on your blog – whatever it may be! Michigan, style and the corny adventures Brett and I take are my life… and who would have thought my readers would have liked to read about those things? I had no idea, but I went with it… and now I have something that is my own."
10. How do you keep your look fresh and exciting? How do you use layers and remixing to keep your wardrobe fun?
"I honestly spend hours in front of the mirror and try crazy things that you'd never think would go together. If you never try, you'll never know! Take a skirt and turn it into a dress, a top, throw a belt over it, try those crazy tights, and those shoes might not match, but try them! You will get so much inspiration from your own closet… just by trying things on together! I couldn't live without belts to tie my looks together and match them to my shoes. You can do anything with a belt – even take an oversized cardigan and turn it into a sweater dress. Ah, the possibilities…"
How to Dress Like Tieka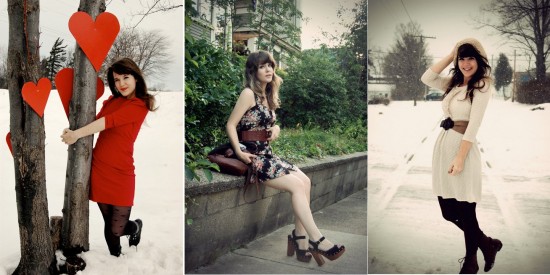 1. Embrace the seasons.
Even though no one really enjoys dressing for cold winter weather, embrace it! Tieka does a great job of layering over her summer pieces to make them winter-appropriate and swapping her heels for boots when the snow comes.
2. Florals, Florals, Florals!
Tieka has a very feminine, girly style and has a wonderful collection of floral pieces. I love the way she mixes girly pieces with tough-girl boots and fun tights.
3. Layer like crazy.

Tieka is a master at layering – she loves rocking belted cardigans and layering tops under dresses. Layering like Tieka does is also a great way to get some extra mileage from your wardrobe and wear seasonal pieces year-round.
4. Don't forget your feet!
Tieka always completes an outfit with a great pair of shoes and often adds some fun socks or tights. So don't forget your footwear and legwear – they can really transform an outfit.
5. Mix with neutrals.
Tieka uses lots of strong patterns and hues in her outfits, but always pares them down by mixing them with neutral colored pieces, like a tan pair of ballet flats or a black cardigan.
Outfit Inspired by Tieka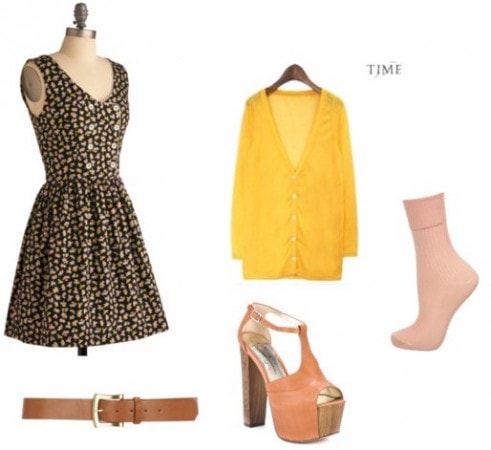 dress/cardigan/socks/heels/belt
I could definitely imagine Tieka wearing something like this for the spring. I started with a pretty floral dress, and chose a yellow cardigan to echo the yellow pattern on the dress. I also added the baby-pink socks to match the flowers on the dress. Then I chose neutral-toned shoes (sky-high platforms are Tieka's fave – these are a dead-ringer for her Jeffrey Campbell's but are actually by Jessica Simpson!) and a belt to add balance and shape to the look.
Your thoughts?
What do you think of Tieka's style? Has she inspired you to get more from your wardrobe? Are you enjoying this series? Which bloggers would you like to see featured next? Let us know in the comments!!