With the rise of the internet and fashion blogging, today, many of us are more inspired by what we see posted on our favorite blogs than what's splashed across the pages of fashion magazines. We are inspired by real girls, with real bodies, who look like us, and who create looks we can all emulate.
In this series, we've been interviewing some of our favorite fashion bloggers and finding inspiration in their styles. In case you missed them, see our past interviews with Maria of Lulu Letty, Elizabeth of Delightfully Tacky, Georgina of Cupcake's Clothes, and Tieka of Selective Potential.
This week, our featured blogger is Rebecca of The Clothes Horse. Read on to learn about Rebecca's style, her thoughts on the current state of fashion blogging, and her tips for college students looking to be stylish on a budget!
About Rebecca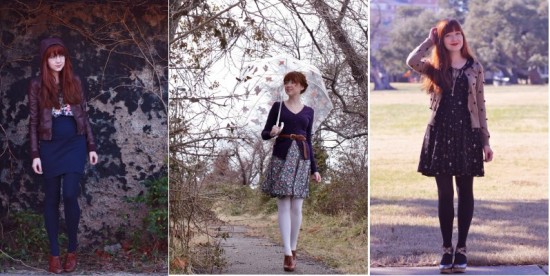 Rebecca is one of the most well-known fashion bloggers on the scene right now, recognized for her gorgeous red hair and impeccable style. Her clever use of "wardrobe remixing" means her outfits always seem new and exciting, and she is a master at combining new pieces with vintage finds. Her looks are always feminine, without being too girly, and everything she wears has a perfectly pulled-together feel, even when she mixes pieces you would never think of combining.
Our Interview with Rebecca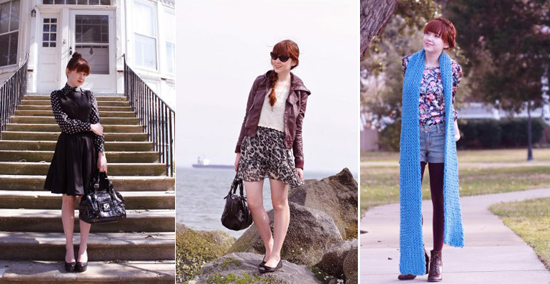 1. Tell us a little bit about yourself (who you are/what you do/where you're from etc.)
"I'm Rebecca, I write The Clothes Horse blog and I'm a military brat from all over. I've lived in 8 different states and in 3 countries outside of the US; so at 24 I'm still not quite sure where I'm 'from.' :)"
2. How would you define your style?
"I like to call it quirky ladylike. I definitely have a love for vintage pieces and the retro styling of head-to-toe cohesiveness, but I'm also quite modern and like to mix things up with unique jewelry, floral wreaths, and the like."
3. How did you find your style?
"I never really set out to 'find' my style, I just got to a point where I decided I was going to dress very intentionally — to wear clothes that actually made me feel happy instead of just buying and wearing pieces to blend in. I'm very shy so when I was younger I wore clothes that I thought would keep me unnoticed, but I always had ideas on how I wanted to dress. As I got more confident, I decided to just wear the pieces I love; it's a creative expression for me and it just feels really nice when I'm wearing an outfit I actually enjoy."
4. What inspired you to start a style blog? What motivates you to keep your blog going?
"I started my blog right after I returned to rural PA after being in Japan. I went from constant stimulus and interesting people, to a very quiet place with hardly any friends and none that shared my interests. I was already an avid blog reader, so I decided to start a blog to share my passions with an online community that I didn't have in my day-to-day life. From day one I loved it so much that it really became an obsession; I don't need any other motivation [to blog] than the fact that I just enjoy every part of the process."
5. Did you go to college? What was your college experience like?
"I went to a small liberal arts college and studied Marketing and Business. I studied abroad twice, started my blog, etc. I don't know, college was good; I made some friends, enjoyed my time abroad, and now I'm glad I don't have homework!"
6. Where do you like to shop?
"Everywhere from thrift stores to online designer discount sites. Most of my shopping is done online right now; I don't live near a lot of major stores or even a mall and I'm a bit of a recluse."
7. What advice do you have for being stylish on a college budget?
"I think style doesn't have a price tag and there's no reason to follow trends, so you don't have to spend money to get 'new pieces.' For me, it's about finding great pieces that you love and won't get tired of. You can find loads of amazing things at thrift stores; if you love vintage, that is another way to find quality items without the big price tag."
8. Who/what inspires you?
"I'm inspired by other fashion bloggers, Sofia Coppola's style, Faye Dunaway in Bonnie and Clyde, and so many other things. I also love different periods in art history, so at the moment I'm feeling very moved by the Pre-Raphaelites."
9. What are the pieces you couldn't live without?
"Right now I'm in love with black satin ballet flats, trench coats, and '50s shirtdresses."
10. What advice do you have for new bloggers or people considering starting a blog?
"Write about what you love and create as much of your own content as possible. The best thing you can bring to a blog is your unique perspective so utilize that as much as possible by creatively expressing your point of view through words, images, videos; whatever works for you."
11. We love your Saturday Remix posts (where Rebecca showcases all the different ways she's worn a single piece) – how do you come up with new ideas to make a piece feel new and exciting?
"Thank you! I don't know exactly, it's not really intentional to make the piece exciting, it's just trying to stretch my wardrobe. I love certain pieces and want to wear them again and again, but I challenge myself to not wear the same head-to-toe outfit twice. So, I basically just remember how I have worn a piece before and force myself not to do that again!"
12. Are you surprised with how successful your blog has become?
"I guess so; I don't really think about the 'success.' I'm definitely amazed by the opportunities I've had. I used to think fashion was such an abstract and removed thing; like people in NYC got to care about fashion, but it would never touch me personally. Now, I've realized just how broad the industry is and that it can be reached even by those not in a major city and lacking the financial means to wear designer."
13. You've been invited to NYFW in the past – how do you think the fashion world is responding to bloggers?
"The fashion world is tentatively accepting bloggers. Some brands and designers really 'get' it and use bloggers as muses or in campaigns. Other brands and magazines are less keen to recognize that a blogger is really just a creative person with a passion who has a site. They define bloggers by blogging, but really it's just the medium of the people right now — 20 or even 50 years ago these same people who have the same passion for fashion but they either would express it through a more traditional medium, or they wouldn't be able to express it at all. Unfortunately, there are a lot of bloggers, so it's hard to explain to people who haven't seen the best ones that there is a whole range of quality, professionalism, and content."
14. What do you see in the future for The Clothes Horse?
"I'm not entirely certain. I will probably be moving this fall, but whether that will be to go to law school, or Portland with friends, or NYC to work freelance is still quite unknown. Ideally, I'd like to continue writing The Clothes Horse and continue to improve its quality."
How to Dress Like Rebecca
Want to channel Rebecca's vintage-chic, feminine style in your own wardrobe? Here are a few tips to get your inspiration going.
1. Choose light colors and shades of blue.
Rebecca's wardrobe is full of neutrals and light shades. I love how she mixes light blues and pastels, browns and blacks and soft color combinations – the overall look is very retro-cool.
2. Don't forget your coat!
I love how Rebecca always includes her coat or jacket in her winter outfit pictures and makes outerwear a part of her outfit. While in the northern states, it can be tempting to just throw on your same basic black coat every day, Rebecca proves that your coat can make your look!
3. Fun tights can really add pop to an outfit.
Rebecca loves to add colorful or patterned tights to give an outfit an extra pop of color or interest. I especially love her use of unexpected patterns and textures.
4. Be creative with layering to create your own "remixes."

Rebecca's "wardrobe remix" style is so inspiring, especially for college girls on a budget. She obviously works hard to stretch her wardrobe dollars by constantly remixing and layering, something you can easily try yourself! For example, Rebecca loves to wear blouses under dresses, as well as dresses layered under skirts, or under tops.
Outfit Inspired by Rebecca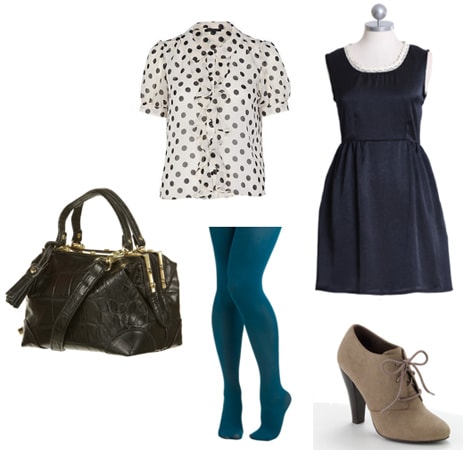 Dress – ShopRuche, Blouse – River Island, Bag – Topshop, Tights – ModCloth, Oxford heels – Kohl's
I love how Rebecca layers romantic blouses under dresses, so I tried to recreate that idea in this outfit, choosing a patterned blouse to layer under a simple navy dress. I also love Rebecca's use of bright tights, so I chose these gorgeous teal blue ones to channel her look. Finally, to accessorize, I found a black doctor-style bag reminiscent of the purses Rebecca usually carries, and a pair of vintage-chic oxford heels in a soft brown shade.
Your thoughts?
What do you think of Rebecca's style and perspective on fashion? Are you a fan of her blog? Let us know with a comment!